In New Jersey, a 1980s-era suburban office park undergoing a $400 million revitalization offers lessons on contemporary work environments that encourage socialization and collaboration.
Gen Z has grown up against the backdrop of a global pandemic, which has changed its expectations for the workplace.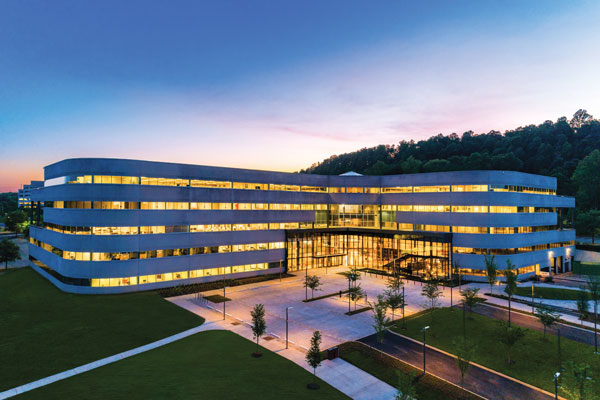 Much of the office workforce — especially Gen Z— has gotten used to the freedom and flexibility that working from home provides. Many employers now use a hybrid model, where their employees work in the office two to three days a week, but that environment continues to compete with the comforts of working from home.
However, despite all the benefits that remote work provides, recent studies have found that the Gen Z workforce is craving social interaction. According to a Generation Lab poll of more than 500 young people conducted in July 2021, 74% missed the office community when working remotely.
In the process of shifting to remote work, employee social circles have shrunk dramatically. A 2021 Microsoft study revealed that people connect with workers from outside their direct departments 25% less than before the pandemic. Separately, a 2021 Indeed survey showed that 73% of people missed socializing with others in-person, and that small interactions with colleagues in the office make a huge difference in the well-being and connectedness of a company's workforce.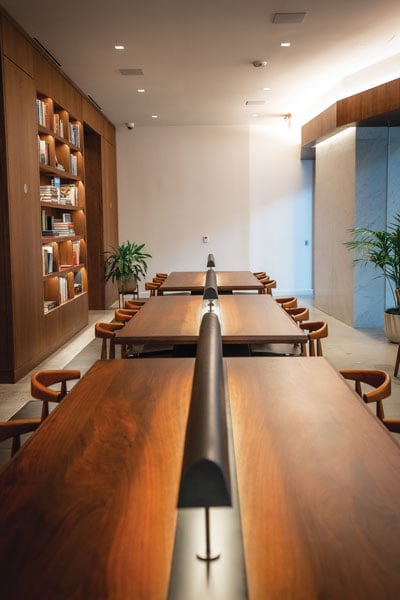 There are certain elements gleaned from in-person interactions that can't be replicated in a virtual meeting. According to Gensler, young workers say their No. 1 reason for being in the office is to collaborate with colleagues. At the same time, younger generations have also embraced the flexibility of being able to work from anywhere.
When it comes to anticipating the future of the office, The Park in Berkeley Heights, New Jersey, demonstrates the importance of integrating the features that the workforce now desires. The 1980s-era suburban office park is in the midst of a $400 million transformation with the goal of creating experiential uses that could provide new ways for people to work, live, dine, socialize and entertain — all in one place.
From Office Park to Mixed Use
The Connell Company first developed the Berkeley Heights property in the 1980s as the Connell Corporate Park. The site is located along Interstate 78, approximately 25 miles from New York City and 18 miles from Newark Liberty International Airport. The first 41-acre parcel was acquired in 1981 to develop Building 100. At 428,000 square feet, it was the largest spec office development ever built in New Jersey up to that time. With the last 20-acre acquisition in 2008, the development stood as a five-building, 1.5-million-square-foot suburban office campus on 185 wooded acres with tenants such as AT&T, AIG and L'Oréal.
Around 2010, sections of the property were rezoned for the development of a 114,000-square-foot LifeTime Fitness facility, a 176-room Embassy Suites Hotel with 12,000 square feet of banquet space, the Grain & Cane fine-dining restaurant and a Starbucks. The company began repositioning the property as The Park in 2018, adding new uses and updating the existing office buildings with amenities that focus on health and wellness, socialization and elevated culinary offerings.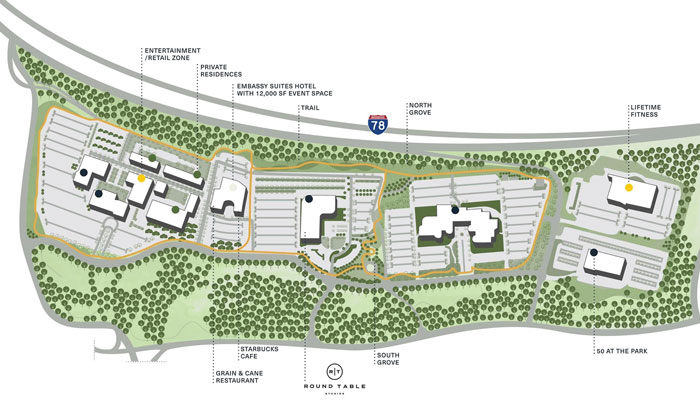 The Park was further rezoned to mixed use in 2020. As a result, the company is developing an additional 185,000 square feet of destination and entertainment retail uses, 328 apartments and public parks.
Due to the size and scale of The Park's property and operations, The Connell Company has a small internal construction team to help support new tenants with construction upgrades. For larger projects, a third-party owner's rep firm is hired to help manage all aspects of development and construction. The owner's rep firm gives the company third-party dedicated guidance and oversight on all design, budgeting, scheduling and construction matters.
The Importance of Amenities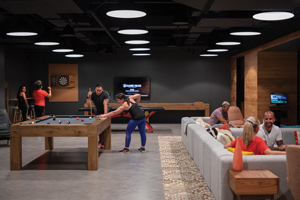 In order to decide which amenities would be most attractive to tenants, the company researched amenity programming that focused on on- and off-campus users. The first perspective was determining the preferences of those who want to work or live in The Park. The second perspective considered what would motivate members of the surrounding communities to drive to the campus as part of their everyday life.
Interestingly, the two lists were nearly identical. The most important amenities focused on convenience, health and wellness, great food, outdoor spaces and experiential spaces while being available to on- and off-campus users, where possible.
Connell established Table and Banter, a branded management group, to run the hospitality, health and wellness, and amenity services for the office and residential properties in The Park. Table and Banter also owns and operates food and beverage concepts as well as catering services. Additionally, The Park also provides concierge-level services including dry cleaning, a bike-share program and catering.
The rollout strategy for the amenities package began by upgrading one office building, so the team focused on a single new high-end office café and catering services for that space. The second office building upgrade will feature a new café with a commissary kitchen, which will service the café and support all the on-site and off-site catering business and the additional restaurant concepts on campus.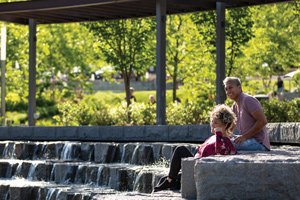 The same approach was used with the wellness and fitness amenities. The first FIELDHOUSE gym, a 12,000-square-foot fitness center and game room, was built in Building 200 and serves the office tenants and members of the 44,000-square-foot Round Table Studios coworking space and social club. The second FIELDHOUSE gym on the campus will be 22,000 square feet and will be located in Building 400, serving the office tenants of Buildings 300 and 400, as well as the new apartment tenants nearby and the general public. Creating the first FIELDHOUSE concept allowed the core fitness and wellness team to grow, and they will eventually lead and support the wellness programming for the entire campus.
Connell has also aligned itself with Eden Health, a direct-to-employer health clinic with multiple locations in New York City and one at The Park. Eden Health provides The Park's tenants with direct access to doctors and other medical professionals, both in-person and virtually. With this alignment, The Park's tenants have the opportunity to efficiently coordinate their health care needs with the nutrition guidance, fitness classes, personal training and facilities offered by FIELDHOUSE.
---
Suburban Office Space is Struggling
Suburban office markets across the country are oversupplied with aging buildings. The problem is particularly acute in the New Jersey suburbs of New York, where a recent JLL report noted that about 72% of office space is "functionally obsolete," according to a July article in the New York Times.
---
During the first phase of The Park's $400 million transformation, the lobby, gym, game room, café and outdoor spaces at Building 200 were renovated — all while it was occupied. Tenants were understanding about working within a building that was also a temporary construction site, as they lost access to the amenities and worked through noisy conditions. As a compromise, Connell built a temporary café offering fresh take-out items.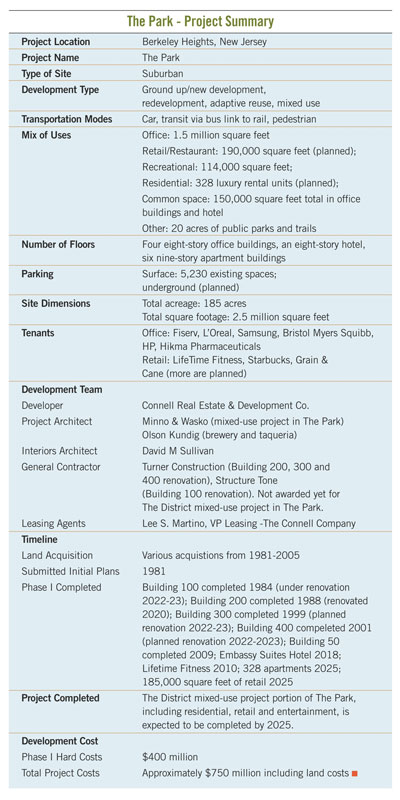 The transformation consisted of upgrades to both the interior and exterior of the building, which was fully funded with internal capital.
Early Popularity
The demand and absorption of available office space exceeded expectations. Rents in Building 200 increased above the budgeted assumptions with occupancy for the building effectively at 100%. Prior to these upgrades, Building 200 contained roughly 150,000 square feet of available space. It now offers 358,000 square feet of boutique luxury tenant experience.
Fortune 500 companies were targeted in the tenant search, specifically technology firms. Upgrades and added amenities and services were designed to appeal to all tenant types, but technology industry office and lobby trends served as inspiration for the renovations. New leases in Building 200 included a mix of tech companies, including HP and Samsung, pharmaceutical companies, financial firms, insurance companies and law firms.
Eco-friendly and sustainable design and operating procedures are a major component of The Park. These features include biodegradable packaging and locally sourced ingredients in food and beverage operations; the use of electric vehicles for all engineering and grounds maintenance; and the installation of solar panels and LED lighting in parking lots and roofs.
The office must evolve to attract and accommodate a new generation of workers who want the structure, sustainability and social value that come from working in a welcoming physical environment. By offering shared amenities, community activities, a variety of eateries and communal workplaces, The Park strives to create an environment where workers not only socialize within their organization, but also with other tenants of The Park — exceeding the norm of socializing only within their own companies.
Shane Connell is executive vice president at The Connell Company.
Leasing Success
In September 2021, financial technology firm Fiserv announced that it would lease more than 420,000 square feet in Building 100 in The Park and bring in up to 3,000 employees.
"Our new location in Berkeley Heights will be a dynamic hub of collaboration and innovation, bringing our people together in an inspiring workplace environment to create opportunity for unmatched energy and career growth experiences as we move payments and financial services forward on behalf of our clients," said Frank Bisignano, Fiserv's CEO, in a statement.
Shane Connell, executive vice president of The Connell Company, told ROI-NJ in March that 40% of the office leases at The Park were up for renewal in 2021. All were either renewed or rented to new tenants.
"We're 99% leased," he said.
---
Colleges, Resorts Provide Inspiration
Shane Connell, executive vice president of The Connell Company, has said in interviews that vacation resorts and college campuses were major influences on the transformation of The Park in Berkeley Heights, New Jersey, from a staid suburban office park into a lively 24/7 live/work/play destination 25 miles from Manhattan.
"When you choose a place to go on vacation, it has to be better than your home, right?" Connell said in an interview with ROI-NJ in March. "So, what are resorts doing really well to make you pay money to go there? Food is a big part of it, location is a big part of it, service is a big part of it — conveniences, wellness, all those things matter. And all those things can be adapted really well to an office environment."
Connell told ROI-NJ that college campuses do many of those things well, too — but with the important addition of a social component.
"You're seeing an 'arms race' with colleges building better student centers and housing, offering more intramural sports, more indoor-outdoor spaces, the works," he said. "I think the biggest thing that we've seen in colleges are the social solutions. COVID showed that anyone can learn online, just like you can work online. But it's the interaction and integration with people that makes it special. So, we want to deliver a workplace solution that also creates social solutions: evening activations, entertainment, better restaurants and bars — or just changing the work dynamic of the lobby experience, which is a social experience as well as a work solution."
According to Connell, about 9% of the space in every building at The Park is dedicated to social and shared spaces. That includes the development's coworking hub, the 44,000-square-foot Round Table Studios (RTS). It offers "social memberships" to people who "aren't necessarily renting a desk or an office suite in the space, but want access to the perks and services that RTS has to offer," according to an October 2021 report from Real Estate NJ. These social memberships are available to any employee of a company with a lease at The Park.
"We're trying to turn an adult workplace into more of a collegiate feel," Connell told Fast Company in an interview published in September 2021.
Connell also told Fast Company that The Park isn't trying to compete with New York City, but to complement it.
"For the people that are traditionally working in New York City, using the city for entertainment, for culture, for dining, instead of having to drive 30 minutes, driving 10 minutes is an alternative that they want to have," he said.
---