Competition over the last mile is leading retailers and developers to adopt new strategies.
The expansion of e-commerce rapidly accelerated during the first year of the COVID-19 pandemic. While consumer safety concerns about in-person shopping have receded, online sales remain significantly higher than before the pandemic. This shift in consumer preferences has led building owners and developers to re-examine traditional approaches to retail and distribution space as bricks-and-mortar retailers expand their e-commerce capabilities and industrial tenants seek last-mile space in land-scarce urban markets.
The NAIOP Research Foundation's June 2022 report, "New Places and New Spaces for E-commerce Distribution," examines the convergence of retail and industrial real estate. The report's author, NAIOP Distinguished Fellow Dustin Read, Ph.D., interviewed developers, investors, architects and other industry practitioners to evaluate the risks and opportunities that this convergence presents for developers and building owners.
Many bricks-and-mortar retailers, forced to close their doors during the first weeks of the pandemic, have innovated by expanding the availability of curbside and in-store pickup options for online orders. Some have also added or expanded ship-from-store capabilities. To varying degrees, these retailers are allocating more store space to online order fulfillment, with some adding automated fulfillment systems to existing stores to enhance their fulfillment capacity. Expanding buy-online, pickup-in-store (BOPIS) options have also led retailers to reconfigure store interiors and dedicate parking spaces for curbside pickup. Should these trends persist, they will require design modifications for shopping center buildings and parking lots to ensure a safe and enjoyable visit for both in-store customers and those picking up online orders. The increase in online sales from bricks-and-mortar locations should also prompt building owners to avoid percentage-rent lease provisions that do not account for online sales generated from in-store traffic or co-tenancy clauses that prohibit distribution activities.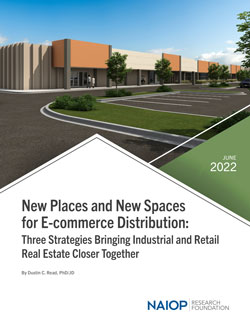 Faced with increased demand for last-mile distribution space, developers in land-constrained markets are also considering strategies that would not have been feasible before the pandemic, such as converting vacant malls to distribution centers. Shopping centers and malls that are located adjacent to transportation infrastructure and near dense urban areas can present tempting targets for conversion to distribution uses given their locational advantages and large parking fields. However, complex ownership and lease agreements can make securing control of a mall difficult, and the expenses associated with demolishing or converting existing buildings can make many projects cost prohibitive. For these and other reasons, most experts expect only a small fraction of malls and shopping centers to be redeveloped into distribution centers in the coming years.
Building last-mile facilities alongside retail space in new mixed-use projects is another emerging strategy that seeks to take advantage of synergies between the two product types. Locations near transportation networks and population centers are attractive to both retail and distribution tenants. In addition, each use can benefit from proximity to the other as retail outlets and restaurants offer amenities to distribution workers who generate additional revenue for retail tenants. However, careful planning is needed to separate industrial and retail traffic and ensure pedestrian safety, and developers should be ready to address potential community concerns about traffic on adjacent roads.
It's unclear whether each of the trends examined in the report will prove to be durable, but developers and building owners can expect that the overlap between retail and industrial uses will continue to grow as retailers compete over the last mile of the supply chain.
Shawn Moura, Ph.D., is the director of research for NAIOP.