It could drastically reduce costs and boost efficiency across the supply chain.
The future of autonomous trucking appears bright, and many testing programs are underway across the country, but it might be a decade or more before unoccupied tractor trailers become a common sight along the nation's highways. Nevertheless, the potential cost savings and increased productivity associated with autonomous trucking has many in the logistics industry excited about the possibilities.
"The more automated we get, the more labor costs and fuel costs decrease with more efficient driving," said Ross Froat, former director of engineering and IT at the American Trucking Association, during a session at NAIOP's I.CON West in 2019.
E-Commerce Surges Amid a Lack of Drivers
The rise of autonomous trucking hinges on two developments: the massive surge in e-commerce deliveries during the COVID-19 pandemic (according to the U.S. Census Bureau's Annual Retail Trade Survey, online sales increased by 43% in 2020) and a huge decline in the number of available truck operators (the U.S. Department of Transportation estimates that 300,000 drivers leave the profession each year).
A December 2018 report from McKinsey & Company noted that the impact of autonomous trucking could be substantial for both logistics companies and consumers. Trucks ship about 65% of U.S. consumer products, and the transition to full autonomy could reduce operating costs by roughly 45%. McKinsey says that would save the U.S. trucking industry between $85 billion and $125 billion annually, which could end up as significant cost savings for consumers.
Additionally, the report notes that automated trucking could lead to around-the-clock warehouse operations. Currently, human drivers' hours behind the wheel are limited by safety regulations established by the Federal Motor Carrier Safety Administration. Those rules would not be necessary for autonomous trucks, which can operate 24/7.
As logistics facilities incorporate robotic technologies such as automated storage and retrieval systems (ASRS), autonomous robot pickcarts, autonomous trailer offloading, autonomous forklifts and more, the synergy between those systems and automated trucks should speed up e-commerce fulfillment. That, in turn, will reduce warehousing costs as units ship more rapidly.
And further in the future, quieter, non-polluting electric motors will likely become standard on autonomous trucks. That could improve site selection for industrial development by alleviating concerns about exhaust fumes and noise among local residents.
A Future of Change
McKinsey says the deployment of autonomous trucks will likely come in four waves. In the first wave, trucks will operate in platoons, which is "a technique to connect wirelessly a convoy of trucks to a lead truck, allowing them to operate safely much closer together and realize fuel efficiencies," according to the report. Drivers will be required in each truck. The next wave will see drivers only in the lead vehicle of a convoy of autonomous trucks. In the third wave, a driver would only be needed to operate a truck from the point it exits an interstate highway to its destination. The fourth wave will be fully autonomous, with the human driver no longer needed.
The McKinsey report notes that future warehouses will likely need new equipment at entrances and docks to accommodate automated vehicles. Additionally, an article in the Fall 2018 issue of Development magazine predicted that that absence of drivers in autonomous trucks would likely lead to smaller cabs. That, in turn, could allow warehouses to employ smaller dock doors and loading docks, resulting in more usable storage space.
At least one industrial developer is taking steps to rethink designs to accommodate autonomous trucks. According to a January 2022 article by Freightwaves, Hillwood Investment Properties plans to add features such as separate entrances for autonomous trucks and an area for pre- and post-trip inspections of robot-driven trucks, which will be guided by sensors to stopping and starting pads.
However, it's not clear yet whether autonomous trucks will lead to radical changes in warehouse design. In "Rules of Thumb for Distribution/Warehouse Facilities Design, Second Edition," published by NAIOP in June 2020, lead author Byron Pinckert of architecture firm HPA, Inc., argued that truck rigs probably won't drastically change in size when automation becomes widely adopted.
"It seems unlikely in the near term, given the current road infrastructure and trailers that are configured for conventional trucks," he wrote. "Will these new driver-assisted and autonomous trucks have tighter turning radii and more precise maneuvering? That is more likely, but the parameters are unknown, and facilities will accommodate conventional trucks and human drivers during any industry transition."
Trey Barrineau is the managing editor of publications for NAIOP.
Order 'Rules of Thumb for Distribution/Warehouse Facilities Design'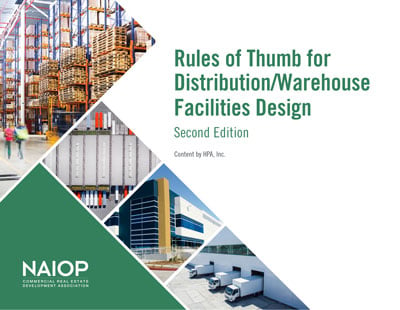 "Rules of Thumb for Distribution/Warehouse Facilities Design," second edition, has been extensively updated with new must-know information and detailed illustrations. Author and former principal with HPA, Inc., Byron Pinckert, drew on his firm's decades of industry experience to explain best-practice methods for planning and designing warehouse facilities. This 60-page e-book addresses topics including site planning for truck and rail delivery, material handling equipment and racking systems layouts, as well as field-tested approaches to complex features such as floor slabs and roofs. "Rules of Thumb for Distribution/Warehouse Facilities Design" will help developers achieve peak operational efficiency for their tenants and build-to-suit clients.
To purchase and download the e-book, visit naiop.org/Research-and-Publications/Rules-of-Thumb
Current State of Play
While the full potential of autonomous trucking won't be realized for years, early experiments are providing a glimpse at what the future might hold.
In June, Waymo, the autonomous-vehicle subsidiary of Alphabet (Google's parent company), partnered with Uber to merge Waymo's self-driving technology with Uber Freight, a digital platform from the ridesharing company that matches freight carriers with shippers. Additionally, Waymo has teamed up with J.B. Hunt on a pilot testing program along the I-45 corridor between Houston and Dallas. During the first testing effort in 2021, more than 862,000 pounds of freight was delivered 100% on time and with zero accidents, according to a press release.
However, safety is a major concern. A June 2022 article from Transport Topics notes that "only 19% of consumers at this point feel that autonomous vehicles are safer than traditional vehicles" — down from about 27% four years ago. Additionally, autonomous truck developers must determine how these unmanned vehicles will interact with law enforcement in the event of an accident or breakdown.
Regulations Regarding Autonomous Trucks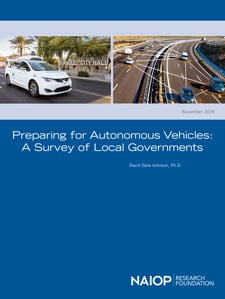 In November 2019, the NAIOP Research Foundation published a report titled "Preparing for Autonomous Vehicles: A Survey of Local Governments" by David Dale-Johnson, Ph.D. the Stan Melton Executive Professor in Real Estate at the Alberta School of Business in Edmonton, Canada. In it, he discussed the state of regulations for autonomous trucks:
"Municipalities interested in AVs (autonomous vehicles) have primarily focused on autonomous passenger vehicles and smaller delivery vehicles such as vans or light trucks, leaving regulation of autonomous freight trucks to states, provinces or national agencies. Within the United States, some states — including Arizona, Florida, Virginia and Louisiana — have allowed autonomous truck (AT) testing or have already authorized the commercial use of ATs.
"A focus on regulating ATs at the state and federal levels may reflect the reality that freight trucks move through multiple municipal jurisdictions and require uniform regulation and oversight. Municipal governments are also less involved in AT oversight because ATs are not yet advanced enough to be tested on city streets. Currently, AT technology developers are focused on creating AT systems that can operate on highways."
To view or download the report, visit naiop.org/AutonomousVehicles