A new tool helps real estate professionals compare local permitting processes.
Obtaining permits and entitlements is a critical and often complex step in the development approvals process. It often requires a substantial investment of time, effort and money, and it can present significant risks for investors. Fees, delays, lack of information and uncertainty can cloud the process and, in some cases, deter development and lessen a jurisdiction's economic competitiveness. The pandemic stalled or forced online many municipal services, which added to existing complications. A NAIOP member survey earlier this year indicated more than 60% of developers reported added delays in obtaining permits and entitlements.
The NAIOP Research Foundation recently commissioned the creation of an index that allows commercial real estate professionals to compare development-approvals processes in different jurisdictions. The tool, which is highlighted in a new NAIOP Research Foundation report entitled "The Development Approvals Index: A New Tool to Evaluate Local Approvals Processes," can help developers "make more informed decisions and helps local governments benchmark their processes against neighboring jurisdictions."
Author and NAIOP Research Foundation Distinguished Fellow C. Kat Grimsley, Ph.D., researched existing methods for evaluating development approvals, examined local approval processes, and interviewed NAIOP chapter executives and developers. The report describes the methodology, provides instructions on using the index, explores its potential applications and includes a pre-formatted Excel spreadsheet with data inputs for up to five jurisdictions.
What to Expect from the Index
The index is designed to be used by commercial land use professionals in the private and public sectors. NAIOP chapters and members are encouraged to fill out the index and share their findings with the NAIOP Research Foundation, their local planning agencies and economic development authorities. It should be noted that the index collects data around building plan reviews, permitting and inspections (zoning approvals were intentionally left out for simplification purposes), but it can be used for any product type.
Using the provided Excel spreadsheet, an individual can input data on several performance metrics (e.g., fees, review process, staffing levels) from readily available public sources, preferably jurisdictional websites. Using online data rather than telephone calls or working from memory improves the index's accuracy and helps determine informational availability. If certain information is not easily available, it should be included on the spreadsheet. The results are then automatically scored, weighted and sorted according to each jurisdiction's approval processes' transparency, accountability and consistency.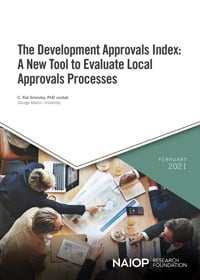 Any jurisdiction can be indexed. For example, suppose a developer is curious about permit approvals in different markets. In that case, information from Dallas, Phoenix and Las Vegas can be entered and analyzed. Similarly, an economic development agency can see how local regional jurisdictions compare. It is estimated that it would take about an hour or less to complete the information for each municipality, depending on how easily they make the information available.
Conversation Catalyst
The index is not intended to solely rank or "report card" municipalities. Instead, the data-collection process and results can enhance public- and private-sector knowledge about approval processes and lead to conversations about what aspects could be improved and what is working well. Jurisdictions can use index results as an objective benchmark to track improvements to their processes, while developers, economic development authorities and other groups can advocate for best practices in their local jurisdictions. For example, if a municipality's website does not contain much of the information needed to complete the index, it can spark a conversation or recommendations about improving online guidance for approvals.
The index can be shared publicly or used internally. NAIOP chapters can ask their members to complete the index and then discuss the findings at a local meeting. The index can also be filled out by real estate students and used as an educational tool.
Many developers would like to have a clearer picture of what they can expect when interfacing with jurisdictions, and the Foundation's Development Approvals Index can help. NAIOP members can play a leading role in the adoption of the index and can help guide its future use. The index will continue to be refined and adjusted according to feedback. Please contact Shawn Moura, Ph.D., research director at NAIOP, at moura@naiop.org regarding questions or comments about the index.
Jennifer LeFurgy, Ph.D., is the vice president for Knowledge and Research at NAIOP.
---
In Memoriam – Byron Pinckert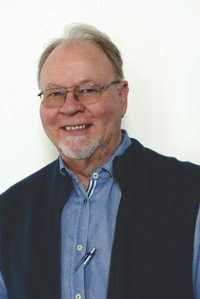 Byron Warren Pinckert, husband, father, architect and novelist, passed away on March 3, 2021, in Long Beach, California. Pinckert was the author of both editions of NAIOP's influential publication "Rules of Thumb for Distribution/Warehouse Facilities."
Byron was born on September 28, 1950. After graduating in 1968 from Pacific High School in San Bernardino, California, he earned a bachelor's degree in architecture from the University of Southern California (1968-1972), followed by a master's degree in architecture (MArch) from Harvard University Graduate School of Design (1972-1975).
In 1980, Byron and Dennis L. Hill formed their own architectural firm, the Irvine, California-based HPA, focusing on commercial buildings. They sold the firm in 2008 to the current partners, and Byron continued at HPA, maintaining an active role in design and teaching. The firm has currently designed more industrial facilities than any other architecture firm in the country.
Byron is survived by his wife Nancy Tormey Pinckert, his daughter Virginia Christine (Ginnichris) Pinckert, his son Dylan Warren Pinckert, his sister Toni Pinckert Bancroft (Robert), his half-brother Warren E. Pinckert Jr. (Connie), and half-sister Pam Borell.
The family suggests that donations be made to the General Fund of Westerly School of Long Beach, California, in Byron's honor.