Recognition goes to exceptional leadership and impressive local efforts in education, special events, membership and legislative advocacy.
In early February, NAIOP honored outstanding work by chapters and individuals in 2020 with the Chapter Merit Awards, which were presented during the virtual Chapter Leadership and Legislative Retreat.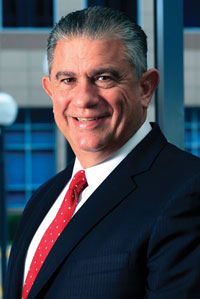 The Chapter Merit Awards recognize success in education, special events, membership, legislative affairs and leadership. Winners are selected by a committee of their peers comprised of volunteer judges. These programs included virtual events, charitable initiatives, competitions for college students and much more.
"For me, the awards have a new importance this year as we recognize the hard work, ingenuity and innovation of our chapters as they pivoted over the last year to keep our members engaged and continued to develop exceptional membership value," NAIOP President and CEO Thomas J. Bisacquino said. "Congratulations to all the 2021 Chapter Merit Award winners and nominees for their significant accomplishments in a very challenging year."
Chapter of the Year
NAIOP Southern Nevada was named Chapter of the Year in the Large Chapter category.
In 2020, the chapter transformed its three biggest events — the Spotlight Awards, the Bus Tour and its largest members-only mixer, Oktoberfest — into educational and entertaining virtual events. The chapter also hosted 13 programs and educational events in 2020.
NAIOP Central Florida was honored as Chapter of the Year in the Medium Chapter category. The chapter hosted 38 events and welcomed more than 80 new members. The chapter also raised more than $15,000 for Feeding Children Everywhere, and members packed more than 57,000 meals for needy families during the holidays.
Outstanding Leadership by a Chapter President
Julie Cleaver of NAIOP Southern Nevada was honored in the Large Chapter category for a wide range of accomplishments. In addition to her efforts that led to a Chapter of the Year award, she was also instrumental in securing an impressive group of speakers for a closing keynote panel discussion at CRE.Converge 2020 — Brian Sandoval, president of the University of Nevada, Reno; Marc Badain, president of the Las Vegas Raiders; and Kerry Bubolz, president and COO of the Vegas Golden Knights.
David Murphy of NAIOP Central Florida received the award in the Medium Chapter category. Murphy helped spearhead the chapter's new IDEA Task Force to bring greater diversity and access to the commercial real estate profession.
Chapter Volunteer of the Year
Rosanne Beattie of NAIOP DC-Maryland was honored in the Large Chapter category. She helped guide the chapter's participation in the Year Up organization, which empowers and mentors low-income young adults to move from poverty to professional careers or higher education.
Jim Chynoweth of NAIOP New Mexico and Bob Moser of NAIOP Central Florida shared the award in the Medium Chapter category. Chynoweth has been active with his chapter since 1994. He served on the board twice (2011 and 2014) and was the chapter's president in 2014. Moser stepped up to lead the programs committee in 2019. In 2020, he created new and inventive program to combat Zoom fatigue, a side effect of remote working brought on by the COVID-19 pandemic.
Brent Nasset of NAIOP Northern Nevada was recognized in the Small Chapter category. Nasset, a Registered Professional Engineer, put in many hours working on a complex update to the city of Reno's development code.
Outstanding Contribution by a Chapter Executive
Lynne Andersen of NAIOP New Mexico was recognized for many accomplishments during her long tenure at the head of the chapter.
Education
NAIOP Georgia was the winner in the Large Chapter category for its Georgia School Challenges, an academic competition between teams from the Georgia Institute of Technology, Georgia State University and the University of Georgia. The case study involved complex current market conditions relating to office and industrial real estate in Atlanta. The teams had to research the available market data and present the best solution for the given case parameters.
NAIOP South Florida was honored in the Medium Chapter category for programs focusing on industrial properties. These consisted of two moderated, industrial-focused Zoom panels and an Industrial Update Virtual Bus Tour focusing on three large submarkets: Miami Dade, Broward (Ft. Lauderdale) and Palm Beach.
NAIOP Northwest Florida won in the Small Chapter category for its What's Up chat series, which educated members on issues that affect the commercial real estate industry and the community as a whole.
Special Events
NAIOP Southern Nevada won the award in the Large Chapter category for reimagining and re-creating its annual bus tour to be an all-virtual event, including a flyover video, interactive website and speaker panels.
NAIOP South Florida was honored in the Medium Chapter category for transitioning its popular Awards of Excellence event into an all-virtual format.
Legislative Affairs
NAIOP Arizona was the winner in the Large Chapter category. The chapter worked with Arizona Gov. Doug Ducey to minimize the exposure of NAIOP members to the effects of an executive order related to commercial tenant evictions by limiting the scope and duration of the order. chapter also worked with the governor to ensure that construction and real estate services were included in the definition of an essential business in a separate executive order.
NAIOP Central Florida was recognized in the Medium Chapter category for helping secure passage of a bill that removes the witness requirements for commercial real estate leases in the state.
The Capitol Dome Award for overall excellence in government affairs was awarded to six chapters in California for their efforts to defeat SB 939, a bill that would have boosted taxes on commercial real estate by $11.5 billion. The chapters are NAIOP Inland Empire, NAIOP Sacramento Valley, NAIOP San Diego, NAIOP San Francisco Bay Area, NAIOP Silicon Valley and NAIOP SoCal.
According to a June 2020 article from The Business Journal, SB 939 "would have established tenant protections for lessees impacted by COVID-19 by instituting an eviction moratorium on all commercial tenants until 90 days after the emergency order that began on March 4 is lifted. … For restaurants, bars and entertainment venues that saw reductions in revenue of 40% or more because of shelter-in-place orders and (faced) occupancy reductions of 25% or more, the bill would have forced landlords to renegotiate lease terms. If terms couldn't be reached, tenants could leave without loss of their personal guarantee."
Trey Barrineau is the managing editor of Development magazine.