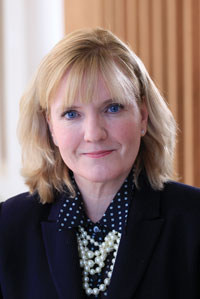 2021 will be a year of recovery. With the administration of the vaccine, local economies will begin to reopen this spring, and we will return to some semblance of normalcy.
According to the recent NAIOP Research Foundation's "Economic Impacts of Commercial Real Estate 2021" report, GDP is estimated to grow by at least 4.0% this year, with unemployment falling to 5.2%. Full employment is projected to be achieved by mid-2022. Demand for new space will be dampened where quality surplus building space — vacant space — can accommodate current and near-term growth. While the warehouse sector continues its strong performance, the pace of recovery for retail, hotel and office remains uncertain.
It is my hope that we will continue to work together as an industry and a country to help our communities build back stronger.
Stay safe,
Jennifer LeFurgy, Ph.D.
Editor-in-Chief
In This Issue:
Rail-served industrial properties can be a good investment for developers, but they require extensive planning, consultation and communication for success.
Vaccines to neutralize COVID-19 have arrived, and the speed and scale of their delivery will have tremendous implications for the commercial real estate industry and the overall economy.
In Portland, Oregon, the historic Meier & Frank department store has found new life as a creative office space following a $16.6 million renovation.
The NAIOP Research Foundation's annual report for 2020 highlights a busy year filled with practical research for professionals in the commercial real estate industry.
A new ratings system from UL and the Telecommunications Industry Association quantifies the effectiveness of smart building technologies.
The COVID-19 pandemic has led to a dramatic decrease in parking demand. Because of that, many sectors of the economy that depend on parking revenue will face budget shortfalls this year.
Growing demand for life sciences presents an opportunity for developers to reposition existing buildings into spaces suitable for light and heavy life science use.
Gretchen Wilcox, the CEO of the only woman-founded commercial mortgage banking firm in the U.S., shares her experiences in the commercial real estate industry.
Diversity and inclusion efforts in the workplace require letting go of assumptions in order to reduce discrimination in hiring and promotions.
Advanced work packaging can improve efficiencies on construction projects by addressing complexities early in the process.
President Biden has made action on climate change a priority. NAIOP will be an important voice as legislative and regulatory proposals are debated that will impact commercial real estate.
Real estate developers should use state and local economic development incentives thoughtfully to lower costs and increase values when it comes time to sell.
An abandoned cemetery dating to the 1800s complicated the development of a new distribution facility near the Cincinnati/Northern Kentucky International Airport.
The EB-5 program, also known as the U.S. Immigrant Investor Program, can help attract foreign direct investment in U.S. commercial real estate projects.
The $1.13 billion Chula Vista Bayfront development in Southern California provides a lesson in the steps developers should take to mitigate the risks associated with megaprojects.
Data-driven building information modeling and cloud collaboration can keep everyone aligned and moving forward on large projects despite stay-at-home mandates associated with COVID-19.
The Catalyst Building in Spokane, Washington, demonstrates how properties can benefit from shared energy infrastructure.
Most Popular From Fall 2020