Survey shows that most respondents see less work available to bid on as material prices keep climbing.
Contractors have divergent expectations about the volume of work available to bid on in 2021, as project postponements and cancellations proliferate. Meanwhile, margins are being squeezed amid intensifying competition and sharply rising materials costs.
Pessimism pervaded the responses of the more than 1,300 contractors who participated in the 2021 AGC-Sage Construction Hiring and Business Outlook Survey. For 13 out of 16 project categories, a higher percentage of respondents replied that they expect the dollar volume of projects available to bid on in 2021 to shrink than expect it to expand.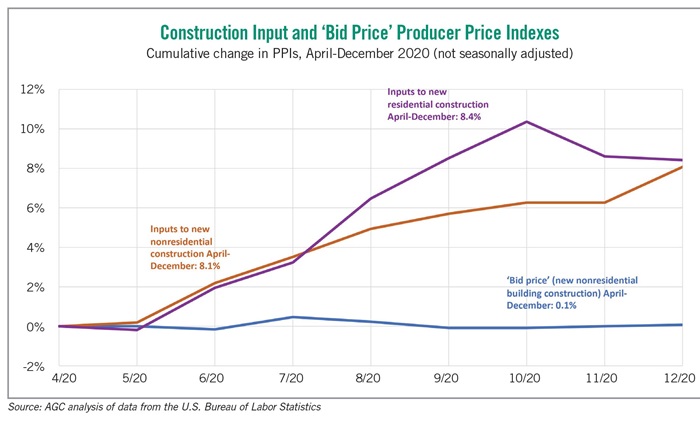 The difference between these percentages, or net reading, was especially negative for retail, lodging and private office-building construction. The net readings for these categories were -64 percentage points for retail and -58 for lodging and offices. Net readings were negative as well regarding publicly financed, institutional and heavy industrial categories.
In contrast, there were a couple of bright spots among other commercial segments. There was a net positive reading of 11 points for "other health care," such as non-hospital-based clinics, testing and screening facilities, and medical labs. Respondents were also modestly bullish about warehouse construction, which had a net positive reading of 4.
More than three out of four respondents reported that at least one project had been postponed or canceled since the pandemic began, including many projects scheduled to begin in the first half of 2021. In contrast, only one-quarter of the contractors reported winning new or additional work.
In addition to causing widespread postponements, the pandemic has driven up costs and completion times. Nearly two-thirds of respondents reported that projects had taken longer than anticipated, and more than half said costs had been higher than anticipated.
Despite these challenges, contractors have been reluctant — or unable — to raise prices. Only one-third of respondents reported putting higher prices into bids or new contracts.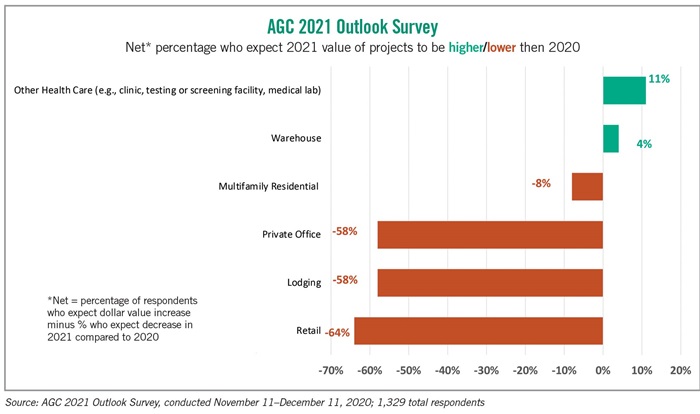 Data from the Bureau of Labor Statistics confirms that contractors are holding the line on pricing, even as costs climb for many of their purchases. The producer price index for new nonresidential building construction, which measures the price contractors say they would charge to put up new buildings, inched up just 0.1% from April to December 2020. Meanwhile, indexes that combine the cost of materials and services used in new nonresidential and residential construction jumped 8.1% and 8.4%, respectively. This growing disparity represents a significant threat to contractors' profitability, particularly when there is a diminishing number of opportunities to make up for past losses.
There are significant differences in the outlook by region. Contractors in the South are more optimistic — or less pessimistic — than their counterparts nationally regarding every project type. Conversely, contractors in the Northeast have negative expectations for all categories — and they are more negative than the national outlook in all cases.
Responses came from every state, and half of the states had enough participants for AGC to break out their responses. The most optimistic contractors were in Alabama, closely followed by Oregon and Texas. In contrast, respondents from Alaska, New York and Pennsylvania had more pessimistic views than the full panel regarding all project types.
At this early stage of getting people vaccinated and reopening the economy, it appears that 2021 will be a challenging year for most contractors. But there will be a range of opportunities that vary greatly by location and project type.
Ken Simonson is the chief economist with the Associated General Contractors of America. He can be reached at ken.simonson@agc.org.