Extensive planning, consultation and communication are necessary ingredients for successful projects.
Developers who are looking to build rail-served industrial parks must consider a few questions. Does it make sense to provide freight rail service to this development and is there a market for it? What must be accounted for when it comes to logistics, internal and external operations, cost and design? For this growing area of industrial real estate, it's important to know about site development, effective communication, rail operations, rail design and transportation in order to turn properties adjacent to rail lines into revenue-generating assets.
The Return of Rail
According to a 2018 article from Area Development, the Association of American Railroads (AAR) reports that since 1980, prices for rail transportation have decreased by more than 50% in real dollars adjusted for inflation. Despite this, the Federal Highway Administration (FHWA) reports that trucks moved 60.8% of total freight shipments — nearly 11.3 billion tons of goods — in 2018. Demand for public and private truck parking spaces continues to exceed supply as freight volumes rise, and a projected increase in the number of trucks on the road will only add to the challenge, according to the U.S. Department of Transportation's (USDOT) Bureau of Transportation Statistics.
As the number of trucks on the road increases, many industries are finding rail to be a more environmentally sustainable option. According to a 2020 Sustainability Report from AAR, on average, U.S. freight railroads can move one ton of freight more than 470 miles using one gallon of fuel, while a truck can move the same amount of freight about 134 miles using one gallon of fuel. Given this difference, the report states that if 50% of the truck traffic moving at least 750 miles went by rail instead, greenhouse gas emissions would decrease by approximately 26.2 million tons
per year.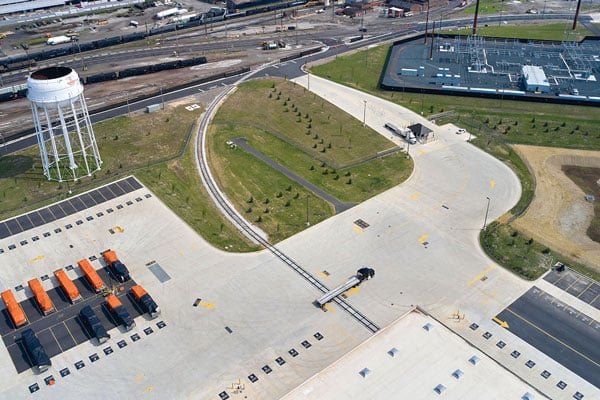 These aspects, combined with fluctuating fuel costs, expanding regulations and driver shortages, may make incorporating rail into logistics operations a more favorable and budget-friendly choice than relying solely on over-the-road transportation. Of course, trucks play a vital role in the rail network. Railroads can't serve every industry in every location, so trucks are necessary to move freight across shorter hauls. According to AAR, rail intermodal — which combines multiple forms of transportation including trucks, trains and ships to transport a variety of goods — is increasing in popularity, and freight railroads are adapting to meet the demand.
The Keys to Site Selection
Prior to a developer approaching a site with the potential for rail service, it is important to ask the right questions. The best way to accomplish this is by involving the railroad early in the process before the site plan is finalized, the budgets are set and before a site is put under contract for purchase. Railroads seldom proactively develop land or own vacant sites, so submitting an inquiry to the railroad will start the coordination process.
When selecting a site, consider what might make it attractive to users including manufacturers, distributors and third-party logistics providers. The Transportation Research Board's (TRB) 2016 report "Freight Facility Location Selection: A Guide for Public Officials" provides useful criteria for establishing where to locate new logistics facilities and details seven logistics facilities types:
Distribution centers. Used for storage and to facilitate the movement of goods. Seaports and airports. Necessary for international and domestic shipping.
Intermodal terminals. Allow for the movement of goods between modes of transportation.
Transload terminals. Receive and distribute bulk products including grain, lumber and concrete.
Hub terminals. Carrier-operated; useful for intramodal resorting and reconsolidating.
City terminals. Carrier-operated; helpful for managing the pickup and delivery of goods to customers.
Integrated logistics centers (sometimes called freight villages). Industrial parks or mixed-use developments built around freight-servicing facilities.
After determining the facility type, identify the transportation access the site will require. Is the site near a major highway, port or inland port? Is there existing access to rail onsite? TRB's National Cooperative Freight Research Program study recommends the goals of delivering goods with speed and accuracy that meets or exceeds the competitive standards in the market and establishing a set of logistics costs that are as low as possible within the delivery standards. In other words, the site's location should help lessen operating time and monetary commitments.
Next, research the demand in the area and find out if the community has sufficient workforce resources. Then, consider how the facility will operate and who will operate it. How does the location fit within the supply chain network? Will the site be cost-effective, or are off-site or on-site improvements needed? Are there competitive local development or tax incentives? Determine if there are rail crossings (existing or proposed) that should be considered or if there are other operational limitations (i.e., dimensions of the property or topographic challenges).
Effectively Communicating with Railroads is Vital
Though developing a rail-served facility may seem daunting, it's important to know that railroads are motivated and looking for opportunities to serve industrial customers. They have economic development teams interested in increasing their customer base and in diversifying their cargo types. To keep the lines of communication clear and open, communicate with the railroad's economic development team, either directly or through a consultant. No two sites are identical, and not every end user or railroad operates the same way.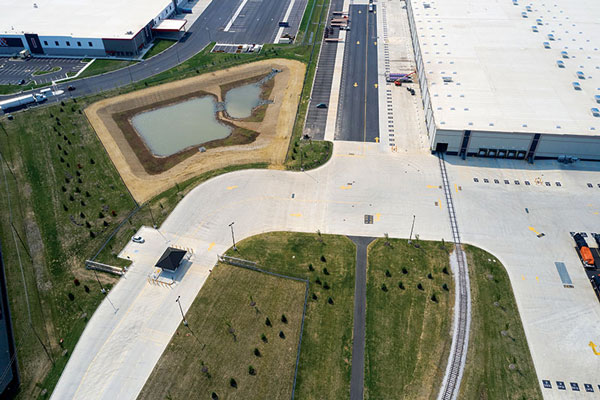 For example, rail service can vary across the country based on geography. Think open flat space in the Midwest, high mountains in the West, and congested cities, suburbs and industrial areas in the Northeast. There are also different considerations if the operations rely on ports or if they need to interface with intermodal yards or transload facilities. Additionally, the physical limitations posed by a site may impact its development potential. As a result, it's important to work with the railroads and an engineering consultant to establish what's feasible for a given site.
A lack of communication can lead to frustration and cause delays that impact project risk and budgets. Establishing schedule expectations up front is essential to prevent miscommunication throughout the development process. Real estate agreements often come together much faster than rail service agreements, so developers sometimes have timeline expectations that aren't congruent with how railroads operate. Rail service agreements are established between the railroads and the property owners in order to provide rail service. They typically require owners to provide the railroads with information like commodity type and volumes, and they are executed once the site design and operations are agreed upon.
This was a lesson learned by a developer who didn't establish an expected timeline with the railroad. Dismayed by the schedule disconnect that occurred as a result, they engaged an engineering consultant to help. The developer already had a tenant and wanted to move quickly, but the railroad needed to put in time and effort to confirm feasibility and safety. After reviewing the site, the railroad suggested building a new lead track in addition to the industrial spur, which would tie up the land for an additional 12-18 months. It was an eye- and wallet-opening moment for the developer, and the condition to close — a service agreement that needed to be signed by all parties — hung in the balance.
While all parties were eventually able to reach an agreement, there are several steps developers can take to avoid similar complications.
First, be prepared for the financial commitment required to hold the land longer or keep it under contract for additional time. Second, realize there are aspects of a railroad's business that are not publicly available that allow the railroad to remain competitive. Third, make sure to allot enough time to establish a service agreement and navigate the process with multiple parties within the railroad. Railroad operators influence every step of the process and are especially concerned and diligent about safety, so collaborate to ensure the plans follow their experience-based guidelines.
Assessing Operations
While many railroads can provide input on the feasibility of a site, they need to understand the project's intended use and operation. When it comes to railroad access onto and within a site, think about how many tracks may be required. This can be dictated by the user and/or the railroad. Next, identify the product the end user will receive or ship out. This will inform the types of rail cars and the loading/unloading operation needed, whether loaded into a building, onto a paved storage area or pumping material into silos. The railroad will want to know if this will be a relocated operation or a new operation as that plays into their planning.
Once you've established the goods being transported, determine the volume and length of trains and how they impact onsite requirements. Is there a predictable delivery schedule for the products and does that coincide with the railroad's operations? Plan out not only when shipments should be delivered, but also consider when the railroad can feasibly deliver them. These conversations will be vital to any agreements with the railroad.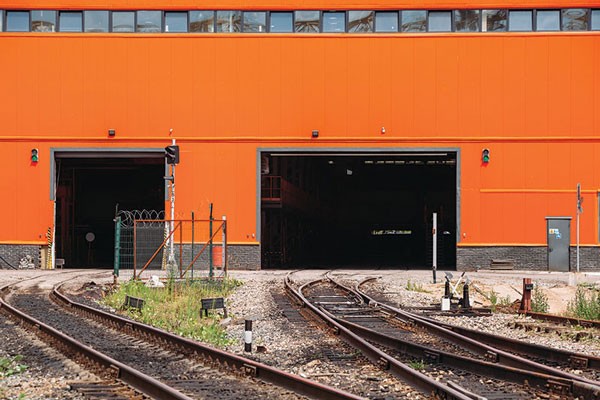 Will full rail cars arrive at one time and empty ones depart the same way, or will the cars be delivered and removed at unpredictable times? If so, it might be necessary to separate receiving and departure tracks or add a siding track adjacent to the mainline for switching so mainline operations aren't interrupted.
Anticipate volumes growing over time and plan for future expansion on the proposed site, even if it happens in phases. Make sure to also consider what's happening on the railroad side. For instance, is this site adjacent to a high-speed mainline? Are there passing sidings nearby? Understanding how the facility will operate, the trains will arrive, the trains will be processed, the departing trains will be built, and how the trains will depart is critical. Also, investigate the cost of constructing rail infrastructure off-site including bridges, culverts, retaining walls and at-grade crossings. Well-planned operations are a useful tool for developing a strong design for a project, and this early coordination can help speed up the design and approval processes.
Keeping the Design on Track
One of the last steps in completing a site's due diligence is finalizing a design concept. What is the most efficient layout for the project that maximizes the footprint? The required or typical acreage will vary depending on the unique needs of the user and the site. What about access off the main roadways? Because this is valuable input for the design process, the railroad access and layout should not be an afterthought. Railroad design is quite rigid compared to standard roadway design. Grades need to be flatter and curves need to be gentler. It must meet minimum requirements for the operating railroad to approve the design. For example, utilities and pipes crossing underneath the track typically need to be deeper than a standard site without rail service. Is it possible to develop a rail alignment that works for both the railroad and the facility, while also balancing the site's earthwork to keep the project in budget? All these restrictions have the potential to derail the initial concept.
The railroad design is directly tied to the proposed facility's operations, and not only to the railroad operations. When a train is pulled in, will it block a circulation road? If so, for how long? Is the train's dwell time for uncoupling cars accounted for?
If the railroad is making multiple deliveries to industries in the area and enters the site with a longer train, the train could block traffic and emergency access within the site and completely halt operations. How will the rail cars be unloaded? If you're unloading at dock doors, has the finished floor elevation accounted for the appropriate commodity's car type floor height? Will equipment to unload cars at the dock doors need to be installed? If deliveries are being unloading on pavement with forklifts, is there an efficient circulation path? Is a grade crossing needed to cross the tracks with the forklifts?
The considerations for the site cannot ignore the considerations for the rail, and vice versa. The site operations and the railroad operations need to coordinate or all parties will lose efficiency.
Imagination Becomes Reality
Railroads have provided a vital form of transportation for goods and services since the 1800s and will remain an important part of the industrial equation for years to come. Intermodal rail has grown due to the many benefits it offers, and the industry continues to adapt to support this expansion. According to a recent AAR report, rail intermodal, which accounted for 25% of U.S. railroad revenue in 2019 (more than any other traffic segment), has grown in volume in part due to railroads privately investing to expand terminals, innovate with technology and improve productivity.
When rail integration is planned correctly, railroads can offer a reliable and efficient mode of transport that supplements and diversifies business operations. While the COVID-19 pandemic impacted businesses around the globe, the outlook for rail is still promising through 2021 and beyond. According to Railway Age Magazine, while Class I freight rail volumes dipped 9% on average through 2020, they rose almost 2% in the fourth quarter. Additionally, a November 2020 FreightWaves article says Moody's Investor Services predicts rail volumes will grow over the next 12 to 18 months.
Superior rail-served facilities are developed with careful consideration given to site selection, operations and design. As part of the development process, it's important to seek out railroads early for their industry knowledge and experience. Engaging and effectively communicating with these professionals early can ensure the site's design and potential operations will meet the more rigid standards of the major railroads. Through careful planning and proactive collaboration, a property with an adjacent rail line can develop into a revenue-generating asset.
Nick Kern, P.E., is a railroad and transit engineer with Kimley-Horn, and Dan Grant, P.E., is a development services senior associate with Kimley-Horn. Randall Phelps, P.E., a development services principal with Kimley-Horn, and Jamie Gwaltney, P.E., a development services practice lead with Kimley-Horn, contributed to this article.
---
Rail Service Rules of Thumb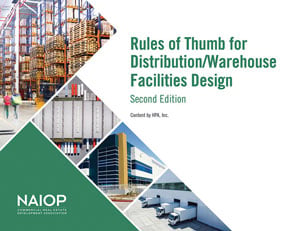 NAIOP's 60-page e-book, "Rules of Thumb for Distribution/Warehouse Facilities Design," is available for sale on its website. It includes information on the universe of industrial facilities, including those served by rail. Here's a brief excerpt:
"If a site is adjacent to a rail line or spur, it makes sense to at least ensure that a building could accommodate future rail service. The exact layout of rail spurs depends on the rail provider. These companies have been around a long time and have very fixed specifications and approval procedures that are often as formidable as a local planning agency. Unless you are interested in learning things like what a 'frog' does on a rail line, an experienced rail engineer is required for any detailed design, and there will be a long approval process prior to any actual construction."
Originally published in 2005, "Rules of Thumb for Distribution/Warehouse Facilities Design" has been significantly updated and expanded to include new information and illustrations on industrial site design, floors, racking systems and aesthetics.
"Rules of Thumb" provides not only the numbers behind successful warehouse design but also the reasons for these recommendations.
To learn more or to purchase a copy, visit www.naiop.org/Research-and-Publications/Rules-of-Thumb