Awards honor the association's outstanding work in print, online and video during 2020.
NAIOP and Development magazine recently won multiple national and regional awards for excellence in communications and publications.
Azbee Awards
The staff of Development magazine was honored as finalists for Magazine of the Year in the 43rd annual American Society of Business Publication Editors (ASBPE) Azbee Awards of Excellence. Development was recognized for three consecutive issues from 2020 that focused on the commercial real estate industry's response to the COVID-19 pandemic.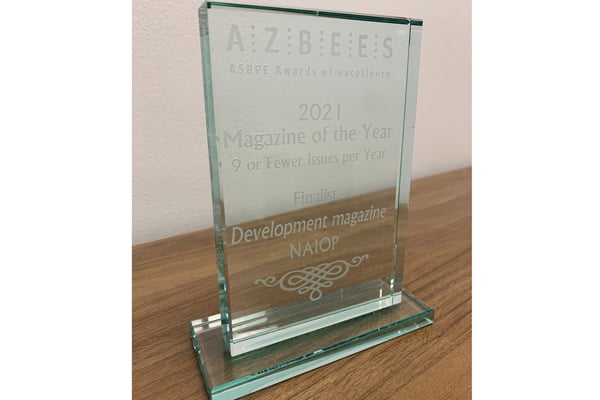 Development's staff also received a national Azbee gold medal in the category of Single-Topic Coverage by a Team for the Summer 2020 issue of the magazine, which was entirely focused on COVID-19's impact on commercial real estate. (Development won a Mid-Atlantic Region gold medal in that category as well.) Additionally, Development won a bronze medal in the category of Feature Series for a collection of 10 articles that examined how the industry grappled with the pandemic. (The magazine was also honored with a Mid-Atlantic Region silver medal in the same category.)
Contributing editor Ron Derven won a Mid-Atlantic Region silver medal Azbee award in the Company Profile category for his article on NAIOP's 2020 Developer of the Year, Kilroy Realty, from the Fall 2020 issue.
NAIOP's Market Share blog won a Mid-Atlantic Region bronze Azbee award in the Trade Show/Conference Coverage category for its reporting from the association's I.CON Virtual Conference, which was held in June 2020.
The Azbees honor outstanding writing and design work in magazines, newsletters and digital media from association, business-to-business, trade and professional publications.
SIIA Awards
NAIOP's CRE.Converge 2020 "sizzle" video won a national silver medal in the Software & Information Industry Association's (SIIA) Excel Awards in the category of Video — Single Entry (Promotion). The EXCELS are the largest and most prestigious awards program for association media, publishing, marketing and communication.
And Development's Summer 2020 issue on COVID-19 was a national finalist for Best Single Issue of a Magazine in SIIA's Jesse H. Neal Awards, which are widely regarded as the Pulitzer Prizes of business-to-business journalism.
Trey Barrineau is the managing editor of publications for NAIOP.