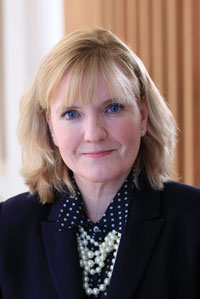 This issue of Development magazine features articles on the ways in which commercial real estate continues to align with the post-pandemic economy.
NAIOP's Developer of the Year, Hudson Pacific Properties, has found success by building studios to meet the demand for streaming entertainment content, while Ryan Companies and Waterford Property Company are addressing the realities of senior and affordable housing, respectively. Longtime contributor Ron Derven examines how secondary and tertiary markets have weathered the ups and downs of the past two years. And influential writer Joel Garreau sits down with Development to discuss which types of cities will be the big winners in the aftermath of the pandemic.
I'm looking forward to seeing you at CRE.Converge in Miami Beach at the end of September.
Stay informed,
Jennifer LeFurgy, Ph.D.
Editor-in-Chief
Hudson Pacific Properties, NAIOP's 2021 Developer of the Year, focuses on creative office space and film studios along the West Coast.
Second-tier cities are experiencing explosive growth, and it doesn't appear that trend will be slowing down anytime soon.
Thirty years ago, author Joel Garreau's "Edge City" described a revolution in where Americans live, work and play. Today, he sees smaller, beautiful places like Santa Fe, New Mexico, embodying the next big change.
Buoyed by a rapidly aging population, the senior living sector is poised for significant growth. Here are a few things that developers need to know.
Preliminary figures from the 2020 U.S. Census show that population growth continues in the South and West. (First of a two-part series.)
Mike Lafitte, Global CEO, CBRE Real Estate Investments and CEO, Trammell Crow Company, discusses taking over as leader of a global real estate firm at the height of the pandemic.
Building owners will need to be creative to develop truly engaging office spaces that will attract workers, particularly to urban cores.
Parametric insurance policies, which pay out based on an event such as a hurricane occurring in the geographic area near a property even if the property is not damaged, could be helpful for owners in regions that face recurring weather threats.
In a trendy area of Los Angeles, an ultra-hip organic grocery store stands out thanks to a multi-functional design.
As costs for building materials keep rising, here are five things that developers, owners and builders of office properties can do to overcome these economic challenges.
Autonomous vehicles will alter the design and construction of parking facilities, but they probably won't change their size.
In California, a new program may provide a solution to the problem of "missing middle" housing in a state that has some of the highest apartment rents in the country.
Meet the four winners of NAIOP's Diversity Student Scholarships. They hail from backgrounds that have traditionally been under-represented in the commercial real estate industry.
Radiant slabs use flexible pipes embedded into a concrete floor to circulate water or electrical heating elements, reducing energy costs for building owners.
The NAIOP Research Foundation recently published a new report titled "An Overview of Emerging Construction Technologies" that explores advances in commercial construction.
NAIOP Austin, the association's newest chapter, represents the commercial real estate industry in the capital of Texas, which is also the fastest-growing city in the U.S.
---
Future NAIOP Events
CRE.Converge, September 26-29, Miami Beach, Florida
I.CON East 2021: The Industrial Conference, November 10-12, Jersey City, New Jersey
Chapter Leadership and Legislative Retreat, January 31-February 2, 2022, Washington, D.C.
For the most current information on upcoming NAIOP events, both virtual and in-person, visit NAIOP Events
---
Most Popular From Summer 2021
1. "How Ascent is Pushing Mass Timberto New Heights"
2. "Eight Crucial Post-Pandemic Takeaways for the Industry"
3. "Starting a Lab Facility: A Primer for Real Estate Professionals"
4. "Asset Managers Can Play a Key Role in Tenants' Return-to-Workplace Plans"
5. "Stairs on the Rise"