A program in California seeks to address affordability for the "missing middle."
California has failed its essential workers.
Across the state, nurses, teachers, librarians, public safety employees, first responders and civil servants are priced out of the very communities they serve. These individuals and families earn too much to qualify for traditional affordable housing but not enough to afford escalating market rate rents in the neighborhoods where they work.
Called the "missing middle," these essential-worker households make between 80% to 120% of the area median income (AMI). Unlike traditional affordable housing income levels that have various financing sources such as federal and state tax credits to create "low" and "very low" income housing, the middle-income level does not.
It is important for people to have the option to live near where they work, particularly those workers who are most essential to local economies and communities. When people can afford to live closer to their jobs, entire communities reap the benefits. Commute times and traffic congestion ease, and economies are strengthened by helping employers attract and retain the essential workers they need.
What's the Solution?
At the end of 2020, the California State Communities Development Authority (CSCDA) launched an innovative tool for the timely financing of community-based public benefits projects. Using tax-exempt bond financing, CSCDA acquires multifamily projects without the use of public subsidies and imposes moderate income regulatory agreements. By executing a public benefits agreement, cities and other local taxing agencies are entitled to all the financial upside in the asset, which is financially beneficial for the city and county as well as the local school district. The program benefits residents by providing reduced rents that can be locked in for 30 years with a maximum annual increase of just 4%.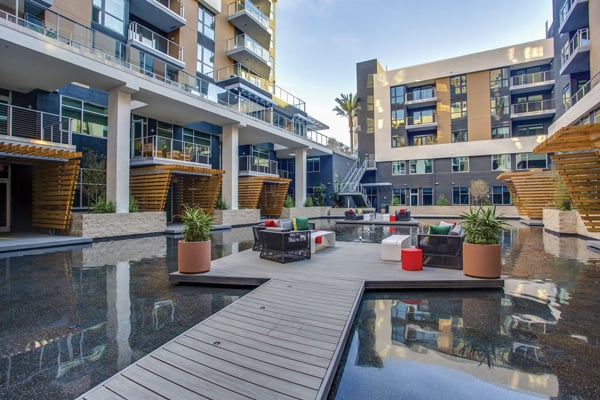 Several California cities have already decided to support CSCDA's innovative new program, and since the start of the year, Waterford Property Company has partnered with CSCDA to acquire four luxury multifamily communities in California to convert to middle-income housing. One prime example is Oceanaire, a 216-unit luxury apartment community. It features Pacific Ocean views, clubrooms and resident lounges, and an on-site coworking lounge. Residents now gain housing they can afford without sacrificing residential development quality.
Based on current occupancy, this program, for example, can benefit approximately 40% of existing Oceanaire residents, who will see average rent decreases of approximately 10%. In addition to providing decreased rents for tenants, CSCDA's financing structure will ensure that Oceanaire remains a luxury rental community due to significant financial reserves that are part of the bond issuance. Waterford is the project administrator acting on behalf of the bond holders to execute the business plan.
How It Works
To understand how this program works in local cities, consider its application in Long Beach, California. The city has close to 5,000 moderate-income households according to a national market advisory firm. Looking at the city's regional housing needs assessment (RHNA) — which is a representation of future housing needs for all income levels — for the period between 2014 and 2021, Long Beach's moderate-income housing production goal was 1,170 units. To date, the city has produced 37 units. For the period between 2022 and 2028, Long Beach has a RHNA goal of 4,149 moderate income units. Based on these numbers, the city is already projected to be behind its ability to house its middle-income families and individuals.
While the conversion of Oceanaire to middle-income housing is just the beginning, it's an important opportunity for Long Beach to meet its RHNA requirements.
While in the short term Long Beach will relinquish its share of property tax revenue from this property, the long-term opportunity is for the city to sell the property at a 30-year point and benefit from sales proceeds that will provide Long Beach with a significant return on its investment.
In total over 30 years, Long Beach will forego $10.8 million in property taxes but will be the beneficiary of all the long-term equity in the asset, which is projected to be approximately $155 million. That money will go directly to the city. This will create an approximate six-times return on the city's investment, which will be in addition to the millions in rent savings for the residents.
While the CSCDA middle-income program is relatively new, it has the potential to make a real impact on housing affordability for cities across the state and can help turn around a crisis that is potentially holding back full economic recovery for everyone in California.
Sean Rawson and John Drachman are co-founders of Waterford Property Company, a Southern California-based real estate firm that specializes in the acquisition and development of multifamily and commercial properties.