Women and other traditionally underrepresented groups in commercial real estate earn less than their white, male counterparts.
In September, the Commercial Real Estate Women (CREW) Network released its fourth study measuring women's progress in achieving parity in the commercial real estate industry, and the results indicate not much has changed since the last survey in 2015.
The 2020 CREW Network Benchmark Study: Gender and Diversity in Commercial Real Estate, conducted in partnership with the MIT Center for Real Estate, found that women comprise 36.7% of commercial real estate professionals and hold just 9% of C-suite positions, figures that have not changed substantially since the survey began in 2005. Additionally, women continue to make less than men — about 90 cents for every dollar a man earns in fixed salary and 45 cents for every dollar a man earns in commission and bonuses.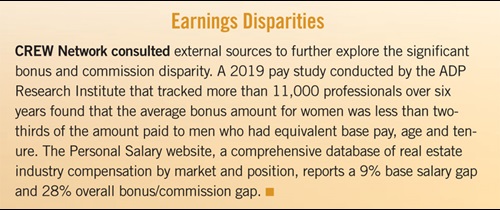 Women (21%) are more likely than men (8%) to report that their compensation and/or career advancement has been adversely affected by their marital status or the need to care for family. The percentage of women who reported being "very satisfied" with the level of success achieved in their careers decreased in 2020, while men's satisfaction levels continued to increase.
New Data on DEI
The survey included respondents from the U.S. and, for the first time, Canada and the United Kingdom. To gather benchmark data on Diversity, Equity and Inclusion (DEI) in CRE, CREW asked new questions on demographics, diversity and workplace culture. Of the 2,930 respondents, 82% identified as women, 18% as men, and 13% identified as Black, indigenous or persons of color (BIPOC). A majority responded that they don't work in "very diverse" environments — only 16% of respondents said that 25% or more of their coworkers are BIPOC. However, more than half reported a culture shift regarding DEI due to "mandates from leadership" and "pressures from the industry."
The study found BIPOC on average earn less than white men and women in entry-level positions, but the earning gap narrows in middle and upper management. The average total compensation of BIPOC at the C-suite level is slightly higher than the average for all C-suite women.
BIPOC respondents identified several "barriers to success" including lack of promotion opportunity, lack of a mentor, gender discrimination, choices in maintaining work and life balance, and limited access to decision makers.
A Call to Action
While the industry has experienced dramatic economic upheaval during the past 15 years, many of these survey results have remained the same. CREW encourages all real estate professionals to work toward transforming the industry by:
Closing the commission gap. CREW points to the industry's "entrenched gender bias" as being most evident in the difference between men and women's earnings from commissions and bonuses. This can be addressed by reconsidering commission-sharing processes, hiring practices and an employee's personal circumstances.
Recruiting and retaining diverse employees. A majority of respondents do not work in diverse environments and only 13% identified as racially diverse. Employers should recognize biases in hiring, promoting and business practices and conduct pay equity tests to identify disparities.
Creating pathways for career satisfaction. According to the most recent survey, women's career satisfaction has decreased. Access to mentors, team-oriented tasks, colleagues' respect, and flexible schedules can contribute to improved satisfaction and employee retention.
Improving the culture. Almost half of all women respondents experienced offensive behavior in the office in the past year despite most participants reporting positive workplace culture changes. Although attitudes may be shifting, CREW advises company leaders to continue to create policies that result in "tangible improvements" for women's status in the workplace.
Listening to the new generation. The most recent survey had a larger share of younger respondents than in previous years. A new generation of employees could usher in changes such as increased expectations for career goals, flexible schedules and workplace standards around DEI.
Jennifer LeFurgy, Ph.D., is vice president of knowledge and research for NAIOP and editor-in-chief of Development magazine.
---
NAIOP's Diversity Resources
NAIOP offers scholarships, career guidance and CRE summer immersion programs for those of diverse backgrounds who are interested in the commercial real estate profession. For more information, go to naiop.org/en/Education-and-Career/Diversity-Resources.