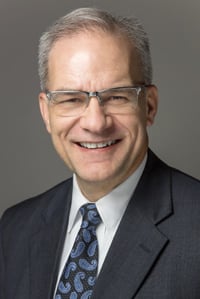 Jim Neyer, the executive vice president of capital and investments with Cincinnati-based Al. Neyer, retired from his position on May 1 after 23 years with the firm. Neyer served as NAIOP's national chairman in 2018.
He is among the fifth generation of Neyer family members to lead the company, which was established in 1894. In 2014, the family-owned firm transitioned to an Employee Stock Ownership Program (ESOP). Today, Al. Neyer has more than 100 employee-owners.
"It's been really rewarding to play a part in growing the company and see the ESOP become a reality for our employee-owners," Neyer said in a statement. "I am proud of the vast accomplishments that we have achieved and the team we have built.
I am heading into retirement with confidence that the Neyer legacy of integrity and perseverance lives on."
In addition to his time as NAIOP's national chairman, Neyer has served as the association's national board vice chair; Ohio board past president and treasurer, and Cincinnati Chapter past president and governmental relations chair. He also serves on the editorial board of Development magazine.
In 2013, he received the prestigious NAIOP Impact Award.
NAIOP would like to thank Jim for his leadership and congratulate him on a job well done.