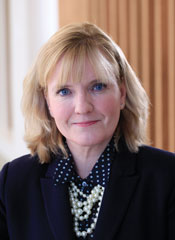 As I wrote the letter for the previous issue, the industry was cautiously optimistic. Although pandemics are not necessarily outliers, I don't think many of us could have predicted the events of the past months.
NAIOP is dedicated to helping its community of members more than ever. During this period of change, we will provide you with more information on how to stay safe, healthy and a vital part of this new journey we are on together.
Stay safe,
Jennifer LeFurgy, Ph.D.
Editor-in-Chief
In This Issue:
The coronavirus pandemic that emerged in China in late 2019 has been a gut punch to the global economy and the commercial real estate industry, and its effects could be widespread and long lasting.
The retail and hospitality industries are reeling from shutdowns that were imposed by the coronavirus pandemic. It might take years for these sectors to recover, and many small businesses might never reopen.
The office sector could emerge from the coronavirus pandemic relatively unscathed economically, but teleworking and social-distancing concerns have the potential to change the way space is utilized.
Research directors from major commercial real estate firms and academia answer some of the most important questions regarding the pandemic's wide-ranging effects on the economy, property types, markets and individual projects.
Amazon has seen sales rise rapidly during the COVID-19 crisis as stay-at-home orders forced more people to use e-commerce. The retail behemoth's success could show how industrial development can be part of a resilient supply chain.
Amid the hardships generated by the coronavirus pandemic, many commercial real estate companies have found ways to give back to their affected communities and customers.
As businesses reopen, a major focus on building operations will be cleanliness and sanitation. A look at some new (and old) technologies that workers and customers might see as operations come back online.
In early spring, the federal government opened the floodgates of economic relief in response to the coronavirus pandemic. Many of these unprecedented measures provide much-needed help for the commercial real estate industry.
Most states declared construction to be "essential" during the COVID-19 crisis, but the uncertainty generated by the pandemic put many projects on hold. It could take many months before activity returns to 2019 levels.
What happens when tenants can't pay their rent because their businesses have been forced to close because of the coronavirus pandemic?
Here are five issues landlords should consider before negotiating concessions with commercial tenants during the coronavirus pandemic.
Mortgage lenders are offering forbearance agreements and other loan modifications to borrowers so they can avoid defaults during the pandemic, but what do they entail? Here are some strategies that borrowers should follow when engaging with lenders.
Property owners should be aware that business-interruption insurance might not be a panacea during the coronavirus pandemic.
Force majeure clauses in real estate agreements don't always provide remedies during events such as pandemics. That's why it's important to regularly review these crucial documents.
---
Most Popular From Spring 2020
---
From the President
"I'm very proud to report that NAIOP as a trade association is built for handling these types of uncertainties. We know that in times of crisis, relevant, timely information is critical for our members' success. Please be assured that we are working tirelessly to provide answers to the many questions that you have. We recognize that content is king, and NAIOP is rapidly creating and disseminating information on a variety of platforms."
— Thomas J. Bisacquino, NAIOP president and CEO