A brownfield redevelopment project in New Jersey showcases a first-of-its-kind warehouse that aims to meet exacting environmental standards.
The Rockefeller Group Logistics Center in Piscataway, New Jersey, opened in October 2019. It marked the culmination of four years of collaboration between Piscataway Township, Middlesex County and the companies involved with the project. With five buildings totaling 2.1 million square feet across 228 acres, the effort transformed a former brownfield site into a productive asset that should create more than 1,500 permanent jobs.

However, for the commercial real estate industry, an especially newsworthy aspect of this $250 million project could be the introduction of a concept that has the potential to revolutionize the way developers and users approach industrial space.
One of the park's five buildings will not only be LEED Platinum but will go a step beyond by seeking WELL certification. Once certification is complete, it will be only the second WELL-certified U.S. industrial building, and the first such building in the world to achieve both LEED Platinum and WELL certifications. That means that the facility is not only energy efficient and environmentally friendly; it is also healthy for the people who work there.
The Background
Located less than 10 miles off the New Jersey Turnpike, the infill site was not viewed as a Class A, institutional-quality distribution hub until recently. Still, its long history dates back to World War II, when it served as the original site of Voice of America radio antennas. Later, it was the location of several chemical processing facilities for the Bakelite Corp., Union Carbide and Dow Chemical.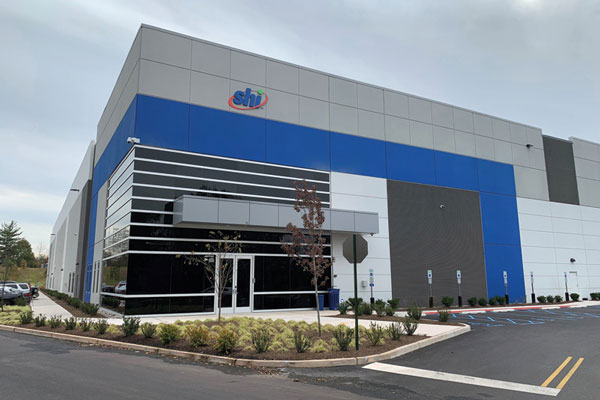 Once housing up to 4,000 jobs, the site's productivity started to decline in the 1960s. More operations vacated over the years, with the final structures demolished in the late 2000s. After sitting vacant, a joint venture of Lincoln Equities Group and Real Capital Solutions acquired the land in 2014.
Following the acquisition, the partners worked with Piscataway Township to secure a redevelopment plan and incentives. As a result, eight buildings ranging from 200,000 to 400,000 square feet, as well as new roads, infrastructure and landscaping, received preliminary approvals.
Rockefeller Group bought the 228-acre parcel that would eventually become the Rockefeller Group Logistics Center in May 2017 for $57 million. The company partially redesigned the site plan and secured final entitlements. A lack of developable land worked in favor of the site, which is located within one of the most active distribution centers in the country.
The parcel, which was partially remediated, represented one of the largest sales of development rights in the state's history. The company delivered the 2.1-million-square-foot Rockefeller Group Logistics Center two years later with all five buildings fully leased and sold to users or institutional investors. The remediation efforts include a capping solution as well as a passive mitigation system.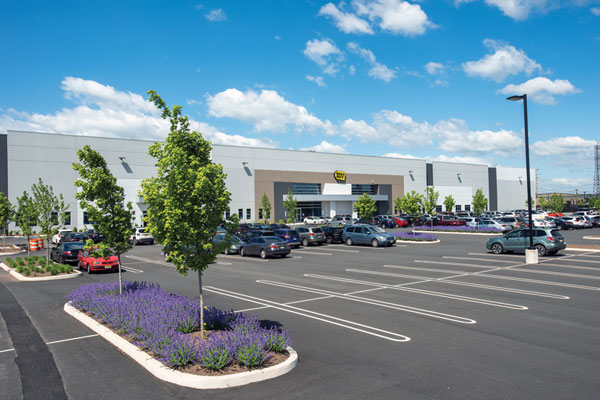 Although entitlements for up to eight buildings of various sizes were in hand, the firm conceived a site plan that would accommodate users in multiple types and sizes.
The WELL Angle
Third-party logistics firm Kuehne + Nagel handles distribution for its client, a major luxury goods retailer. That company occupied industrial space in Cranbury, New Jersey, but was looking for a building of its own.
Early on in its search for a new facility, Kuehne + Nagel and its client met with BranchPattern, a building consultancy dedicated to improving the built environment. BranchPattern introduced the WELL program to the team, which had already made LEED a requirement for any developer it solicited. The European-based retailer is dedicated to environmental protection and social governance, and it has integrated several formal programs and policies within its strategic planning.
Embracing WELL could also help the retailer attract and retain employees during a time when unemployment is at historic lows. According to the U.S. Bureau of Labor Statistics, the jobless rate has been at or below 4% for the past two years.
"Tenant requirements for industrial space have evolved over the past 10 years," says Jules J. Nissim, Cushman and Wakefield's vice chairman for industrial and global supply chain solutions. "Companies are focused on more than just location and pricing. There has been a growing trend toward providing employees with an increase in quality of life and workplace satisfaction."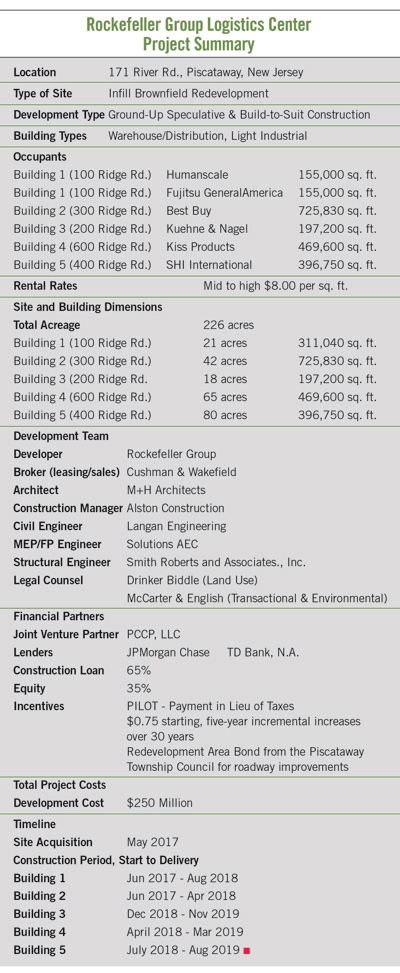 The retailer soon found that the WELL concept harmonized with its broader corporate culture and core values, and it engaged BranchPattern to assist with its search. After another year of searching, the team found a developer that could meet its needs on time and within budget.
Kuehne + Nagel selected Rockefeller Group in 2018, and the firms quickly set out to form a plan to achieve LEED and WELL certification. The development team collaborated to maximize opportunities on the construction and design side, while BranchPattern worked with Kuehne + Nagel and its client to find the best way to run its operations to comply with WELL standards and ensure a healthy workplace.
At the time, BranchPattern managing partner Nate Maniktala was involved with the only two industrial facilities worldwide seeking WELL certification during this period — one in Washington state and one in the Netherlands. As part of the IWBI's industrial advisory task force and pilot projects, Maniktala and his team modified the existing WELL standard to appropriately apply to industrial buildings.
Next Up: Certification
The finished building covers 197,200 square feet. Kuehne + Nagel signed a lease in March 2019. The property sits on 18 acres in the middle of the Rockefeller Group Logistics Center campus and includes 43 trailer spaces, 30 loading bays, and 219 existing and 37 banked parking spaces. After delivery in November 2019, the real estate arm of DWS Group, the $830-billion global asset management division of Deutsche Bank, acquired it for $37.9 million ($192.22 per square foot).
Ultimately, the Kuehne + Nagel building is seeking Gold certification for WELL v2 New and Existing Buildings. The development team is also pursuing Platinum certification under the LEED v2009 Standard for Core and Shell.
Development magazine first examined the WELL standard in the Summer 2016 issue. In "Building for Wellness," author Ed Klimek, a partner with KSS Architects, explained that developers and building owners can obtain certification by completing "a five-step process for each project that begins with online registration and includes documentation as well as a series of on-site performance tests known as performance verification. Certification recognizes that the project has successfully documented compliance with all feature requirements and has passed performance verification."
The WELL process is ongoing since many of the evaluations can't be conducted until the facility is up and running, but certification is expected by the second quarter of 2020.
Heath Abramsohn is a group vice president and regional director with the Rockefeller Group.
---
Economic Impact
Although the environmental issues created by its previous occupants left few reuse options aside from industrial, the area around the Rockefeller Group Logistics Center has long been one of Piscataway's biggest redevelopment initiatives. The support and incentives provided by the township and county served as a testament to the project's importance.
Most significant of these is a payment in lieu of taxes (PILOT) program, which allows owners to pay an annual service charge over a given period instead of property taxes. The funds typically go toward improvements targeted by the municipality. As a result of the PILOT program, a greater percentage of the revenue generated by the site goes to the town.
With a starting rate of $0.75 per square foot and a rare 30-year lifespan, this PILOT was particularly attractive because it gives end users certainty of future PILOT payments, rather than having to deal with uncapped property taxes.
The town also issued a Redevelopment Area Bond (RAB) for the reconstruction of two major roadways along the site. For one, Rockefeller widened the road and installed a traffic signal. The township and county are working together to improve the other, which was in a poor state of disrepair. The PILOT will help service the debt of the RAB.
In addition, Piscataway officials and agencies have made the repurposing of fallow industrial sites and dormant corporate campuses a priority. By providing incentives and smoothing the planning, zoning and entitlement process, they've played a major role in converting deserted business areas into productive economic use.
---
Qualifying for WELL
The International WELL Building Institute (IWBI) developed the WELL certification to improve human health and well-being in buildings and communities. To qualify for WELL certification, projects must meet the requirements on a checklist of around 100 "features" within 11 concept categories: Air, Water, Light, Nourishment, Movement, Thermal Comfort, Sound, Materials, Mind, Community and Innovations. The number of points (up to 200) the project receives determines whether it is WELL Silver, Gold or Platinum certified.
Through thoughtful design, the Rockefeller Group Logistics Center team found creative ways to implement strategies for some of the required concepts within an industrial setting. For example:
Air and Water. Continuous and vigorous testing ensures that the project will meet high thresholds for healthy air and water quality. The project is designed to maximize the amount of outdoor fresh air being brought into the building. Hydration stations are near employee workstations to ensure quick and easy access. Research shows that closer access to a source of drinking water can increase consumption, helping to avoid dehydration throughout the workday.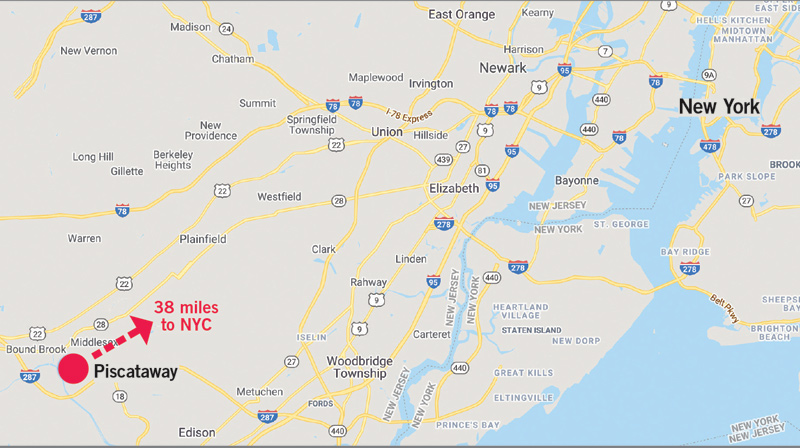 Nourishment. Foods and beverages have been carefully selected and tailored to meet the rigorous standards of WELL. Healthy foods are a key focus. Break rooms prioritize fruits and vegetables. Nutrition labeling is transparent, and there are minimal advertisements for unhealthy foods. To encourage mindful habits, areas for eating in the building accommodate both warehouse and office employees. These spaces are designed to be large enough to give all shift workers adequate seating and amenities so that employees can eat with their coworkers. This builds comradery and avoids the unhealthy habit of eating at a workstation, which research shows can increase stress levels and encourage overconsumption.
Light. Daylight is a fundamental need for the human body, and it can increase worker productivity and overall workplace satisfaction. Large skylights and clerestory windows in the warehouse, and punched openings and glass partitions in the office, help ensure that most areas in the building receive some amount of daylight. Because Kuehne + Nagel's client didn't need all of the building's docking locations, the team installed storefront windows in the cross-dock doors, transforming workers' views from concrete walls to the outdoors. The flexible design retained the dock doors, however, allowing the windows to be shuttered when needed and the panes to be removed if future demands require more docks.
Movement. Ergonomic, customizable workstations maximize employee comfort, and amenities such as showers, locker rooms and bike racks allow for active commuting. Employees also have access to an on-site gym and outdoor amenities such as a nearby walking trail and pond.
Mind and Community. The interior design of the office incorporates natural elements to foster a connection to the outdoors. Through the corporate policies of the organizations, employees receive access to mental health screenings, coverage and workplace support. A mothers' room is designed to provide a comfortable and practical environment for nursing mothers. Bathrooms include features such as child changing areas and syringe drop boxes.
The project also meets a number of sustainability goals through such measures as a heat-reflecting cool roof, minimized light pollution accomplished by reducing and shielding site lighting, and reduced water consumption through low-flow fixtures and native low-water-use landscaping. The site also offers amenities to reduce carbon emissions, including shuttle service to nearby transit stops and preferred parking spaces for low-emissions vehicles.