Use proactive planning to protect life and property.
According to statistics from the FBI, 884 people were killed and 1,546 were wounded in 277 active-shooter events in the U.S. from 2000 to 2018. Approximately 44% of these incidents took place at what the FBI calls "areas of commerce" such as offices, distribution facilities or retail centers.
In the aftermath of these tragedies, a growing number of victims and their families are demanding that property owners/operators assume liability under the legal premise of negligent or inadequate security. Negligent security is a type of premises liability that deals with injuries to individuals caused by third parties on an owner or tenant's property. They often claim that an event wouldn't have happened if the owner/operator had taken more steps to prevent it.
In many cases, victims and their families seek monetary damages from the property owner/operator. For example, the 2017 Mandalay Bay hotel mass shooting in Las Vegas that killed 58 led to legal action against the landlords or business owners. MGM Resorts reached a $735 million settlement with the victims.
At a minimum, property owners/operators could incur legal defense costs, but a host of other expenses could follow, including medical bills, funerals and settlements for victims, building refurbishments and loss of rental income. These costs are typically not covered by most general liability or property policies.
What is 'Foreseeability'?
While it's true that property owners/operators have a "duty to protect" occupants in their facilities, the question of negligence revolves around whether the owner/operator could have foreseen a violent event.
Foreseeability is defined by the Cornell Law School Legal Information Institute's Wex legal dictionary as "the ability to reasonably anticipate the potential results of an action, such as the damage or injury that may happen if one is negligent or breaches a contract." The foreseeability of an event is associated with a building's risk factors and prevention efforts.
For example, has the building or business received threats of violence in the past? These could come from many sources, including disgruntled employees, family members with domestic disputes and angry customers. It is important to take all threats seriously and have the proper authorities investigate them thoroughly. Investigation of all threats helps deter violent actors. It may also aid in defense of a negligence claim if an incident does occur.
Other Questions to Ask
Does the building house high-risk tenants? Some examples include health care offices, organizations with political or ideological agendas, news/media companies, or businesses that deal with large quantities of cash or serve alcohol.
If the building has received threats of violence or has high-risk tenants, has security been increased in response?
Were authorities alerted to possible ongoing threats?
Does the property owner/operator have a violence-prevention plan in place?
Managing Foreseeable Risk Means Covering the Basics
Holistic violence-prevention and intervention programs, coupled with strategic physical security planning, are effective approaches to protecting people and property.
Consider the following when aiming to reduce a property's foreseeable risk:
Identify key leaders, stakeholders and decision-makers and train them. Developing, deploying and managing a security-management program that can prevent violent events or help stop them when they've started requires significant commitment, strategy and planning. Leadership teams, relevant stakeholders and key partners must have a common understanding of the issues and an agreed-upon strategy to manage the risks. Security plans should clearly define roles and responsibilities before, during and after an incident.
Assess the risk at each property in a portfolio. Violent events are generally caused by someone who knows the establishment or is seeking it out, like a disgruntled employee or customer. Regardless of how many properties are in a real estate portfolio, acknowledge, assess and plan for each one's individual risks by partnering with security professionals.
Assemble a security and workplace violence-prevention committee. Identify business or property stakeholders, or a cross-section of their employees, and put together a team to lead the security effort. Ensure that this group gets basic training in workplace-violence awareness so that it works from a shared understanding of the topic and uses recognized best practices.
Develop a violence-prevention program. Make sure it fits the types of businesses that occupy each facility, and consider the crime that exists in the local area. Review and follow existing violence-prevention plan standards and guidelines from organizations like the U.S. Department of Labor's Occupational Safety and Health Administration (OSHA), the Society for Human Resource Management (SHRM) and ASIS International (formerly the American Society for Industrial Security). These include elements like physical security, dedicated human-resource policies, incident-reporting channels and processes for assessing known threats as they arise.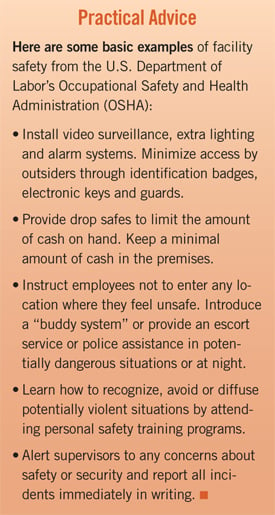 Train the property-management team, and consider coordinating training events for tenants. This is critical. After a program is developed with policies and procedures, the next step is to ensure that the staff knows and understands the resources available to them. Create local incident-management teams (IMT) who are designated to respond in the event of an incident and coordinate with local law enforcement. Provide specific training for these key individuals in regards to violence prevention and situation management. Roles and responsibilities must be clear. Tabletop or functional exercises can give personnel the closest thing to hands-on experience short of an actual violent event.
Establish formal relationships with local police. Reach out to local law enforcement agencies and meet with a business-liaison officer to identify programs or support services for the business community. Law enforcement has valuable insights into local crime trends, as well as lists of known members of organized crime groups. Many jurisdictions offer free crime-prevention assessments to businesses. Some police departments will also help develop and run effective exercises to test emergency-response plans at a property.
Assess current property and general-liability policies with an insurance broker. Find out what policies each facility has and what they cover in case of a violent event, and make sure they are adequate enough to deal with one.
While there's no way to know for certain when and where the next active shooter event will take place, it's important for all facility owners/operators to institute safety best practices, physical security and risk transfer via an insurance policy to protect both themselves and building occupants from harm.
Chris Dunlap is vice president and senior risk consultant with insurance broker Hub International's Real Estate Division. Isaac Monson is a senior risk consultant with Hub International's Risk Services Division.