The flexible model is rapidly expanding beyond the office market.
Flexible working. Coworking. On-demand space.
Whatever name it goes by, it is here to stay. As far back as 2015, when WeWork was just five years old, Google's Workplace 2020 study declared flexible working to be "the defining characteristic of the workforce." Today, it is impacting the real estate industry in ways that extend far beyond the office properties that the public associates with this growing niche, according to Antony Slumbers, a software development and technology strategist in commercial real estate.
"This isn't the usual property cycle; it's structural," he said during a talk at an industry event in 2017. "The very nature of demand is changing and forcing fundamental change on the supply side. All sectors of real estate are merging. We are beginning to think of live/work not as being a binary thing, but more of a blend. The net result of this is that the industry needs to create, refine and adopt new business models."
Slumbers notes that as society moves to an almost post-consumer world, people are less interested in accumulating "stuff" and more focused on services, experiences and ephemeral pleasures.
"Today, it's Uber instead of cars, Spotify instead of CDs and Netflix instead of DVDs," he said. "For the real estate industry, it's space as a service."
Despite WeWork's high-profile decline in late 2019, real estate as a service is poised to become an even more important part of the commercial real estate business.
"The rise of the new generation of connected workers, empowered by collaborative and mobile solutions, will radically alter the shape of the future workforce and workplace," Slumbers said.
A 2019 JLL study predicts that 30% of the office market will be flex space by 2030.
"That seems conservative when you consider workplaces that are procured beyond just the flexible basis (coworking, short-term leases and the like) and include all the workplaces that are adopting flexible working practices," he said.
Understanding Real Estate as a Service
According to Michael Kloppenburg of Avison Young, real estate as a service means different things to different constituents in the transaction — although there is overlap. (See related article.)
"Landlords want to offer space as a service to enhance their relationships with tenants, meet market demand for space with flexibility, community and hospitality, and make money," he said. "Tenants want to occupy space as a service to enhance productivity, community and agility. Service providers want to manage space as a service in a way that allows them to deliver hospitality, community, flexibility and technology to drive productivity and retain clients."
Real estate as a service has existed for decades, according to Wendy Waters, vice president of research services and strategy with GWL Realty Advisors Inc. Waters and Anthio Yuen, GWL's director of research services and strategy, recently completed a study, "From Freelancers to Fortune 500 Clients: The Evolution and Future of Coworking," that offers an in-depth look at the market.
"Accountants and professional services-type businesses have often rented a packaged office or a meeting room from Regus [now IWG], or contracted to use the Regus address to pick up mail in order to make their company look more professional," Waters said. "Coworking is an evolution of the packaged office."
According to the paper by Waters and Yuen, today's coworking companies "have rebranded and elevated the packaged office business into one with a superior customer experience alongside a superior technology backbone." Tenants also benefit from the stylish, turnkey spaces that can be used for "individuals needing space, small businesses unsure of their growth and larger firms wanting project space or simply attractive, hassle-free office options, especially for branch locations with fewer employees."
Making and Saving Money on Flexible Space
According to Waters, major coworking brands have demonstrated to landlords that some companies are willing to pay a premium for leasing coworking space versus a traditional office lease.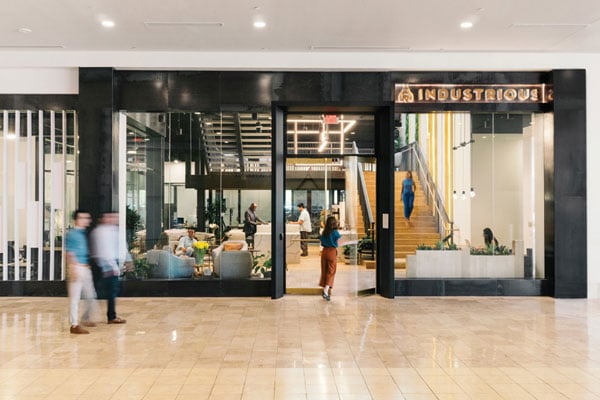 "Although every city is different, there are examples of the coworking operator getting 1.5 to 2 times what the rent would be for leasing the space through a long-term lease," she said. "That is a big premium, and some of the landlords want to capitalize on it themselves. For this reason, some landlords have started their own coworking brands, while other landlords are partnering with an operator."
Melanie Gladwell, head of flexible workplace solutions for the Americas at Cushman & Wakefield, and David C. Smith, Americas head of occupier research, recently completed a survey of real estate executives titled "CRE Executive Perspectives of Coworking: How and Why the Flexible Workplace Matters." Their report finds that the business model of coworking providers is to take on long-term leases with traditional office terms and then sell memberships to that space at marked-up prices, thus creating rent arbitrage.
"For example, it is not unheard of for coworking memberships in Washington, D.C., to reach a 60% per square foot (psf) premium when including all infrastructure and services," according to the report.
Even though coworking occupiers are paying a premium for space through this arrangement, there are still financial advantages for them as well.
"The math is more complicated than just a straight-line analysis of psf rents," the Cushman and Wakefield report says. "For starters, the cost structure is not an apples-to-apples comparison…the flexible workplace turnkey service agreement pricing accounts for upfront capital expenditures, monthly operating costs, technology, communications, utilities, food and beverage amenities, common spaces, and various elective services (i.e., facilities management, receptionist and/or concierge)."
Further, the report notes that flexible workplaces greatly reduce the time it takes to start using a space. There is no initial capital expenditures to build it out. There is no long-term liability of signing a multiyear lease. In addition, there is a huge cost saving in staffing the space because there are no maintenance, staffing, support, facilities management or concierge personnel.
Flexible Space Operating Models
Until recently, landlords and flexible space providers have typically set up traditional lease agreements, according to Julie Whelan, CBRE's head of occupier research for the Americas. Now that the proof of concept has been in the market for some time, landlords are interested in more creative ways to offer flexible space. They remain interested in engaging with third-party operators to build and operate flexible space, but through partnerships or management agreements.
According to Whelan, these structures give landlords more control over the design, branding and operation of the space, not to mention the benefit of sharing in the profit. She notes that other landlords offer privately branded and operated flexible office space, either in the form of coworking or prebuilt suites available on flexible terms.
There is no one-size-fits-all solution for flexible space offerings, according to Whelan. Occupiers have different reasons for seeking flexibility, and different options may suit them depending on what is driving their decision.
"Some owners embraced flex space into their buildings 20-plus years ago, others are just getting into it now, and still others are saying 'we know we need to offer flex to our tenants, but this is hard. How exactly do we do it?'" said Gladwell.
Today, some landlords and investors are doing it themselves and doing it well, she continued. Often, those companies have a hospitality background. To run a successful coworking space, the operator must have a knowledge of food and beverage, community and event planning, spas, gyms and even doctors on site. It's an ecosystem where retail meets hotel meets office in one space. It requires a high-touch delivery mechanism.
"A total of 579 companies [that were] surveyed around the world revealed that two-thirds of respondents are currently using flex space for some of their employees, and many plan to double their commitment in the next five years," said Cushman & Wakefield's Smith.
"The results show that corporate leaders have a generally positive view of coworking and see flexible space as a growing part of their occupancy," he continued. "The percentage of employees with access to flexible space is on the rise, and companies increasingly see this as part of a broader solution."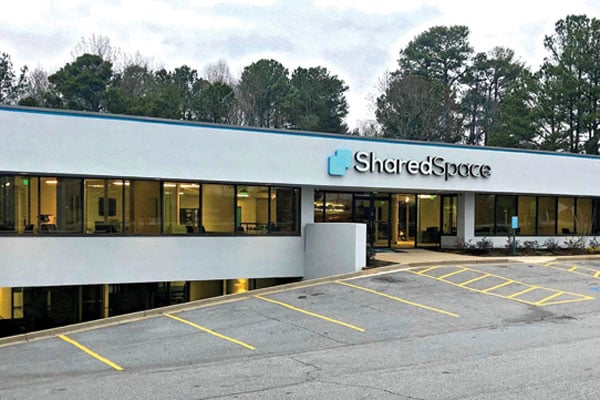 One building owner who suggests working with a third-party provider rather than trying to do coworking space alone is Daniel Levison, principal with SharedSpace, an Atlanta coworking company. In addition to running SharedSpace, he also owns office and industrial properties.
"We had read a lot about flexible space and coworking space and felt it would be part of the real estate industry going forward," he said. "In 2016, we had half a floor vacant on the top floor of our five-story office building near Perimeter Mall and I-285 in Atlanta. We decided to create a coworking space there, which totaled about 6,000 square feet."
Since opening that coworking space, he has opened two more — one in Atlanta in the I-75/I-285 area, which is in the outer perimeter of suburban Atlanta, and one in Augusta, Georgia.
After three years in the business and climbing a steep learning curve, Levison has some key advice for other owners: Do not undertake coworking space by yourself, and do not rent space in your building to a coworking provider under a long-term lease.
"Instead, find a reliable provider and create a joint venture or management agreement for the space, sharing the risks and the potential profits," he said. "The tenant improvement for a coworking space costs at least 50% or more than the typical office space, and it takes 18 months or more for that space to ramp up and break even."
Valuing Buildings With Coworking Space
One of the biggest questions about real estate as a service is how do lenders value buildings when a new development or an existing building dedicates a substantial portion of space to coworking.
"It is a general rule of thumb that 20% flexible office space in large Class A buildings is an acceptable amount to have to keep the building value relatively stable," said CBRE's Whelan. "Any more than that is thought to introduce risk and erode building value due to the conservative underwriting associated with the flexible office space."
Given this period of uncertainty in the capital markets with flexible office space, even generally accepted principles are being scrutinized more heavily, she said. Over time, the capital markets will be more adept at pricing flexibility into asset values.
"To determine the optimal amount of flexible office space in a building, many other factors such as competitors in the market, demand in the market and the long-term strategy of the building need to be evaluated," Whelan said. "As with any real estate transaction, there are many factors that go into the value of a building, and the ratio of flexible office space to traditional office space is only one."
New Coworking Ventures
There are other companies finding success moving into flexible space on their own — typically big firms with deep pockets and deep talent on staff.
Two examples are Tishman Speyer and CBRE. Tishman Speyer developed a concept called Studio, which offers flexible workspaces with high-tech solutions, lounges and private meeting rooms. It initially opened a 35,000-square-foot Studio at its Rockefeller Center property in New York City in September 2018. Since then, Tishman Speyer has added Studios in Boston, Washington, D.C., Chicago, Los Angeles and Rio de Janeiro.
CBRE launched a flexible space concept called Hana. Hana has three offerings within its space: Hana Team Suites are branded and dedicated spaces that act and feel like a company's own space (70% of a Hana); traditional coworking space (20%); and Hana Meet, which are meeting rooms (10%).
WeWork and the Market
The spectacular crash of WeWork's IPO at the close of 2019 has done nothing to dim the coworking trend, according to recent research from CBRE.
CBRE reported a "precipitous" drop of nearly 3 million square feet in flexible space leasing activity in the fourth quarter of 2019. This was largely linked to a 90% fall in leasing activity by WeWork.
Despite that, Julie Whelan, CBRE's head of occupier research for the Americas, emphasized that "the drop in Q4 leasing does not signal a change in demand for more flexibility in real estate. WeWork leased by far the most flexible office space, so its overnight change in focus from pure growth to profitability has created a significant shift in the leasing numbers. Other flexible space operators such as IWG, Industrious and Hana have continued to lease space at levels that are comparable to their own benchmarks."
"Our clients want space that reflects the quality and brand of their companies, not of the flexible space provider," said Andrew Kupiec, CEO of Hana. "Our facilities in Dallas and Irvine, California, offer what we call enterprise-grade design. It is reflected throughout the facilities with the commercial-grade construction materials, the Herman Miller furniture, the technology infrastructure, and data security and privacy. All of these things are what a large company or a high-growth company require."
As CBRE launches more Hanas, it is open to structuring different types of arrangements with building owners. It will set up agreements to share profits or simply manage the Hana with all profits going to the building owner. However, CBRE does not plan on leasing space long-term in a building and opening a Hana. Instead, it is committed to working with owners.
Hines is taking a different approach to coworking. The Houston-based company is opening coworking spaces with Industrious, a major coworking provider. Called Hines2 (Hines Squared), the platform focuses on enterprise clients to deliver premium workplace environments in Hines buildings.
With all of these different types of coworking arrangements, one thing is certain — smart landlords are looking beyond simply offering an array of added services and amenities to those who occupy the flexible space in the building.
"Landlords generally have to take a much more active role in the tenant experience than ever before," said CBRE's Whelan. "From activated lobbies to shared amenity floors to prebuilt offerings and even the technology that wraps it all together — the capital, resources and operational capabilities required to play the role of a landlord today are rapidly changing."
Real Estate as a Service Spreads
The move to flexible space and coworking space is rapidly expanding to all areas of commercial real estate. A prime target today is shopping malls, which have struggled in recent years as the retail landscape has changed.
Industrious and shopping mall developer/owner Macerich struck a national partnership to add flexible workplaces in its malls, starting with the firm's Scottsdale Fashion Square in Scottsdale, Arizona. Industrious has also reached an agreement with the Mall at Short Hills in Short Hills, New Jersey. The coworking location occupies 30,000 square feet of space left behind by Saks Fifth Avenue when it closed. The space includes enclosed, private offices for teams that are move-in ready with access to shared amenities and common areas.
Coworking venues are also spreading out from urban cores to suburban and even rural locations. According to a December 2019 Yardi Matrix report, while coworking continues to grow vigorously in urban areas, the suburbs hold great potential for future development. Urban markets have about 63.3 million square feet of coworking space, which represents 2.7% of the total urban office stock. By comparison, suburban submarkets have about 30.4 million square feet, or only 1% of the total stock.
According to Yardi, suburban locations appeal to people who work at home and need to get out to network, as well as to large companies that need small satellite offices. Suburban locations average between 7,000 square feet and 13,000 square feet, far smaller than the typical urban coworking space.
Industrial Flex Space
Real estate as a service has come to the industrial world as well. Cubework, based in City of Industry, California, has had remarkable growth since its launch in March 2018.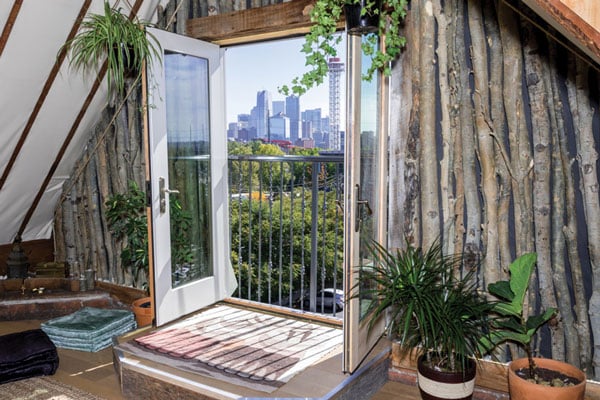 "Cubework transforms industrial buildings into communal workspace for our members," said Christine Wei, vice president of business development at the firm. "Our goal for creating an industrial workspace was for business owners to come together to network, and generate partnerships and opportunities for each other."
The company started with one 280,000-square-foot building in City of Industry. As of January 2020, it now has 31 locations with over 4 million square feet of industrial warehouse space.
Cubework is seeking warehouse users that need 500 to 20,000 square feet of storage space. For these users, the company not only offers storage space, but also warehouse management software solutions, fulfillment and transportation services. Amenities include high-speed internet, printing, conference rooms, beverages, snacks, daily cleaning, CCTV, security, gym/lockers/showers, game rooms, 24/7 building access, forklift rentals, and community managers for each facility.
This service is not just for start-ups. Cubework is also attracting big names such as FedEx and Walmart.
"They come to us for seasonal space without having to sign a long-term lease, and we provide them the space they need for however long they need it," Wei said.
Real Estate as a Service for Any Reason
REACTIV, a new company headquartered in Denver, is taking the concept of real estate as a service to new levels by offering every conceivable type of space for rent on flexible terms.
Need a fully outfitted restaurant for six months to try out a new food concept? Want an unusual wedding venue for the day? Require a furnished yoga studio for 30 days? Need only a one-bay garage for storage? You can find all these on the REACTIV website.
Jason Shepherd and Ryan Boykin, co-founders of Atlas Real Estate, created REACTIV. They were looking for ways to maximize returns on properties in their portfolio when they came up with the concept.
"Signing a five- to 10-year lease on a space and then personally guaranteeing it takes a lot of people out of the market," said Shepherd. "Because of the nature of commercial real estate, there can be gaps between the time a space is vacated and the space is re-leased. We were looking for ways to improve the cash flow of underutilized assets. REACTIV is a new platform that allows users of spaces to be nimble while activating the spaces to their fullest capacity. Property owners can showcase their spaces online free of charge, while renters can search."
The REACTIV team is currently focusing on the Denver market, but it is planning to expand to other markets in 2020 and beyond.
Ron Derven is a contributing editor for Development magazine.
Learn More About Real Estate as a Service
While the traditional real estate approach sees real estate as a product, the real-estate-as-a-service model utilizes a customer-focused approach, providing a space that offers amenities, flexibility, scalability and a sense of community that keeps users coming back. A new on-demand course from NAIOP's The Center for Education gives industry professionals an opportunity to develop a comprehensive understanding of real estate as a service and its unique considerations, opportunities and challenges.
This course will provide real estate professionals with an understanding of the latest trends and best practices for the real-estate-as-a-service model. Students will hear tips from experts in the real-estate-as-a-service world, have opportunities to respond to realistic scenarios, read case studies on successful real-estate- as-a-service spaces, and create an action plan for next steps in establishing their own real-estate-as-a-service space. Course modules focus on some of the most important aspects of real estate as a service, including the real-estate-as-a-service mindset, creating community, effective marketing, building design, recruiting a team and understanding finances and documents. Upon completion of the course, students will have a comprehensive understanding of the unique real-estate-as-a-service model, and gain critical knowledge to help them to succeed in establishing a real-estate-as-a-service space.
To learn more about the course or to register, follow this link: learn.naiop.org/p/reaas