The company's new research facility takes a deep dive into cutting-edge logistics technologies.
Opportunities to innovate are abundant. They exist in all segments of the real estate industry and across all activities in which real estate investors engage. Yet far too few companies approach innovation in a systematic way to ensure it is a source of competitive advantage.
One notable exception is Prologis, the world's largest owner of logistics real estate.
In November 2018, the publicly traded REIT opened Prologis Labs, an innovation center in San Leandro, California. The facility evaluates new products and services that could improve supply chains through an experimental approach that relies on testing in a controlled environment. Seven Prologis employees with backgrounds spanning engineering, computer science and real estate information technology conduct the research and analyze the results.
A key feature of Prologis Labs is its flexible design. There are a variety of ways to configure the facility's open layout and 24-foot clear height ceiling. Two-deep racking systems up to three positions high can be assembled in the space, and sections can be arranged to resemble fulfillment areas, shipping and receiving areas, and reverse logistics areas for processing returns. Each of these settings accommodates the testing of different logistics-related technologies.
Sources of Inspiration
Where do the ideas for experiments come from? One source is Prologis Labs itself. Staff members continually vet new technologies to determine if they can increase operational efficiency or improve the customer experience.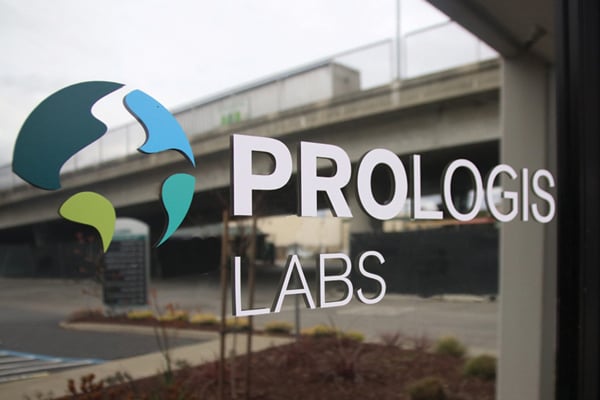 Another source is Prologis Ventures, a wholly owned subsidiary of Prologis that invests in logistics-related start-ups. The venture capital team frequently calls on Prologis Labs to vet the products and services of these start-ups before deploying financial resources. Yet another source is Prologis' customers and supply chain partners. Several have already sought out Prologis Labs as a co-innovator, and that number continues to grow.
In its first year alone, Prologis Labs conducted dozens of experiments aimed at driving innovation deeper into the company's core business strategy.
One of the most promising lines of research focuses on autonomous work trucks. Experiments conducted in this area offer insights into whether they are a viable alternative for customers with different pick rates, load configurations and safety concerns.
Extensive progress has also been made in the study of IoT (internet of things) technologies. By using sensors to track things such as temperature, water leaks, forklift movement and dock door activity, Prologis Labs is generating information that can improve the design of logistics real estate and enhance preventative maintenance.
Responding to Industry Needs
In many ways, Prologis' size makes the work of Prologis Labs possible. Nearly every large retailer and third-party logistics company occupies space in its portfolio. That puts the company in a unique position to observe common supply chain problems related to labor, transportation and warehouse operations. Furthermore, the company has the means to explore technologies with paths to commercialization that are not always immediately clear. Prologis Labs allows customers to test solutions for their facilities without taking their buildings offline or disrupting their business.
"The research that takes place in Prologis Labs provides us with new ways to connect with our customers," says Alan Findley, senior vice president of systems engineering and emerging technologies at Prologis. "They are excited about what we are doing and want to participate. It helps them see us as more than just a provider of real estate. Customers buy in because we aren't trying to sell them anything. We are trying to help them solve their problems in creative ways."
The solutions Prologis Labs puts forth are perhaps more valuable to customers today than ever before due to the rapid pace of evolution in global supply chains.
"Our industry is going through a period of enormous change," says Jeremy Giles, managing director of global customer solutions at Prologis. "We have to lead that change in collaboration with our customers. We can be an important partner in their success as opposed to just a counterparty in a real estate transaction if we do it well."
An Educational Facility, Too
Customers leasing space from Prologis are not the only ones with an interest in the innovation center. Company shareholders who tour the facility often walk away with a better understanding of the increasingly sophisticated nature of logistics real estate and the need to stay ahead of the technology curve. As a result, many see the work of Prologis Labs as an important step in maintaining customer relations, capturing internal costs savings and monetizing the immense amount of data available to a REIT with global scale.
Prologis Labs could also be expanding soon. Capacity constraints and the need to keep some experiments confidential are leading to discussions about the possibility of establishing "pop-up labs" across the country in space that temporarily becomes vacant in Prologis' portfolio.
Gary Bruns, vice president of IT architecture and emerging technologies at Prologis, emphasizes that research done in these facilities can serve as a point of differentiation.
"This approach allows us to have more informed conversations about whether technologies are good options for our customers or our company," he says.
Some of the products and services successfully tested in Prologis Labs are already available for purchase through Prologis Essentials, an online portal created to benefit the company's customers. One such product is a thick vinyl tape to mark warehouse floors. It is easy to apply and can be removed in much less time, at a much lower cost and with much less damage than paint. Another product is a flexible bumper system designed to protect racking systems from the impact of fork trucks and other warehouse equipment. Bolts anchoring the system shear off in the event of a significant impact, causing less damage to the floor than concrete-filled bollard installations.
Moving forward, Prologis Labs should help its parent organization continue to innovate by keeping it close to its customers and the start-up community. However, senior leadership recognizes that the innovation center is just one piece of a larger puzzle if Prologis is to continue to be a supply chain disruptor.
"The labs are not the only places where innovation happens," says Sineesh Keshav, chief technology officer at Prologis. "Innovation takes place in every line of business in every region where you do business, and you have to make it every employee's responsibility to embrace that mindset. We believe that the best ideas can come from anywhere."
Dustin Read, Ph.D./J.D., is an associate professor of property management and real estate at Virginia Tech, where he holds the William and Mary Alice Park Junior Faculty Fellowship in the Program in Real Estate. Alex Rollins is an undergraduate student at Virginia Tech double majoring in real estate and finance and minoring in entrepreneurship. After completing his degree, he hopes to pursue a career in real estate development and investments.