The city has experienced a building boom during the latest cycle, and even more development is on the horizon.
Boston is a city in transition.
Demographics, jobs, urbanization, availability of capital and a more accommodative planning environment have combined to create an ecosystem of progress and change.
A 2017 report from the Boston Planning and Development Agency cites U.S. Census data showing that the metropolitan area has the highest share of 20- to 34-year-olds as a percentage of population in the country, ahead of Austin, Raleigh and Nashville. The city has seven colleges and universities ranked in the top 40 by U.S. News and World Report, plus another 50 in the Greater Boston area educating 250,000 students from around the world per year.
And because Boston's economy has outperformed that of the broader U.S., with stronger job growth and GDP gains, more graduating students are establishing their careers in the city. Since the 2010 Census, Boston has added an average of one new resident per hour. This has driven a need for new housing, which has been met by developers building a mix of rental and for-sale product throughout the city's neighborhoods and the Greater Boston area.
The urban core, including downtown, the Back Bay, Seaport, Charlestown, Allston/Brighton, East Boston and Fenway/Kenmore, has been remade to varying degrees in this economic cycle. What were once hard boundaries between submarkets or neighborhoods have blurred or even disappeared. Future growth will continue to blend borders from place to place as infill development continues.
New high-rise living has changed the fabric of neighborhoods, particularly downtown and the Seaport. Condo prices have never been higher (the penthouse at 1 Dalton in the Back Bay sold for $34 million, the second-highest price ever paid for a condo in the city), and waterfront residential has been popular with renters and owners alike. Empty-nesters from the suburbs are moving into the city, along with international buyers, and the city has plans for the tens of thousands of additional units needed to house the ever-expanding population.
However, maintaining a supply of workforce housing remains a challenge. Developers are balancing ways to bring more affordable product on line while making projects economically feasible.
Here's a look at what's happening in Boston commercial real estate by submarket.
The Seaport
Nowhere in Boston has change been as profound and impactful as the Seaport. Development there seems to have popped up overnight, but it's actually been in the works for decades in an area with a long history as an economically important section of Boston.
In the 1800s, the former Boston Wharf Company built the majority of the Seaport area, which was originally a shipping, warehousing and manufacturing district adjacent to the Fort Point Channel. As those industries went away, it devolved into an underused neighborhood of windswept parking lots. Most of the buildings were vacant and in need of repair, with rock-bottom rents. During this time, the area became popular with artists due to the affordability and historic character of the properties.
Development in the Seaport took tentative steps in the early 1980s when planning started for the Central Artery/Tunnel Project, also known as the Big Dig. It took an elevated highway that cut Boston off from its waterfront — which isolated the Seaport for decades — and buried it underground. By connecting the Massachusetts Turnpike (I-90) to Logan International Airport, it opened up access to the Seaport. The massive infrastructure project ran from the early 1990s through 2006 and cost more than $22 billion. It remains the costliest highway project in U.S. history.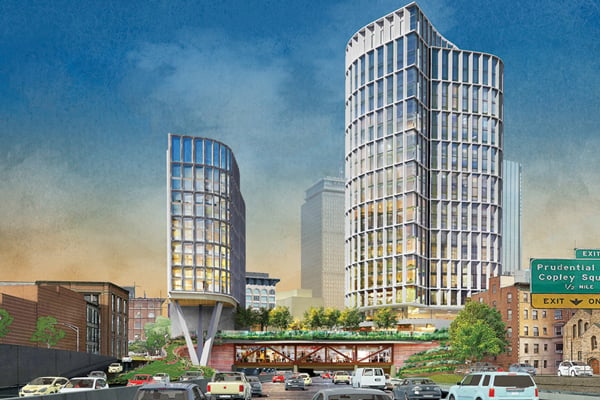 However, it wasn't until the early 2000s that development really took off. Fidelity, John Hancock/Manulife and the federal government were trailblazers, bringing new offices, hotels and a federal courthouse to the area. The Boston Convention and Exhibition Center (BCEC) opened in the mid-2000s.
Fast-forward to the current cycle, and the area's growth has been phenomenal. In fact, the Seaport's development since 2005, along with what is underway, is at the scale of New York's Hudson Yards project. Development is approaching more than 19 million square feet in total, encompassing all product types, from residential, to office, to lab, hotel and retail. Asking rents on new-construction office product is into the $80s per square foot, triple-net, on select assets.
The Northern Avenue/Seaport Boulevard corridor, the epicenter of this new construction, has been developed primarily as three mixed-use projects: Fan Pier, with office and residential; Pier 4, with residential and office; and Seaport Square, a true mixed-use master plan. The area is home to multiple residential buildings, office towers and the city's newest retail corridor. MassMutual, Amazon and Foundation Medicine have chosen Fan Pier and Seaport Square as their future homes in the area. More land could be unlocked from the USPS, Army Corps of Engineers and Massport, creating millions of square feet of future commercial and residential space.
Along A Street, local, regional and national builders have plans to build millions of square feet of mixed-use development. It will be one of Greater Boston's next life science hubs, but it will include residential and office projects as well. This will connect the Fort Point Channel to the Seaport's waterfront development and the Massachusetts Bay Transportation Authority's (MBTA's) Broadway Station along the Red Line. Red Line subway access is important, as Kendall Square, the global epicenter of life science research and development, is along that line as well.
The area between Broadway and Andrew is set for redevelopment, too, with residential as the focus. This area along Dorchester Avenue is now home to industrial properties, but higher-value uses such as housing are proposed here, and investors are aggregating sites to prepare for the future.
Near the JFK/UMass MBTA station, the University of Massachusetts has leased a 20-acre site to a private developer. This could yield 3 million square feet of mixed-use construction in the years to come. The former Boston Globe newspaper headquarters is being redeveloped into a creative office project in the same area.
Hotel construction is also booming in the Seaport, where the BCEC hosts many trade shows each year. The area has lacked enough hotel rooms for conventiongoers, but a 1,000-room-plus Omni hotel, the largest in the neighborhood, is under construction across the street from the convention center. A few blocks away, Hampton Inn, Homewood Suites and Hyatt flags are going up as well, joining recently opened Yotel, Envoy, Element and Aloft hotels.
Downtown
Development in the city isn't just about the Red Line, though. Downtown Boston is seeing tower development for the first time since the early 2000s, with Winthrop Center set to become the tallest building there at 53 stories. It will feature a mix of office and condo space, replacing a dilapidated city garage. It will also be the largest office building in the world to be certified by the Passive House Institute US (PHIUS) when it's completed in 2022. It will be designed to meet rigorous energy consumption standards while maintaining consistent interior temperatures.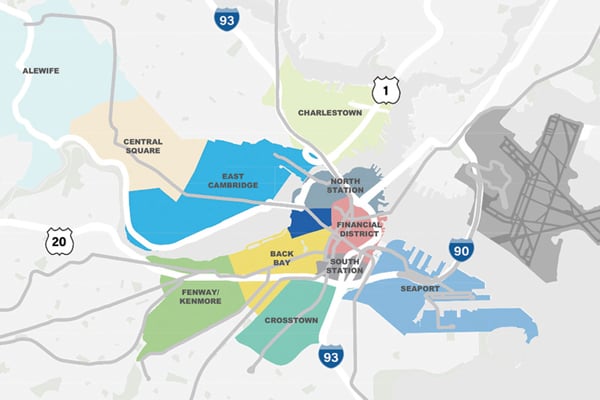 Steps away at South Station, a long-planned tower on top of the station has secured equity financing and could move ahead shortly as an office and condo project. And not far from South Station, 125 Lincoln Street will replace a parking garage and bring new office space to the border of the Leather District and Chinatown.
That is a key theme of development across the urban core — finding higher and better uses for aging parking structures. Boston followed the lead of other cities in the 1950s and 1960s and built many large garages to provide as much parking as possible for people driving to work. Today, those structures are old and in need of repair, and many have been purchased for redevelopment or are in the midst of a makeover.
One of the city's most prominent parking structures, at One Congress Street, is being reimagined as Bulfinch Crossing. This mixed-use development follows multiple themes: it replaces a parking facility, it is transit-oriented, and it blends boundaries between neighborhoods and submarkets. A multiphase process will bring multifamily, retail and office space to the property.
Currently, the garage straddles Congress Street and creates a physical and sight-line barrier between downtown Boston/Government Center and North Station. The first phase includes a multifamily residential project and a 1 million-square-foot office tower that will become the headquarters of State Street, a financial services and bank holding company that is one of Massachusetts' largest employers. While the parking structure over Congress Street will remain in use during development, it will eventually be removed.
Bulfinch Crossing is near North Station, the city's second-largest transit hub. It is the terminus for north and some westbound commuter rail service, and it connects to the MBTA's Green and Orange lines. It is also the home of the Boston Bruins and Celtics, who play at the TD Garden arena, formerly Boston Garden.
Development at North Station has been focused on multifamily residences, with thousands of units completed in recent years and hundreds more underway today. At the center of this changing neighborhood is The Hub on Causeway, a mixed-use development. It features both creative and high-rise office space. Rounding out the project is the citizenM hotel, the first of its kind in Boston. It combines a residential tower and a concert venue with retail, including an urban grocery store, movie theater and restaurants. It has given the North Station area an entirely different look and feel. Long gone are the days of an empty lot sitting in front of the Garden.
Beyond Downtown
There is also significant development activity in areas outside of Boston's central core.
Charlestown. Hood Park is transforming a former milk plant into a master-planned mixed-use development. A parking garage is being renovated to include office space, while future development will include office and other uses. This is yet another example of infill development in proximity to the urban core.
Suffolk Downs. Northeast of the city on the East Boston/Revere line sits Suffolk Downs, a former horse racetrack. With 161 acres, the site could support millions of square feet of development, including thousands of housing units along with office and retail. However, plans are still being finalized, and the build-out is likely to take 10-plus years.
Back Bay/Fenway. Air rights projects in this area over the I-90 are moving forward as well. The city has not seen air rights development over the Massachusetts Turnpike in decades, and projects will connect the urban fabric that has been broken up by the highway. And projects in Kenmore Square, close to Fenway Park, continue the theme of development around Boston's sports teams. The area's famed Citgo sign sits atop the properties being repurposed for office space, located along the MBTA's Green Line.
Allston/Brighton. This area has undergone a major wave of residential and office development, and more is on the way. Boston Landing, home to the MBTA's newest commuter rail stop, is the headquarters of New Balance. It also has practice facilities for the Bruins and Celtics, along with lab space and Bose's urban home. NEXUS At The Allston Innovation Corridor will be a mixed-use development led by lab space. Nearby, Harvard University has a multidecade plan to expand its campus and connectivity to the business community with its Allston redevelopment. That master plan, however, requires a straightening of I-90, which will open up more than 100 acres of space. The highway will be moved to land formerly occupied by train tracks.
An Exciting Time
"A living city is constantly being rebuilt," said Boston Mayor John B. Hynes in 1954. That sentiment has never been truer of the city of Boston than it is today.
The urban core is alive and well, and as these projects and others complete, they will add more density, housing and commercial space. Existing assets are remaining competitive by renovating lobbies, adding new amenities or through massive redevelopment.
These projects and many others make it an exciting time for the city, positioning Boston for its next wave of innovation and economic growth.
Aaron Jodka is the managing director for Colliers International in Boston.