NAIOP supports legislation that emphasizes voluntary tools to help property owners reduce energy consumption.
Builders, developers and landlords are working to address the nation's energy efficiency, sustainability and emissions challenges. Finding ways to meet those challenges is generating buzz on Capitol Hill as well.
In the past few years, lawmakers created the bipartisan Climate Solutions Caucus, introduced dozens of bills and led hours of debate. Yet as we enter a new decade, there is little consensus among lawmakers about how to move forward.
But a sensible approach to energy efficiency policy already exists. It would not only help protect the environment and reduce harmful emissions; it would also create thousands of jobs and make the U.S. economy more competitive. Elected officials from both sides of the aisle, as well as the business community and environmental advocates, support this approach.
It's the Energy Savings and Industrial Competitiveness (ESIC) Act, and if Congress wants to get serious about moving the needle on energy efficiency, it should work to enact this bill before the end of 2020.
A Multiyear Effort
Commonly referred to as "Portman-Shaheen," as a nod to its bipartisan cosponsors — Republican Sen. Rob Portman of Ohio and New Hampshire Democratic Sen. Jeanne Shaheen — the ESIC Act would spur greater use of energy-efficient technology and boost the U.S. economy. NAIOP has backed the bill since it was first introduced in 2011. Efforts to pass it have failed in a deeply divided Congress, though provisions from the original bill have been incorporated into other legislation.
The appeal of Portman-Shaheen is that it uses low-cost, voluntary tools to help property owners reduce their energy consumption. Rather than imposing onerous, counterproductive and difficult-to-achieve mandates, the legislation strengthens model building codes and allows for voluntary implementation.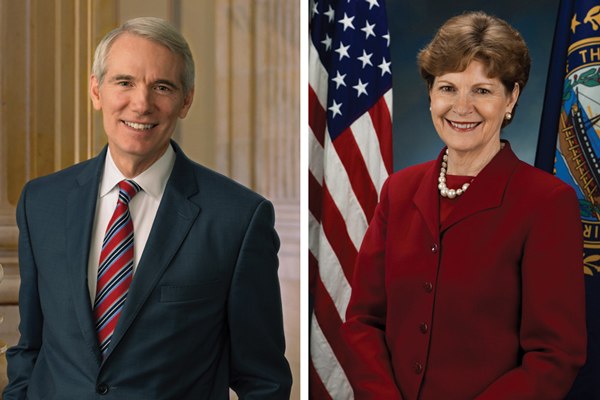 It would also bring about much-needed reform to the way building codes are created in the first place. Under current law, when the U.S. Department of Energy participates in the codes-development process, it ignores economic impacts, effects on small businesses and a slew of other critical variables. Portman-Shaheen would direct federal agencies to take into account economic realities such as payback periods, return on investment and present-value considerations.
Notably, the latest iteration (Energy Savings and Industrial Competitiveness Act, S. 2137) includes a new provision to improve the data used by the Environmental Protection Agency (EPA) in its Energy Star Portfolio Manager program.
NAIOP members are likely familiar with Portfolio Manager. It's an online tool that allows property owners to measure and track energy consumption in their buildings and benchmark the performance to similar property types across the country. To see how a specific building stacks up, EPA extrapolates data from the Commercial Buildings Energy Consumption Survey (CBECS) and uses it to establish a baseline of energy usage in properties nationwide.
However, when it comes to larger buildings (particularly those bigger than 500,000 square feet), the CBECS sample size is relatively small. In other words, the survey uses energy consumption data from just a few dozen buildings to make determinations about how tens of thousands of buildings perform. Given the multitude of state and local governments that use Portfolio Manager to administer energy-efficiency mandates, it's vital to ensure the integrity of the baseline data. New language in the current version of the ESIC Act would direct federal agencies to better coordinate and share information to improve the CBECS data.
Making Government Accountable
Portman-Shaheen takes the correct approach: it relies on incentives, rather than mandates, to effect change. However, it would implement a key requirement on the nation's largest energy user, the federal government. It requires the Office of Management and Budget to collaborate with federal agencies to develop energy-consumption strategies that target a range of operations and equipment, from computer monitors to maintenance procedures. Given that the federal government owns and leases some 350 million square feet of space, this seemingly minor change would have considerable implications.
The Portman-Shaheen bill checks every box. According to a 2014 study from the American Council for an Energy-Efficient Economy, it would save billions of dollars by cutting wasteful energy use, create 190,000 new jobs and eliminate several million metric tons of carbon dioxide emissions. It's also supported by more than 250 businesses, non-profits and trade associations, and the Senate Energy and Natural Resources Committee recently approved it in a broad bipartisan vote.
NAIOP supports pragmatic, effective strategies for improving energy efficiency in buildings. And thanks to the tireless work of Senators Portman and Shaheen in crafting the ESIC Act, these goals are within reach. It's time for Congress to finally step forward and pass legislation that advances energy efficiency, creates jobs and strengthens the U.S. economy.
Alex Ford is the director of federal affairs for NAIOP.