The outlook remains hazy as COVID-19's broad impacts disrupt the country.
After more than six months of pandemic-related turmoil, there is no sign that the outlook is getting clearer for construction spending, labor, or materials cost and deliveries. Additionally, the back-pedaling in states that had reopened has made the uncertainty about the future even greater.
Like many sectors, construction experienced enormous upheavals in the spring. After employment reached a 13-year high of 7.6 million in February, the industry lost more than 1 million jobs during the next two months. The industry added back 611,000 jobs in May and June as construction firms made rapid use of Paycheck Protection Program loans to recall furloughed workers and restart projects in states and cities that ended shutdown orders. Despite the rebound, total construction employment in mid-June (the monthly employment counts are based on the payroll period covering the 12th of each month) was nearly half a million jobs shy of the February level.
Struggles Ahead
That might suggest that the longstanding scramble by contractors to find enough workers has eased. But the virus has created new challenges.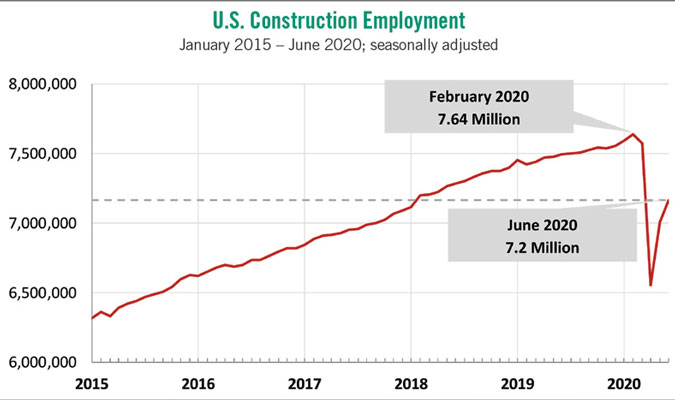 A survey by the Associated General Contractors of America (AGC) in mid-June found that 24% of respondents said projects had been delayed or disrupted because of a shortage of craftworkers or subcontractors — a percentage that had barely budged since early April. In addition, more than half of the firms that had tried to recall employees reported that some had refused to return — because of illness or family obligations, or a preference for receiving unemployment benefits, which were boosted by $600 per week until the end of July under the federal government's Pandemic Unemployment Assistance (PUA) program.
The longer workers are laid off or choose to stay away, the harder it will be for contractors to get them back or attract new entrants. In the last downturn, construction employment began declining more than a year before the rest of the economy and did not start increasing until nearly a year after other sectors. Reports of craftworker shortages began soon after.
Unfortunately, recent indicators suggest that construction will again be late to recover.
The American Institute of Architects' Architecture Billings Index, which the institute says leads nonresidential construction spending by nine to 12 months, plunged to record lows in April and May, with even lower readings for architecture firms with predominantly commercial/industrial practices. Dodge Data & Analytics' Momentum Index, a monthly measure of the initial report for projects in planning, which the firm says has been "shown to lead construction spending for nonresidential buildings by a full year," fell 13% from the first quarter of 2020 to the second quarter. And at the end of June, the Census Bureau's Small Business Pulse Survey found that more than one-third of construction firms indicated it would take more than six months for their business to return to a "normal level of operations relative to one year ago."
No Clear Path Forward
If demand for projects and labor is declining, does it follow that pricing will ease for owners who do want construction? That depends on the type of project and location. Although demand is likely to be sluggish for many categories of construction, remodeling and renovation work will remain hot, as will warehouse construction. The producer price index (PPI) for new nonresidential construction decreased by 2.0% from June 2019 to June 2020. But the indexes for two items heavily used in remodeling increased sharply: the PPI for fabricated structural metal for non-industrial buildings jumped 12.1%, while the PPI for lumber and plywood climbed 6.6%.
Construction costs — and completion times — may be higher than before in some areas if there are not enough government inspectors, permit issuers or other officials, or if requirements for greater worker spacing, sanitizing and other measures reduce productivity. Late or canceled deliveries of materials — an issue cited by more than one-third of the respondents to AGC's mid-June survey — may also drive up costs.
But for some project types and locations, contractors may be eager to take on more work and will bid accordingly. However, the overall outlook remains hazy, even in places where there are enough contractors and workers available.
Ken Simonson is the chief economist for the Associated General Contractors of America. He may be reached at ken.simonson@agc.org.