This West Coast-based REIT has a strong focus on sustainable development.
Los Angeles-based Kilroy Realty Corporation develops sustainable, modern business environments in San Francisco, Seattle, Los Angeles and San Diego. Its strategy involves focusing on these high-growth, coastal gateway markets and through leading-edge design, driving employee retention for many of the world's leading companies.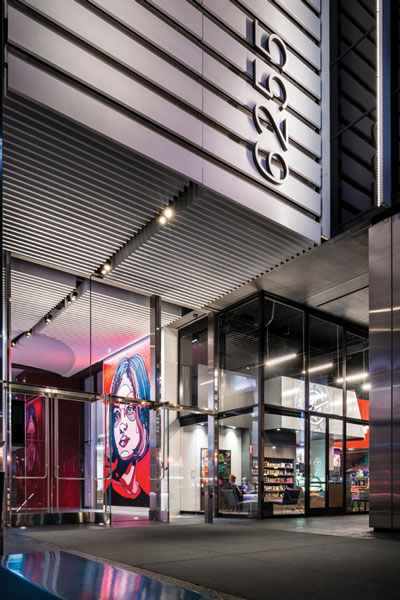 In 2019, Kilroy Realty executed 3.5 million square feet of leases across its portfolio, a new all-time record for the company. It achieved remarkable spreads on leases with rents increasing 30% on a cash basis and 52% on a GAAP basis.
At the end of 2019, its portfolio was 97% leased (only 5.5% of leases were up for renewal in 2020).
That same year, Kilroy Realty initiated construction on more than one million square feet of space in three new projects, moving its total investment to nearly $2.8 billion. It has secured lease commitments on about 90% of the office and life science space, which was approximately 24 months ahead of company projections.
NAIOP has named Kilroy Realty Corporation as its 2020 Developer of the Year for its innovative and sustainable approach to development, outstanding quality of its products and services, its active support of NAIOP, the company's financial stability and adaptability, and its contributions to the communities in which it works.
"This award reflects the commitment, culture and people of Kilroy Realty Corporation," said John Kilroy, the company's chairman, president and CEO. "I am blessed to be surrounded with an amazing team of innovative and industrious thinkers. And I include both our in-house team as well as our outside architects, consultants and thought leaders."
73 Years and Growing
Kilroy's father, John Kilroy Sr., started Kilroy Industries in 1947. John Jr. joined the firm in the 1967. In the early 1990s, the younger Kilroy agreed to buy out his father.
"With the severe recession at the time, it crystalized in my mind that we needed to change the financial structure with regard to our holdings," said Kilroy. "I bought out my father and took the company public. That was the beginning of Kilroy Realty Corporation."
Today, Kilroy Realty Corporation (NYSE:KRC) is a publicly traded real estate investment trust (REIT) and member of the S&P MidCap 400 Index. It is listed in the Dow Jones Sustainability World Index and has been lauded by industry organizations around the world for its innovation and leadership in sustainable development. Kilroy Realty's stabilized portfolio was 66% LEED-certified and 43% Fitwel certified as of June 30, 2020.
In December 2019, Kilroy Realty was recognized for the sixth time by the Global Real Estate Sustainability Benchmark (GRESB) as the sustainability leader across all asset classes for North and South America. Other honors include its sixth straight "Leader in the Light" award from the National Association of Real Estate Investment Trusts and ENERGY STAR Partner of the Year for seven years, as well as ENERGY STAR's highest honor of Sustained Excellence for the past five years.
Kilroy Realty's human-capital development efforts have focused on enhancing employee growth, satisfaction and wellness while maintaining a diverse culture. The company was recently named to Bloomberg's 2020 Gender Equality Index, which recognizes companies committed to supporting gender equality through policy development, representation and transparency.
Reducing the Portfolio's Carbon Footprint
Kilroy Realty has long been committed to reducing the carbon footprint of commercial and multi-family buildings. To that end, it has embraced LEED certification and National Green Building Standard (NGBS) certification as pathways to achieving environmentally friendly buildings.
---
Innovative Leasing and Marketing Communications
Kilroy Realty invests heavily in technology and visuals for its remarkably successful leasing efforts. This includes "experience centers" with media walls, visual projecting tools, high-caliber renderings and photography, gallery walls, architectural fly-through videos, apps, building animations and custom websites, to name a few. Tech and visual communication tools help Kilroy Realty tell compelling and complex stories about its properties in a unique way.
---
The company is also striving to build more all-electric development projects to reduce its carbon footprint. It provides all-electric core and shell buildings, and there are no natural gas hookups in the core and shell design at On Vine in Los Angeles or 2100 Kettner, a mixed-use project in San Diego.
Carbon Neutral by Year End
CEO John Kilroy aims to reduce the carbon footprint of the company's portfolio even more. He and Sara Neff, Kilroy Realty's senior vice president of sustainability, want to reach a carbon-neutral footprint by the end of 2020 — a goal other real estate companies are talking about achieving by 2040 or 2050.
"She told me it would be difficult," he said. "I said that's what we do best at Kilroy Realty — we do difficult. We will be carbon-neutral by the end of 2020; we are the first real estate company in the world to do this."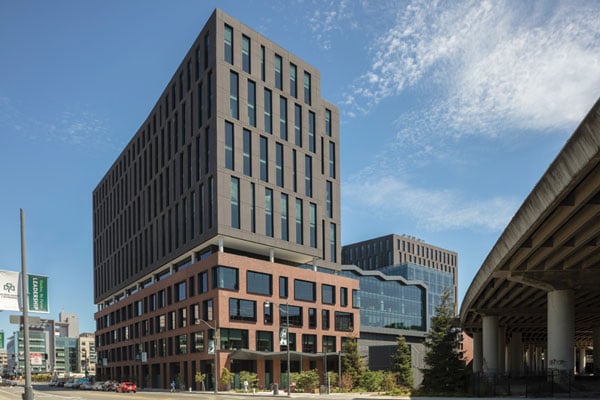 Becoming carbon neutral involves three approaches. First, Kilroy Realty works diligently and continuously to reduce energy consumption at its projects. Second, it takes advantage of all onsite solar and battery installation opportunities to reduce consumption still further. As a third step, in 2018, it added off-site renewable energy capacity through a power purchase agreement that allows Kilroy Realty to pull it into the grid at its discretion.
The CEO's next big target for conservation and sustainability is to reduce the massive amounts of energy consumed in the construction of buildings.
"Our goal for construction is a 30% energy reduction by 2030 and a 50% energy saving by 2050," he said. "I've been told this will be very difficult to achieve. Yes, we may never get a 30% or 50% energy reduction in construction. However, we will get to a place where we dramatically reduce the amount of energy that goes into buildings. I am an explorer; this is an exploration."
Financial Stability
With decades of experience with real estate cycles, Kilroy Realty is careful and disciplined in the way it handles financing.
"If we can't make money being conservative, we won't agree to the deal," said Kilroy. "Real estate companies crash and sink during financial storms because of their debt. When a downturn hits — just when you need to replace your debt most — you cannot replace it."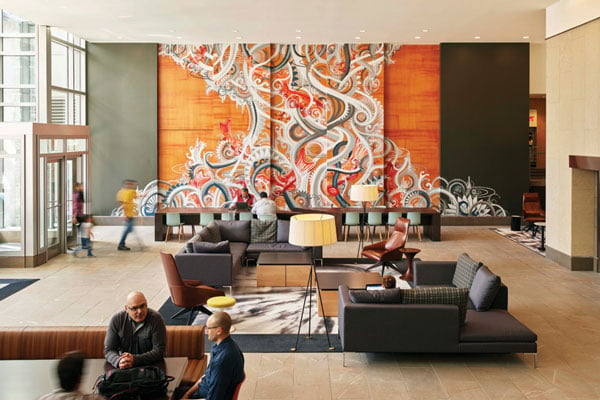 According to the CEO, Kilroy Realty has internally funded its acquisitions and development over the years. It has no short-term debt today.
"We do this, in part, by selling assets that don't fit into our strategy," he said. "For example, we sold our industrial portfolio, some office buildings and low-performing properties. We redeployed that money into state-of-the-art world-class buildings with returns that were much higher than the returns we would have received had we continued to hold the older assets."
In 2010, after the Great Recession hit, when other real estate companies had little stomach or cash to buy projects, Kilroy Realty aggressively purchased projects in San Francisco and later in Seattle.
"We bought these buildings at terrific prices," said Kilroy. "Anywhere from 25% to 40% below replacement value. From there, values soared in these markets in subsequent years. You need to be defensive in order not to shipwreck your company in a downturn. But you also need to be offensive to take advantage of opportunities."
---
'People-First' Experience at Kilroy Projects
Beautiful settings, design and amenities and public art are some of the hallmarks of Kilroy Realty projects. John Kilroy said that well-designed workplaces are not just about architecture, but also about integrating into, improving upon, and expanding the fabric of a community.
"We think of our projects as living, breathing organisms that create a strong sense of being and purpose," he said.
A notable feature of Kilroy Realty projects is the impressive collection of public art on display. According to the company, it appreciates great art that represents an alluring peek into the collective consciousness.
---
The company recently replenished its future development pipeline with three acquisitions totaling $359 million in the West Coast's best submarkets. It also advanced the entitlement process for its 2.3-million-square-foot Flower Mart project in the Central SOMA district of San Francisco, receiving unanimous approval from the city's board of supervisors.
Market Adaptability
Kilroy said his company had no way to anticipate COVID-19, and he does not yet have a clear picture of how the pandemic will play out in the months or perhaps years ahead. But in a broader sense, the company has long been prepared for setbacks.
"Our platform allows us to pivot our operations as needed based on market conditions," he said. "We have a strong balance sheet and our development program allows us to build based on operational needs vs. relying on a single product type. This leaves us agile, flexible and free to focus on the needs of our tenants."
NAIOP Participation
Kilroy Realty has made a strong commitment to NAIOP to the mutual benefit of both organizations.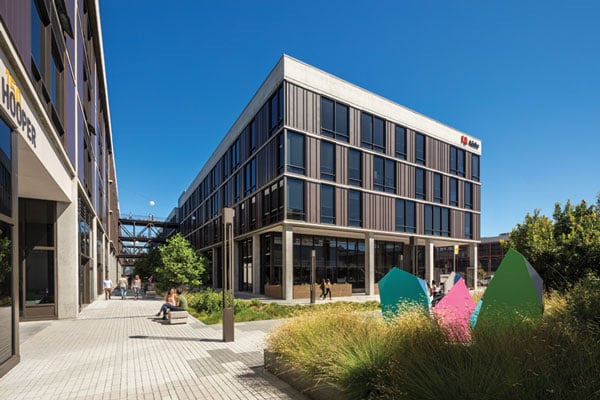 "There is not a better real estate organization than NAIOP," said Kilroy. "Twenty of our people are heavily involved in the Washington State, San Francisco Bay Area, Southern California and San Diego chapters. We are strongly committed to sponsoring chapters and events. In addition, many of our people have graduated from the Young Professionals Group. At NAIOP, the networking opportunities are terrific, and some of our stars at the company have taken on chapter leadership positions."
Working with Local Communities
When it comes to community involvement, Kilroy Realty employees take a truly hands-on approach to giving back.
"Our employee volunteerism and philanthropy programs have two core areas of focus: Strong Communities and Healthy Planet," he said. "As individual employees, regional groups and as a company, those concepts inspire our volunteerism and philanthropy initiatives."
In 2018, Kilroy Realty launched the Kilroy Culture Crew. It's comprised of employees from all four regions of the company who are interested in developing a culture-building program. The Culture Crew focuses on three initiatives: philanthropy, health and wellness, and social. Each region has an annual dedicated budget, and the regional teams create a variety of activities that support the Culture Crew's initiatives. Typical events include community service and employee health and wellness activities including group fitness classes and meditation, as well as outings and social activities such as sporting events, happy hours, art classes and an annual family picnic.
---
Sustainability Case Study at Kilroy Realty
Located in the transit-connected and amenity-rich University Towne Centre in San Diego, 9455 Towne Centre Drive is a 160,000-square-foot state-of-the-art life tech facility that blends form and function. The project is targeting LEED Platinum certification and is fully leased with expected occupancy in 2021.
9455 Towne Centre Drive's features include:
Exterior skin to bring daylight deep into the floorplate.
Highly energy-efficient glass with low solar heat gain.
A 589 KW solar array with bifacial panels that will offset approximately a third of the project's energy consumption.
Highly efficient water fixtures such as 1.1-gallon-per-flush toilets that reduce water consumption by 41%.
An efficient mechanical system and the onsite solar array that reduce energy consumption by 53% over the LEED baseline.
Materials purchasing focused on recycled content, regional sourcing, responsibly managed wood products, an enhanced commissioning program, electric car-charging stations and more.
---
Each of the four Kilroy Realty regions has the goal of organizing at least one employee volunteer event annually, which strengthens communities while giving regional teams the opportunity to connect outside of the office. In 2019, all regions met this goal, with most regions organizing multiple events. These events ranged from beach cleanups, to reading programs, to assembling backpacks for victims of domestic violence, to packing lunches for people experiencing food scarcity. Also, many properties host community events such as blood drives, safety events with local law enforcement and Earth Day celebrations.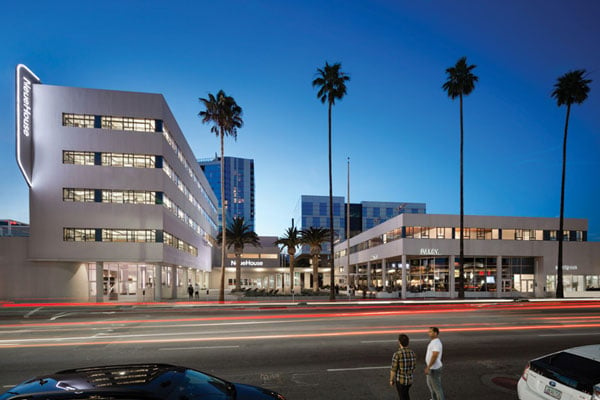 In 2019, Kilroy Realty conducted its first-ever companywide Week of Service, which further dedicated the company and its people to giving back to the communities where it operates.
Kilroy Realty also provides financial support to charitable organizations and has a program to match employee contributions to 501(c)(3) nonprofit groups, schools and universities. Its philanthropic philosophy is to provide unrestricted grants so that organizations it believes in can execute their programs most efficiently. More than 63 nonprofits are supported by these efforts.
Kilroy Realty's philanthropic efforts reach well beyond the local communities in which it works.
It supported an international team of scientists, innovators and material experts who participated in the Hudson River Microplastic Sampling Expedition — more than 3,000 miles from the company's headquarters in Los Angeles. That team collected more than 600 soil, water and air samples in and near the Hudson River, the first-ever four-dimensional microplastic study of the waterway. Investigating microplastics in the water, soil and air will help identify the multiple sources of this pollution, and knowing the sources will lead to solutions to reducing microplastic pollution. According to the U.S. National Oceanic and Atmospheric Administration, microplastics are any type of plastic fragment that is less than 5 mm in length.
---
Building Health Certifications
Kilroy Realty finished 2019 with 19 Fitwel certifications. Fitwel is a healthy building certification system operated by The Center for Active Design (CfAD). The Fitwel standard supports healthier workplace environments based on seven health impact categories. According to the Fitwel website, these are "impacts surrounding community health; reducing morbidity and absenteeism; supporting social equity for vulnerable populations; instilling feelings of well-being; enhancing access to healthy foods; promoting occupant safety; and increasing physical activity." Recently, Fitwel announced the launch of its Viral Response module, which provides annual, third-party building certification of policies and practices informed by the latest public health research on mitigating the spread of infectious diseases.
---
In recognition of John B. Kilroy, Sr.'s longstanding role as chairman, the company established the Kilroy Scholarship at Loyola Marymount University in 2013 with a gift of $100,000 each year for 10 years. The scholarship supports undergraduate students in the Frank R. Seaver College of Science and Engineering who are pursuing degrees in environmental science.
Ron Derven is a contributing editor to Development magazine.
---
High-Profile Assets
With more than 20 million square feet of office, life science, mixed-use, retail and residential space under management, Kilroy Realty continues to attract top corporations to its projects. These include Netflix, Dropbox, Amazon, Cisco, Sony, Viacom and Adobe, to name only a few.
Notable projects include:
333 Dexter in Seattle contains 635,000 square feet of office space in two 12-story interconnected towers. The LEED Gold development is 100% leased to a Fortune 50 company.
The Exchange in San Francisco features 750,000 square feet of office and retail space in four interconnected buildings. It's rated LEED Platinum; 100% of the office space is leased to Dropbox.
350 Mission in San Francisco is a 455,000-square-foot LEED Platinum, zero-waste building occupied by Salesforce.
Flower Mart in San Francisco is a development project that includes approximately 2.3 million square feet of urban campus, large-scale office, food and beverage, and public open spaces on more than 15 acres. The targeted LEED Platinum development is the second-largest project in the city's history.
Kilroy Oyster Point in South San Francisco features approximately 2.5 million square feet of multiphase development of office and life science space on 50 acres. Phase 1 is under construction and is 100% leased; Phase 2 is currently scheduled to start construction in 2021, subject to market conditions.
Columbia Square, in Los Angeles on the former site of CBS Studios, is a 483,000-square-foot mixed-use campus with 200 residential units.
On Vine in Los Angeles offers 355,000 square feet of office space with 193 luxury residential units. It is targeting LEED Gold, and 100% of its office space is leased to Netflix.
One Paseo in San Diego is a 22-acre mixed-use project with 380,000 square feet of office and retail space and 608 residential units.