An adaptive-reuse project in North Carolina showcases the appealing possibilities of older industrial buildings.
There's cause for confidence in Charlotte's burgeoning Mill District, where the cheerily named Optimist Hall is the latest revitalization of a turn-of-the-century textile mill. The adaptive-reuse project adds a 22,000-square-foot food hall, 34,000 square feet of restaurant and outdoor space, and 91,000 square feet of office space to an increasingly vibrant neighborhood that faced dire prospects after the U.S. textile industry collapsed near the end of the 20th century.
A collaboration between Charlotte's White Point Partners and Atlanta's Paces Properties, Optimist Hall occupies the former Highland Park Manufacturing Company's Mill No. 1. Once one of the nation's largest gingham manufacturers, the facility was built and expanded between 1892 and 1930. The U-shaped structure houses the food hall in the east wing of its main level, restaurant and retail space in its west wing (along with a few lower-level spaces) and Duke Energy offices above.
Erik Johnson, co-founder of White Point Partners, had worked with Merritt Lancaster of Paces Properties previously when he was a banker and Lancaster was a multifamily housing operator. They decided to join forces once again to refurbish an old structure in Charlotte. Lancaster, who helped develop Atlanta's Krog Street Market food hall with Paces Properties, had an interest in replicating something similar in North Carolina's largest city — and he saw an opportunity as well.
"We compared the food scene in Charlotte to Charleston, Atlanta and Nashville and observed there was less competition," he said.
They were looking for a historic property from the start. Johnson said White Point Partners focuses on reusing historic buildings because they supply character that can't be replicated. Their search covered the Charlotte area and wasn't focused exclusively on the Mill District, but it proved a logical fit.
"It wasn't so much that we chased that market, but that's what was open," Johnson said.
An Area on the Rebound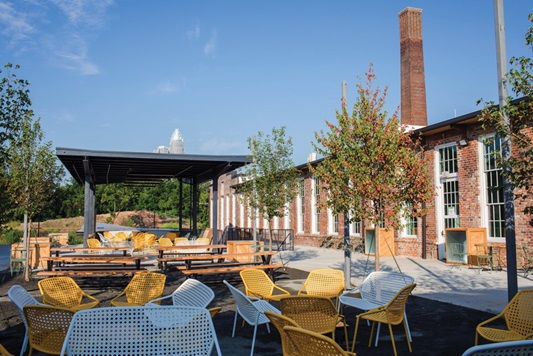 Formerly a center of the textile industry, the Mill District stretches north of Charlotte's downtown, starting just across Interstate 277 from the city's business center and spanning a sliver about three miles long. It contains seven intact mills built between 1889 and 1940. Local textile tycoon Daniel A. Tompkins developed many of them, including the precursor to Optimist Hall. Tompkins built more than 250 cotton oil mills, 150 electric plants and 100 textile mills across the South before he died in 1914.
The local textile industry and the surrounding neighborhoods began a long decline after World War II. Statistics from the Charlotte-Mecklenburg Planning Commission show how dire things became. As recently as 1987, more than 97% of the housing units in Optimist Park, the small historic neighborhood that surrounds the hall, were deemed dilapidated or deteriorated.
Fortunes have turned in the past decade, however. The neighborhood is attracting young professionals who are renovating the housing stock, and the long-shuttered mills have been repurposed or are in various stages of redevelopment. Highland Park Mill No. 3 is now Heist Brewing and Highland Mill Lofts. The Alpha Cotton Mill is now Alpha Mill Apartments. The Mecklenburg Cotton Mill is The Lofts at NoDa Mills. The Louise Cotton Mill is now The Lofts at Hawthorne Mill. The Chadbourn Hosiery Mills sold in August to a group planning an office and retail conversion. A final historic structure, the Johnston Mill, is expected to be developed into apartments.
A supply of historic buildings wasn't the only incentive for the developers of Optimist Hall. The city's recent Lynx Blue Line light rail extension runs alongside the project, and a station is located a quarter mile away from Optimist Hall.
Despite its name, the Mill District is not merely industrial — or all mill conversions, either. It contains industrial parcels along with a large residential population, especially near the Optimist Hall portion. One element it did not contain was offices.
"A lot of people said 'this is not an office market — how are you going to lease office space?' " Johnson said.
Standard market analysis showed that the demographics of the area weren't ideal, but its central location and proximity to light rail, along with plenty of housing nearby (there are 1,200 to 1,500 apartment units within a half mile of the property), helped sway the decision to add office space.
Lancaster added that the neighborhood didn't quite match the stereotypical millennial demographic ideal of the food hall market, either — but that was OK with the development team.
"If you end up in a market that's too highly focused on the modern apartment dweller, that's just a sliver of the market," he said.
The Mill District is more affordable and mixed.
"It's much more diverse, and you have a good mix of single-family housing and rental housing, and for us that's a very important thing," Lancaster said. "We like to be in neighborhoods where someone could spend their whole life."