Higher pay, shifts that allow for work-life balance and reasonable, fair HR policies can draw better talent, according to a national survey.
A combination of record-low unemployment and higher consumer spending has warehouse operators scrambling to find qualified workers. To attract and retain the best talent, employers need to offer higher wages, earlier shifts and more flexible human resource policies, according to staffing service EmployBridge's 11th annual Warehouse Employee Opinion Survey, released in the fall of 2018.
Not surprisingly, pay and job security ranked as the most important factors for warehouse workers — that's unchanged since the survey started in 2007. But for the first time, two-thirds of warehouse workers reported earning $12 or more per hour, excluding benefits.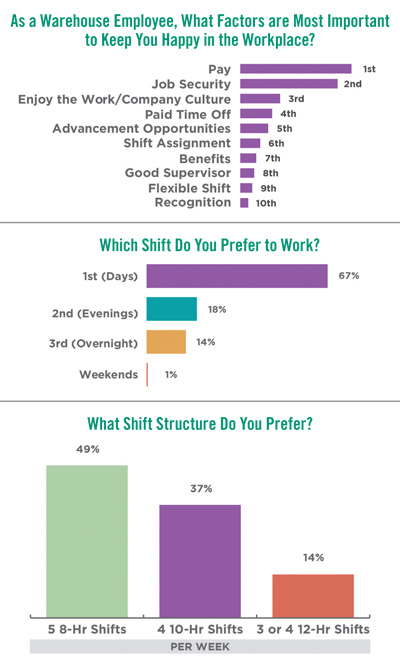 That's a huge change. According to EmployBridge, pay for warehouse employees averaged around $10 an hour from 2002 to 2014, when it began to rise. By December 2018, average wages for warehouse workers had climbed to $14.30 an hour.
"That really is troubling for a lot of companies, because for well over a decade, they didn't have to change their pay rates," says EmployBridge senior vice president Brian Devine. "Now, if they've just raised pay last year, they'll have to do it again."
Wages Catch Up to Cost of Living
Devine says for many years, pay rates for warehouse workers lagged the Bureau of Labor Statistics' Consumer Price Index (CPI), which measures the average change over time in the prices for consumer goods and services. From 2002 to 2014, wages for hourly workers only rose 5.5 percent while the cost of living grew 29 percent during the same period. But today, amid a shortage of qualified labor, companies are being forced to offer better pay to remain competitive.
"Because hourly wages for warehouse employees haven't kept pace with the CPI, there is now a correction," Devine says. "That's a big deal. We will continued to see pay rates increase for hourly workers."
Devine says if companies don't adjust their pay rates, they won't be able to attract new employees, and they'll also have to worry about turnover among their existing workforce.
"That knowledge base will walk out the door to go down the street to make $2 more an hour," he says. "Our surveys show that nobody leaves a job for money unless it's at least an extra dollar an hour, so if you're making $13 an hour and you have a chance to make $15 an hour, that's a game-changer."
Many of those departing workers might be heading to an Amazon facility. The retail giant announced in October 2018 that it would start paying more than 250,000 full-time and 100,000 seasonal employees a $15-an-hour minimum wage.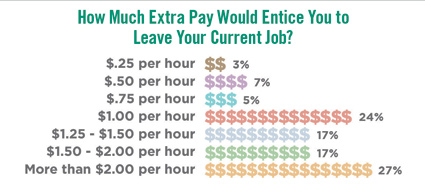 More employees surveyed — 67 percent — said they wanted to work day shifts and preferred eight-hour workdays. However, Devine suggests that employers should think about adding 20-hour work weeks or shorter shifts. Those could expand the applicant pool by attracting students, working parents and the semi-retired.
"As a society, that's how we're going to have to tap into the workforce," Devine says.
Additionally, companies that require second or third shifts may need to offer higher pay. According to the survey, hourly workers on average want $1 more per hour to work the second or third shift, compared to just 62 cents more per hour in 2011.
Relaxing Rigid Hiring Requirements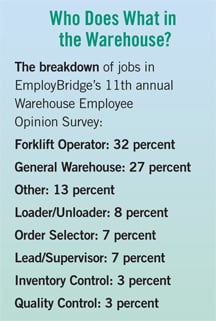 During the Great Recession when unemployment was 7 percent or higher, stringent hiring policies might have been necessary. Today, however, it doesn't always make good business sense, according to the survey.
"Just as employers in many other sectors are re-evaluating and relaxing their hiring criteria requirements and other policies to fill production-critical positions, supply chain companies are beginning to do the same," says Devine. "This includes maintaining attendance policies that are reasonable and fair and that take into consideration the realities of hourly workers' limitations. And, given there are roughly 10.5 million U.S. workers with less than a high school diploma, we're seeing many customers revisit their education requirements and relax background screenings to secure much-needed talent."
EmployBridge and its specialty divisions ResourceMFG, ProLogistix and Select surveyed 15,883 workers across the country between February and April 2018. Respondents included job seekers, as well as those employed full-time, part-time or on a contingent basis, who had at least six months of warehouse experience.