The sector's productivity hasn't improved much in years, but that could be changing as workforce challenges increase.
Automation, robotics, the "internet of things" (IoT) and other technological advances are revolutionizing the commercial real estate industry in areas such as leasing, property management, building operations and financing. But construction, one of the most crucial aspects of the development process, hasn't kept pace when it comes to the adoption of high-tech labor-saving advances.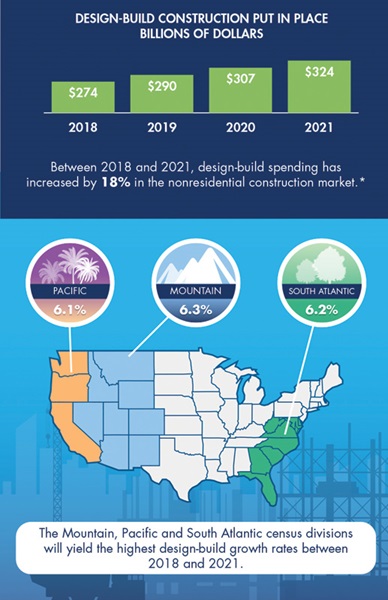 According to a February 2017 report from the McKinsey Global Institute, productivity in areas such as manufacturing, retail and agriculture has grown by as much as 1,500 percent in the U.S. since 1945, but it's barely budged in construction. Worldwide, the report finds that labor-productivity growth in the construction sector has averaged just 1 percent a year during the past two decades. By comparison, manufacturing productivity has risen an average of 3.6 percent a year during the same period, McKinsey says.
According to the report, if construction labor productivity could catch up with other sectors of the world's economy, the industry's value added could rise by $1.6 trillion a year. That would be enough to meet half of the world's rising infrastructure needs.
Getting there won't be easy, though. In the U.S., construction ranked next to last on McKinsey's 2015 digitalization index, which examines 27 indicators to measure the digital assets, digital usage and digital workers in various sectors of the economy. McKinsey's report says the main reason construction fares so poorly in digitalization is because it's a highly localized, labor-dependent industry.
Why Construction Lags
There are several other reasons why high-tech solutions haven't caught on in the construction industry. First of all, there's the simple fact that construction is a fragmented process with many non-repetitive tasks, which don't easily lend themselves to automation. McKinsey's research also shows that the global construction industry is extensively regulated, over-dependent on public-sector demand and highly cyclical.
Additionally, many jobsite functions are often isolated from each other, which is linked to the design-bid-build process that's prevalent in North American construction. In this system, a developer or building owner enters into separate agreements with architects, engineers, general contractors and subcontractors for a project. That means the building process isn't fully integrated from conception through final construction.
Single-Entity Solutions
Design-build, on the other hand, is a project delivery system in which most design and construction services are handled by a single entity. It's becoming an important part of the construction industry. A research study released in January 2018 by FMI, a construction management consulting and investment banking firm, estimates that North American design-build projects will grow 18 percent between now and 2021 and make up 44 percent of total construction spending during that time.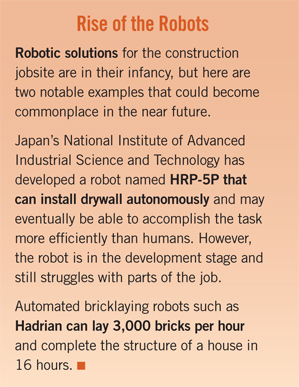 One popular, technologically advanced technique for building commercial and residential structures is off-site construction. It's defined by the National Institute of Building Sciences as "the planning, design, fabrication and assembly of building elements at a location other than their final installed location to support the rapid and efficient construction of a permanent structure."
According to the 2018 Off-Site Construction Industry Survey, nearly 88 percent of respondents said they had used off-site fabricated components on projects during the past year, and about 82 percent said they expected to do so in the coming year. Survey respondents said the main benefits of off-site construction are shorter project schedules, improved quality and lower costs. Off-site elements are being used to build commercial, industrial, health care, education, multifamily, hospitality and data center properties.
Construction startup Katerra, which has raised more than $1 billion in venture capital in the past three years, has announced ambitious plans to vertically integrate the entire process — from architectural concepts, to designs, to finished buildings. The company says it envisions a jobsite that "more closely mirrors a process of precision-sequenced product assembly than traditional construction." So far, however, the company has experienced production delays and other problems.
Labor Issues Fuel Innovation
In the U.S., a shortage of skilled workers looms over the U.S. construction industry, and it's not going to get better anytime soon as increasing numbers of older employees head toward retirement.
In 2017, there were 10.7 million workers employed in construction, according to the Bureau of Labor Statistics. About 4.8 million of them, or 45 percent, were 45 or older. Additionally, a 2017 survey from FMI shows that construction companies will lose between 14 percent and 20 percent of key workers such as executives, field managers, senior managers and project managers during the next five years to retirement or attrition.
Those demographic changes are starting to push companies to adopt digital solutions to their labor challenges.
In January, a survey by the Associated General Contractors of America (AGC) and Sage Construction and Real Estate found that while 79 percent of construction firms plan to increase staffing in 2019, 78 percent say they're having a hard time filling craft positions. To ease those labor problems, 32 percent of the firms that took part in the survey said they're using high-tech methods such as "lean" construction (which focuses on ways to minimize waste of materials, time and effort), virtual construction techniques or off-site prefabrication to reduce overtime, while 28 percent are investing in labor-saving equipment such as drones, robots and 3-D printers.
The survey shows that 42 percent of respondents will increase their information technology (IT) investments in 2019, with 30 percent of firms planning to boost investments in project and document management software. More companies are moving data to the cloud as well — 31 percent said they are very comfortable doing that, up from 24 percent last year.
---
Five High-Tech Construction Trends to Watch
A June 2016 report from the McKinsey Global Institute, "Imagining Construction's Digital Future," describes five trends that will shape construction and capital projects in the coming years:
Higher-definition surveying and geolocation. "New techniques that integrate high-definition photography, 3-D laser scanning, and geographic information systems, enabled by recent improvements in drone and unmanned-aerial-vehicle (UAV) technology, can dramatically improve accuracy and speed."
Next-generation 5-D building information modeling (BIM). "Next-generation 5-D BIM is a five-dimensional representation of the physical and functional characteristics of any project. It considers a project's cost and schedule in addition to the standard spatial design parameters in 3-D. The 5-D BIM platform allows owners and contractors to identify, analyze, and record the impact of changes on project costs and scheduling."
Digital collaboration and mobility. "Process digitization means moving away from paper and toward online, real-time sharing of information to ensure transparency and collaboration, timely progress and risk assessment, quality control, and, eventually, better and more reliable outcomes."
The "internet of things" and advanced analytics. "On a construction site, the 'internet of things' would allow construction machinery, equipment, materials, structures, and even formwork to 'talk' to a central data platform to capture critical performance parameters."
Future-proof design and construction. "New building materials, such as self-healing concrete, aerogels, and nanomaterials, as well as innovative construction approaches, such as 3-D printing and preassembled modules, can lower costs and speed up construction while improving quality and safety."
---