When other efforts to resuscitate a dying shopping mall fail, converting the facility to a warehouse or last-mile distribution center is an option to consider.
While the media focuses on retail store closings and the demise of brick-and-mortar locations, smart developers and mall owners at top-tier properties are working to replace bankrupt anchors and those oh-so-yesterday mall concepts with restaurants, experiential venues and, yes, new retailers.
For other malls, however, replacing failed anchors and shuttered stores has been more difficult. According to Ray Hartjen, director of marketing for RetailNext, a retail analytics firm in San Jose, California, brands that wanted to expand into new markets in the 1970s and 1980s had three main choices: create a catalog, build a call center or open a new store. Most chose to open stores, which in turn spurred the development of new shopping centers and malls. Some of those malls were built in areas of the country that today do not have enough foot traffic to survive as originally configured. These malls now need to be repurposed, perhaps as educational institutions, medical facilities, offices and/or housing. Others need to be closed.
One solution for underperforming malls is converting them into warehouses and distribution centers to fill the demand for last-mile delivery from e-commerce players and surviving brick-and-mortar retailers.
Retail-to-Warehouse Conversions
According to January 2019 CBRE research, there are at least 23 retail-to-industrial projects that have commenced since 2016.
These projects are turning roughly 7 million square feet of aging retail space into 10 million square feet of new warehouse/industrial space, either by converting existing structures or by demolishing and replacing them with new buildings.
"When we started this study, we didn't anticipate that we would find so many projects," said Matthew Walaszek, a CBRE senior research analyst specializing in industrial and logistics. "Compared to the overall warehouse/industrial inventory, which is 14 billion square feet of space in the U.S., these conversions are a mere drop in the bucket. This retail-to-industrial activity, however, is definitely a niche market that is healthy and growing."
Walaszek said he sees more mall-to-warehouse conversions coming.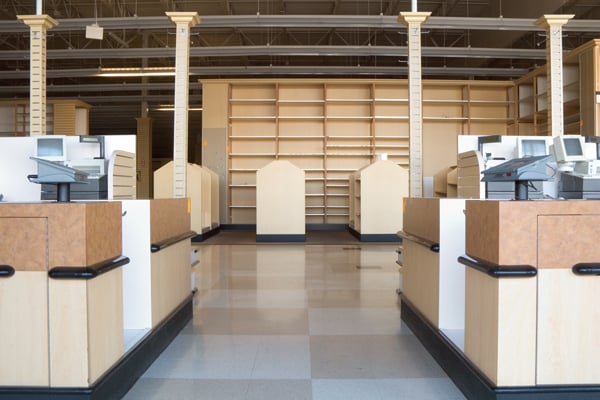 "The U.S. is over-retailed compared to other countries," he said. "In the U.S., there is about 23 square feet per capita of retail space compared to 17 square feet per capita in Canada and 4.6 square feet per capita for the U.K."
He said that on the demand side, the fundamentals are there for the conversion of functionally obsolete shopping centers to a more productive use.
"Our research shows that big-box stores make the most sense for a warehouse conversion," said Walaszek. "For example, take a Sam's Club. The building features allow for easy application to a warehouse. The developer only needs to make small changes to the interior and of course add racks, shelving, pallets and the proper technology. A shopping center is more complex to convert with the segmented interiors, multiple floors and other features such as escalators and inadequate docking. Shopping centers make more sense as a teardown and rebuild."
Across the country, clients are asking for space closer to customers.
"Clients are interested in infill locations," said Tray Anderson, logistics and industrial services lead, Americas for Cushman & Wakefield. "They are interested in improving their services to customers."
What is a Good Candidate for a Warehouse Conversion?
Not every dead or dying mall is ripe for conversion to a warehouse. Bil Ingraham, senior vice president for business development with Centennial in Dallas, which owns 7.3 million square feet of retail space at seven properties across six states, said it is prudent to consider retail-to-warehouse uses if there is a strong demand for warehouses in the area and if the financials for such a conversion are stronger than for other uses.
"Malls are typically sitting on Class A real estate — in many cases defining and anchoring the retail around them," he said. "If all of that retail has closed or moved elsewhere, then conversion [to a warehouse] might make the most sense, especially if it's situated right off major national highways."
"A mall for conversion to a warehouse needs to be located in a land-constrained market like suburban Philadelphia," said Curtis D. Spencer, president of IMS Worldwide, Inc., in Webster, Texas, who is an expert in logistics and industrial development. "If my local mall in suburban Houston were to become obsolete, developers would never be interested in converting it to warehouse space. They would simply walk across the street and buy vacant land for $5 a foot and start fresh. An obsolete mall in suburban Philadelphia, however, would likely have all of the infrastructure in place for a last-mile delivery facility — adequate parking for trucks, a ceiling probably 25 feet high and perhaps air conditioning."
Getting Over Municipal Hurdles
As challenging as it might be to find the right mall for conversion, once that property is located, the next major issue might be to convince town and zoning officials — and local voters — that the project will benefit the community.
"The real sticking point is convincing local government that the local mall is indeed a zombie that needs action," said Spencer. "If that mall can be converted to last-mile delivery — all or in part — huge benefits will flow to the city. The reality is that this type of conversion will actually cut traffic in the area, it will reduce air pollution, and it will bring in sales tax revenue if it is a last-mile retail operation."
Perceived negatives that it will turn into a trucking hub are unfounded, according to Spencer. If there had been a Sears, Target and JC Penney at the mall when it was operational, there was a lot of truck traffic at night. In the new mall-to-warehouse conversion, there would be similar amounts of night truck traffic and less traffic in the day because fewer vans would be making multiple last-mile deliveries, compared with consumers in automobiles coming to shop at the mall.
The Hybrid Mall
There are also efforts underway to create a "hybrid" mall that incorporates retail and warehouse into one facility.
Two JLL executives, Matthew R. Powers, CCIM, executive vice president, retail & e-commerce distribution, and Larry Kilduff, CRRP, CRX, CDP, retail advisory services, are searching for sites to employ a new concept called shopping fulfillment centers or simply SFCs. These were created by Shlomo Chopp, managing partner, Case Equity Partners in New York, who has three patents pending for various components of the concept.
Chopp calls his concept ShopFulfill, and it seeks to eliminate the greatest money-losing aspects of brick-and-mortar retail and e-commerce. For brick-and-mortar retailers, one of the biggest costs is physical space. For e-commerce companies, it is the free next-day or two-day delivery of merchandise and the huge number of items such as clothes that are returned because digital shoppers can't try on the products.
"ShopFulfill seeks to keep the best of brick-and-mortar retailing and e-commerce by offering shoppers an opportunity to touch and feel the merchandise, as well as huge product selection and fast delivery," said Chopp.
ShopFulfill's first iteration will be as a backfill of vacant mall anchors. It will be geared to digital companies seeking physical locations along with reduced costs of fulfillment. There would be showrooms in the front, where retailers could display their merchandise, and integrated warehousing and fulfillment in the back. With an app built on technology that blurs the lines between shopping at home and in-store, customers could shop for products from either location. The goods could then be delivered, picked up or walked out from the ShopFulfill space, according to Chopp.
"Shoppers can touch and feel the items to their heart's content to ensure they like it before they buy," explained Chopp. "Anything the shopper does not want to buy is returned to the warehouse by robotics. The key is providing shoppers with optionality and flexibility that results in e-commerce no longer standing as a competitor to brick and mortar, but each enabling the other."
Ron Derven is a contributing editor for Development magazine.
Randall Park Mall: From Retail Hub to Distribution Center
In June, Chris Semarjian, owner of Industrial Commercial Properties LLC (ICP) and an experienced redeveloper of underutilized commercial space, shared insights into retail conversions during NAIOP's I.CON West 2019 in Long Beach, California.
Semarjian discussed his company's experience repositioning the Randall Park Mall near Cleveland, which would eventually become an Amazon distribution center. Built in 1976, it was the largest mall in the U.S. (1.8 million square feet on 100 acres). Despite being a community icon, the mall was already in decline by 1996 and further deteriorated during the 2000s. It closed in 2009.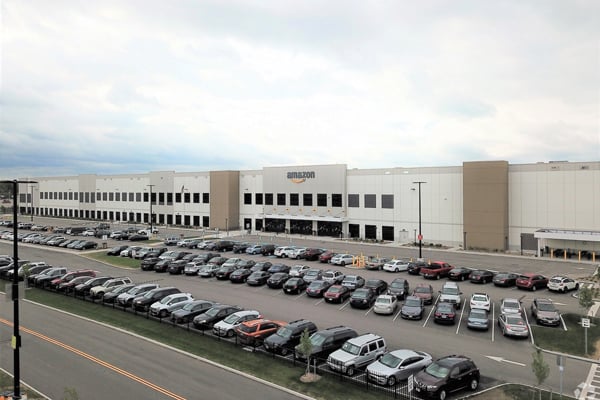 ICP recognized the mall's potential for uses such as a call center or light industrial. However, several large anchor tenants owned their stores, complicating the acquisition process. In early 2014, ICP began buying the large tenant spaces with the goal of repurposing them. The community supported ICP's efforts, believing the mall conversion would bring jobs back to the community.
Later that year, a third-party broker approached ICP, indicating that Amazon was interested in purchasing the site. The e-commerce giant thought the mall, located next to a highway, would be an ideal location for a distribution center. ICP negotiated a deal that they would demolish the mall while retaining ownership of several adjacent out parcels. The property was rezoned within four months, and construction of the $180 million, 900,000-square-foot facility was completed within a year.
Semarjian offered several takeaways from his experiences:
Shopping centers can be ideal locations for distribution and warehouse facilities because they are usually located near highways, have infrastructure in place, offer ample parking and are close to population centers.
Leasing and ownership arrangements can complicate the acquisition of multitenanted retail properties. Finding a property with one owner is ideal, but rare.
More than ever, location is crucial. A project may be struggling, but if it is in an advantageous (or soon-to-be-advantageous) location, it can be profitably repositioned.
Work with the community. Many municipalities are eager to turn around vacant and underperforming retail properties. They will expedite processes to implement projects spurring economic benefits.
Let the end-user or tenant get the incentives from the community. ICP did not receive economic incentives during the project. Amazon, as the purveyor of jobs, got them.
Rely on third parties. While acquiring and demolishing Randall Park Mall, ICP brought in experts who helped them in areas they did not specialize in such as property management and civil engineering.
Be proactive when seeking properties. A good strategy is to be ahead of the curve and not to wait for a property to be offered. If a property is struggling, learn more about it and talk with stakeholders.
By Jennifer LeFurgy, Ph.D., Editor-in-Chief, Development magazine
Retail-to-Industrial Conversions
Here are 23 retail-to-industrial conversion projects tracked in "Trading Places: Retail Properties Converted to Industrial Use," a January 2019 report by CBRE:
Atlanta: Shannon Mall/Union City Mall was demolished and warehouses/film studios built on the site. The project converts 764,882 square feet of retail space into 987,840 square feet of industrial space.
Baltimore: Perryville Outlet Center was closed and demolished; a warehouse is proposed for the site. The project transforms 117,904 square feet of retail space into 356,250 square feet of industrial space.
Chicago: A closed Sam's Club will be converted into an e-commerce fulfilment center for the retailer, and a demolished outlet center will have a warehouse built on site. These two projects turn 429,000 square feet of retail space into 818,000 square feet of industrial space.
Cincinnati: A former Showcase Cinema was demolished, and three warehouses are proposed for the former cinema land and surrounding vacant land. The project converts 55,000 square feet of retail space into 1.6 million square feet of industrial space.
Cleveland: The Randall Park Mall and the Euclid Square Mall were demolished and Amazon distribution centers were built on the sites. These two projects transform 2.5 million square feet of retail space into 3 million square feet of industrial space.
Columbus, Ohio: A manufacturing facility will replace a former local chain grocery store. The project converts 145,000 square feet of retail space into 145,000 square feet of industrial space.
Dallas/Fort Worth: The former Six Flags Mall was demolished and twin 600,000-square-foot buildings for GM parts distribution were built on the site. The project turns 350,000 square feet of retail space into 1.6 million square feet of industrial space.
Denver: A former entertainment center was completely stripped to be converted into an industrial facility for Ferguson. This will convert 102,000 square feet of retail space into 102,000 square feet of industrial space.
Detroit: Summit Place Mall will be demolished and industrial space is planned for the site. The project will convert 1.4 million square feet of retail space into 50,000 square feet of industrial space.
Houston: A former Walmart is being repurposed into a mixed-use facility that includes flex space, and a closed grocery store is being converted into an e-commerce fulfillment center. These two projects transform 257,200 square feet of retail space into 128,000 square feet of industrial space.
I-78/I-81 Corridor, Pennsylvania: The Schuylkill Mall in Frackville, Pennsylvania, was demolished and two warehouses are being constructed on the site. The project turns 800,000 square feet of retail space into 1.244 million square feet of industrial space.
Kansas City: A former Walmart was repurposed into a warehouse/distribution center. The project converted 135,515 square feet of retail space into 135,515 square feet of industrial space.
Memphis: A closed Sam's Club became an e-commerce fulfilment center for the retailer. The project converts 135,000 square feet of retail space into 135,000 square feet of industrial space.
Milwaukee: A former Toys R Us is now used as a manufacturing center; a former Target was converted to partial cold storage; and a closed Sam's Club changed into a distribution center. These three projects converted 429,329 square feet of retail space into 390,860 square feet of industrial space.
Salt Lake City: A former retail space was backfilled by light manufacturing, and a former retail space will be demolished for warehousing. These two projects turn 223,685 square feet of retail space into 132,587 square feet of industrial space.
Tampa: A closed Sam's Club was converted into an e-commerce fulfilment center for the retailer. The project transforms 126,126 square feet of retail space into 126,126 square feet of industrial space.
Toledo: A former Andersons retail store closed and will become a warehouse for the company. The project will convert 200,136 square feet of retail space into 200,136 square feet of industrial space.
Source: CBRE
'A Retail Apocalypse'?
According to Ray Hartjen, director of marketing at RetailNext, a retail analytics firm headquartered in San Jose, California, retail is being reconfigured in the U.S., and it will get smaller before it gets bigger again — if it ever does.
"The so-called retail apocalypse makes for a great headline, but it is not accurate," he said. "Retail is strong and continues to grow. Today, it is over a $5 trillion business."
While retail may not be looking at an "apocalypse," the industry is facing challenges: Coresight Research, a company that tracks news about store closures, openings and bankruptcies, noted that as of late June 2019, the number of store closures had already exceeded the total recorded for all of 2018. So far this year, U.S. retailers announced 6,986 store closures and 2,985 store openings. This compares to 5,864 closures and 3,251 openings in 2018. By year's end, Coresight predicts that 12,000 U.S. stores will close.
"There's a lot of hype, there's a narrative and then there's the facts," said Stephen D. Lebovitz, CEO of CBL Properties in Chattanooga, Tennessee, which owns 113 retail properties with 70.6 million square feet of space in 26 states. "Retailer bankruptcies are not a new thing. There's a long list of retailers over the years that have gone out of business. There's also a list of retailers that have come up and are thriving to replace those. Retail is always changing. There are changing customer preferences and changing fashion — that drives the success or the failure of certain retailers. A lot of people say that online is replacing brick and mortar today. It's true online is a big presence, but 85% to 90% of sales are taking place in physical retail stores. Our properties are super busy and 90% leased — that's the reality."
Despite that, a serious retail issue for CBL Properties is the loss of 40 anchors with the closing of Sears and Bon-Ton stores.
"The closings for us represent a once-in-a-generation opportunity," said Lebovitz. "Until these closings, we haven't had the space to accommodate the dining, entertainment, hotel and medical uses that we have wanted to add to our properties."