A new waterfront development seeks to honor the city's heritage while spurring innovation.
Urban development has the potential to change the landscape of cities; when done with forethought, it can stimulate economic and cultural growth for surrounding communities as well. Along a 235-acre swath of land in South Baltimore, Weller Development Company has started doing just that with an approach that could provide a glimpse into the future of urban planning, design and community building.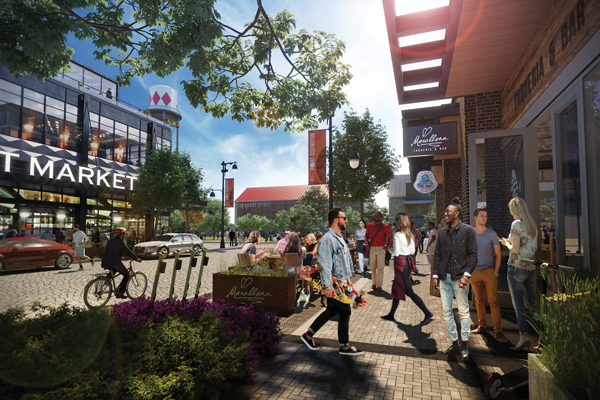 As one of the largest urban revitalization projects underway in the U.S., Port Covington is approved, by right, to include up to 18 million square feet of new, mixed-use development. Its scope, which also includes 40 acres of parks and green space, will create economic opportunity for residents throughout the region.
The Port Covington development team, led by Weller Development Company in partnership with Plank Industries and Goldman Sachs Urban Investment Group (UIG), began work in June 2016. Since then, the team has overcome obstacles and achieved successes. In September 2016, Baltimore City authorized $660 million in tax increment financing (TIF) for public infrastructure improvements across the development site — critically important to the viability of the project. Later that year, the development team reached another milestone when it received approval of matter-of-right zoning, allowing for unlimited height and density, as well as an extensive list of allowable uses.
A 'Double Bottom-Line' Approach
Real estate development projects — especially of the scale and scope of Port Covington — present an opportunity to elevate the surrounding neighborhoods and, in this case, improve the lives of Baltimore City residents in general. By design, in the case of Port Covington, when the project does well, so does the community — directly and proportionally. To accomplish this, the developers of Port Covington entered into a citywide Community Benefits Agreement and Memorandum of Understanding, including more than $100 million in commitments, making it the largest city-wide benefits package negotiated in Baltimore's history.
Among other items, the $100 million commitment includes $39 million in direct benefits to the six communities surrounding Port Covington; $55 million in other direct citywide benefits including workforce development initiatives, education programs, college scholarships, recreation facilities and youth summer jobs; and $6.5 million in incremental costs for prevailing wages. Approximately $20 million of these benefits are projected to be paid out in the first five years following TIF authorization, and several million will be paid immediately following authorization and long before any profits are realized.
The Port Covington Impact Team, which is comprised of full-time employees who hold a variety of responsibilities across the community, ensures that the transformational nature of the Port Covington development reaches far beyond its physical boundaries. Their focus is to uplift the six communities surrounding the project and to uphold the commitments of the Community Benefits Agreement through workforce development and supplier diversity initiatives.
In September 2017, Port Covington gained national attention when the Goldman Sachs UIG pledged an equity investment of $233 million — its largest single investment to date. This helped propel the $5.5 billion project forward.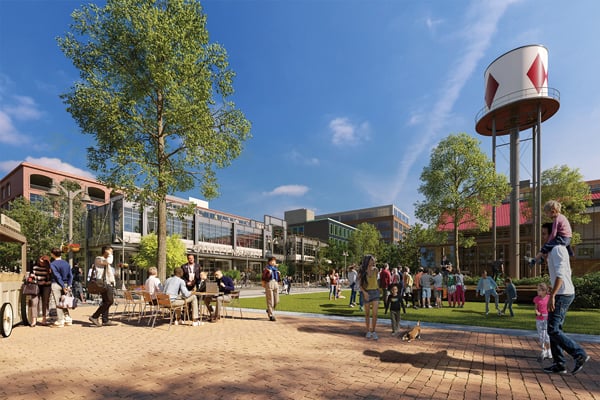 With its industrial heritage as a railroad terminal, the site has been vastly underutilized for decades. In recent years, tenants have included industrial users, plus The Baltimore Sun printing facility and corporate headquarters for Under Armour, the Baltimore Yacht Basin marina and Nick's Fish House restaurant. Through 2018, the Port Covington development team brought to life the neighborhood's first newly constructed properties, completing the Sagamore Spirit Distillery, City Garage, Rye Street Tavern and the seasonal outdoor venue South Point.
In May 2019, the team broke ground on approximately 3 million square feet of waterfront development, including apartments, offices, hospitality, retail, restaurants, and public parks and piers.
As the development moves ahead, a look into the design of existing buildings already completed reveals an approach to development that combines forward-looking innovation with Baltimore's history.
Multimodal Connections
Port Covington's waterfront location is one of its greatest assets. Situated on the Middle Branch of the Patapsco River less than two miles south of Baltimore's Inner Harbor, the 235-acre site provides opportunity for more than 2.5 miles of restored waterfront. The neighborhood is highly accessible, with public transit onsite and light rail and regional MARC train access within a mile.
With direct ramps on and off Interstate 95, the planned enhancements under the I-95 Access Improvement Project, and several street connections to the neighborhoods to the north and south, it is one of the few sites in the mid-Atlantic region with this level of vehicular access. The development plan includes additions to make the site even more connected through multimodal improvements including bike, water taxi, extension of the free Charm City Circulator bus route, and a contemplated light rail spur.
Keeping it Green: Protecting the Environment
With this transformative development underway, it might be easy to forget that Port Covington was once an industrial site. As part of its effort to effectively redevelop the area while minimizing environmental impact, the Port Covington Development Team undertook numerous efforts to protect the natural ecosystem.
Many of the properties that comprise Port Covington are considered brownfields, so the development team worked closely with environmental experts to remediate the property responsibly. After enrolling in the Maryland Department of the Environment (MDE) Voluntary Cleanup Program (VCP), the developers began the remediation process in 2016. Generally, this entailed installation of an MDE-approved cap. There were two cap designs within the VCP — soft and hard. The soft option is comprised of filter fabric and minimum depths of clean soil covering, while the hard cap is generally asphalt or concrete.
Next, the team focused on preserving the 2.5 miles of waterfront to make the shoreline an appealing habitat for both future residents and wildlife by not using concrete and steel, which can have adverse effects on aquatic plants, small-bodied fish, shellfish and birds. Reducing runoff and stabilizing the shoreline using plantings created a natural waterfront experience in a growing urban neighborhood.
In 2018, the Port Covington Development Team was awarded the Parks & People Foundation's Sally Michel Award for its commitment to provide more than 40 acres of publicly accessible green space across the entirety of the Port Covington peninsula.
Port Covington is also working collaboratively with the Parks & People Foundation, South Baltimore Gateway Partnership, South Baltimore Seven (SB7) Communities and the City of Baltimore to implement an 11-mile waterfront improvement plan along the Middle Branch of the Patapsco River. Measures being examined include biologically engineered shoreline improvements, installation of a trash wheel, and the creation of a "waterfront district" with the goal of improving water quality, reinvigorating aquatic life, and improving the health and wellness of the surrounding communities.
Inspired by Baltimore's History
Two of the first buildings to open at Port Covington were the Sagamore Spirit Distillery and Rye Street Tavern. Both were designed with Baltimore's history as an industrial city firmly in mind.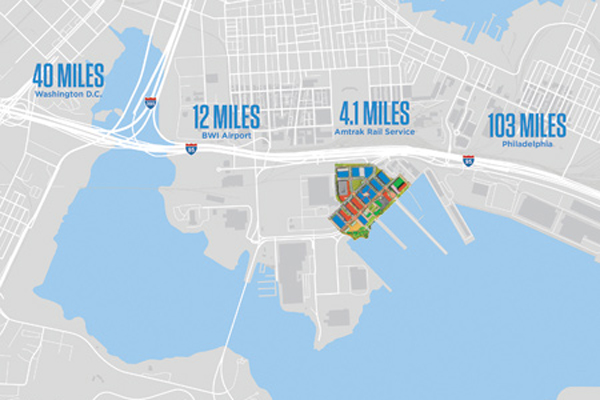 "When you look at how people are building today, facades are becoming identical across development sites on mid-rise developments, and then when you get to high-rise segments, it's all just big glass boxes that could be anywhere," said Weller Development Founding Partner Marc Weller. "Baltimore is a city where, if you look at our skylines, our buildings are all differentiated and unique. That's the same design mentality that we brought to Port Covington."
Sagamore Spirit Distillery, which includes a 22,000-square-foot distillery, a 27,000-square-foot processing center and the 13,800-square-foot Rye Street Tavern restaurant, was constructed using materials meant to honor Baltimore's rich, diverse industrial heritage.
The properties, inspired by older buildings in downtown Baltimore, have exposed steel beams. Inside Rye Street Tavern, designers created an aesthetic grounded in Maryland's whiskey heritage. The private dining lofts mimic the stave-and-hoop construction found in American white oak barrels. Behind the restaurant's bar area, black wood is intended to look like the charred inside of whiskey barrels used to age rye whiskey. On the second floor, two pieces of the original Star-Spangled Banner — the flag that flew over Fort McHenry when the national anthem was written during the War of 1812 — are on display.
"Baltimore has a lot of character, so the buildings we're completing embody that through their architectural legibility," said Weller. "And it really speaks to the gritty nature of Baltimore's history that the local community is so proud of."
Mixed Uses and Densities
The Port Covington Development Team has more than eight properties that are slated to be completed during the next three years. Rye Street Market is scheduled to deliver in fall 2021 and will feature four buildings totaling 275,000 square feet. It will have retail inspired by Baltimore's legacy of neighborhood markets on the ground floor, plus 185,000 square feet of loft-style offices and a 15,000-square-foot rooftop event space overlooking the water.
Following shortly thereafter are market-rate and affordable apartments, hospitality, ground-floor shops and restaurants, and public spaces throughout the neighborhood and along the waterfront. The development team will program public spaces in Port Covington with free events throughout the year.
"We didn't want to create the densest development plan that we possibly could," said Weller. "We have a lot of acreage, and therefore we don't need to maximize every individual parcel of land."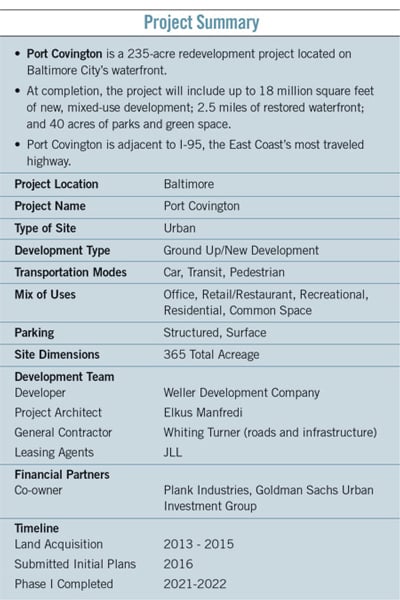 The Port Covington master plan was a deliberate move to establish low-scale development by the water, and then gradually increase the height and density of buildings toward the north side of the development near I-95.
"Experiencing that environment is going to feel really good as a patron and as a pedestrian," said Weller. "We feel that's something that sets us apart, and it's something that urban planners really appreciate. Creating a sense of scale from a naturalized environment is not something that always happens along waterfronts, and it can create a feeling that you're cut off from the rest of the land by these massive, dense buildings."
Building for the Future
The Port Covington team aims to create a community that can become a hub for innovation and connectivity.
The office leasing team is targeting cybersecurity and life sciences tenants, capitalizing on Maryland's highly specialized workforce. Maryland employs three times as many cyber engineers as the rest of the nation combined, and it also has the largest population of employed cyber-related professionals. The state is also home to educational institutions that graduate data scientists and engineers at high rates, creating a deep talent pool of cyber professionals.
Some large office tenants and several small businesses are located inside City Garage in space totaling 393,956 square feet. An additional 470,000 square feet of office space is planned in the current development phase.
There are plans to implement state-of-the-art technologies including a secure, redundant, private fiber optic loop to provide fully encrypted gigabit-speed internet connectivity and site-wide public Wi-Fi service, which has been a big selling point for prospective tenants. Three firms — DataTribe, AllegisCyber, and Evergreen Advisors — recently announced plans to move to Rye Street Market, citing the neighborhood's fiber network and location as deciding factors. Port Covington aims to lure new businesses to Baltimore City to add jobs and boost the local economy.
While a portion of Port Covington is an Opportunity Zone, the designation has not affected development plans. However, it has brought attention to the project from investors.
"It is our intent to be on the leading edge of best practices of every area of development," Weller said. "We want to create the city of the future. In order to do that, you have to anticipate the future — you can't just plan on what's accepted knowledge today."
Danielle Bennings is the director of strategic communications for Weller Development.