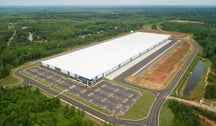 1.7 million sq. ft.
CT Realty and its affiliates are developing two large-scale distribution buildings totaling 1,747,074 square feet at Palmetto Logistics Park, a 358-acre distribution facility in Atlanta. Palmetto Logistics Park is located next to the CSX-Fairburn Intermodal Terminal and is near Interstate 85, a major north-south highway in the region. The project is also 16 miles from Hartsfield-Jackson Atlanta International Airport. Vertical construction is underway on the second building at the project, a 1,041,600-square-foot facility that is slated for completion in early 2020. In addition, preliminary site work has begun on Building 3, a 705,474-square-foot building that will be delivered in the second quarter of 2020.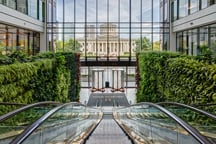 1 million sq. ft.
Hines has finished a $16 million repositioning and renovation at Huntington Center, a 1 million-square-foot, 37-story office tower in downtown Columbus, Ohio. Originally designed by Skidmore, Owings & Merrill and developed by Hines in 1984, the building's common areas have been transformed and feature new amenities including a two-story, 2,400-square-foot green living wall that is covered in 8,500 lush plants of 14 varieties and contains 350 gallons of water. The 36th floor has been converted into an amenity space dubbed The Horizon. The 4,000-square-foot lounge creates a lively environment for interaction and is available exclusively to tenants. Outside of The Horizon is a rooftop terrace.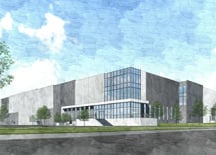 1 million sq. ft.
Trammell Crow Company has purchased a 90-acre site in the Valley View Business Park in Jessup, Pennsylvania, from the Scranton Lackawanna Industrial Building Company (SLIBCO) to build the Valley View Trade Center, a new 1 million-square-foot speculative distribution facility. (SLIBCO is the industrial development affiliate of the Greater Scranton Chamber of Commerce.) The building is scheduled to open in the third quarter of 2019. It will feature 40-foot clear heights, 190-foot-deep truck court with opposing trailer storage, ESFR fire protection, 311 trailer parking spots, 277 car parking spots and 159 dock positions that can be expanded to 209.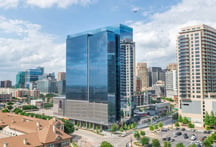 800,000 sq. ft.
Red Development has wrapped up The Union Dallas, an 800,000-square-foot mixed-use development located at Field Street and Cedar Springs Road in Dallas. Situated at the confluence of five city streets, The Union includes a 417,000-square-foot, 22-story Class-AA office tower, a 309-unit high-rise apartment building on 23 floors, 87,000 square feet of retail, a signature, outdoor central plaza that features open space with large trees in a park-like setting, and 10 levels of above- and below-grade parking. The Union will be part of an area that already includes Klyde Warren Park, American Airlines Center, the Perot Museum of Nature and Science, The Ritz-Carlton and a growing set of residences, restaurants, retail attractions and more.
240,000+ sq. ft.
Centennial American Properties is developing Camperdown, a large mixed-use property in Greenville, South Carolina. The development will feature 239,978 square feet of commercial and retail space in two office towers, including one that will stand 17 stories tall, as well as a hotel with 197 rooms and an apartment building with 217 units. Above one of the towers will be 18 luxury condo units that will range from 2,726 square feet to 5,452 square feet. The four-acre site includes a large, 1.5-acre plaza in the center. Camperdown is expected to open in mid-2020.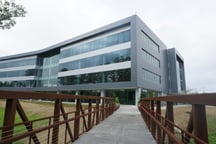 205,000 sq. ft.
KDC, a developer of corporate build-to-suit campus projects for major companies such as State Farm and Toyota, completed construction on the expansion of Credit Suisse's new sustainable, smart working facility in Research Triangle Park in North Carolina. The 205,000-square-foot, four-story building is located on a 62-acre site designed for collaboration and recreation. The expansion uses reclaimed water, solar power, and energy-saving lighting and mechanical systems. It will house 1,200 new jobs in areas such as IT, finance and other corporate roles.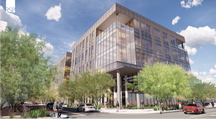 182,000 sq. ft.
Mortenson, in partnership with Urban Development Partners, will develop and build Arizona's first cross-laminated timber (CLT) office building, The Beam on Farmer in Tempe. The five-story office building will total 182,000 square feet. The Beam on Farmer will combine solid timber, concrete, steel and glass, giving it a natural wood aesthetic with a modern yet vintage vibe. The building will feature sustainable and flexible office floor plans amid a unique environment, with 15-foot exposed wood ceilings, and glulam wood beams and columns. Transwestern Commercial Services (TCS) will provide leasing services for the Class-A building.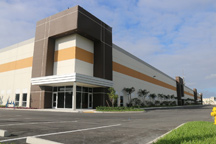 173,373 sq. ft.
The Bergeron Properties & Investment Corp. has opened the Bergeron Distribution Center, a 173,373-square-foot industrial facility on 9.1 acres of land within the Bergeron Park of Commerce and Industry, a 300-acre industrial park and development site in Pembroke Pines, Florida. It features 32-foot clear height ceilings, onsite trailer storage, 52-foot column spacing, an ESFR fire suppression system and Class A amenities. Phase 2 of the Bergeron Distribution Center was scheduled to break ground in August 2019. The 185,000-square-foot site will feature onsite tractor trailer storage and an additional four acres of bulk outdoor storage.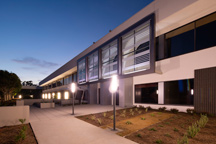 149,916 sq. ft.
Lincoln Property Company recently delivered the renovated Katella Office Campus in Los Alamitos, California. The office property encompasses two buildings totaling 149,916 square feet, and it is located on the border of Orange County and Los Angeles. Ware Malcomb designed the new exterior architecture for both buildings using new aluminum composite metal panels and glazing. Site improvements to the front entries also included upgrading the concrete paving and adding drought-tolerant landscaping. In addition, the firm provided site upgrades to the shared break patios behind the buildings, including new paving, landscaping and added seating. New exterior paint on both buildings completed the renovation.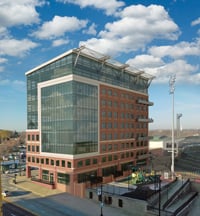 110,000 sq. ft.
Front Street Capital has begun construction of Project Slugger, a new nine-story, 110,000-square-foot office tower that will be located in the outfield of First National Bank Field, the home of the Greensboro Grasshoppers minor league baseball team in downtown Greensboro, North Carolina. The building will be designed in brick and glass to complement the existing architecture of the ballpark while incorporating modern enhancements and materials. There will be restaurant space on the ground level. The project is expected to be completed by the summer of 2020.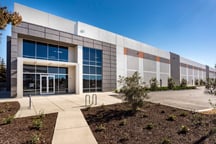 93,467 sq. ft.
Steelwave recently completed a project in Hayward, California, comprised of a new single-story, 93,467-square-foot industrial building situated on a 5.86-acre site. The unique shape of the infill parcel required special site engineering and a design that maximizes the building footprint while providing for the necessary parking. The building shares common access with an existing Costco store. All four sides of the building have an aesthetically pleasing architectural design, as well as public landscaping, trails and lighting throughout the site development.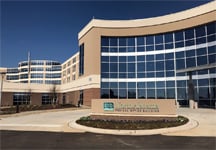 72,000 sq. ft.
Rendina Healthcare Real Estate recently opened a 72,000-square-foot medical office building (MOB) that is attached to the new North Alabama Medical Center (NAMC) in Florence, Alabama. The facility offers complementary services to those provided in the new medical center. NAMC lab and imaging functions are also available in the new MOB, along with obstetrics, gynecology and cardiology physician offices. NAMC and North Alabama Bone & Joint Clinic (NAB&J) are the anchor tenants.