In San Diego, a unique renovation project leverages tight supply and challenges the "more space is better" concept.
IN THE 1980s, a lot of office space was designed with the bigger-is-better mentality. That certainly appeared to be the driving thought for the former owners of a San Diego office/R&D building from that era who had converted a 54,000-square-foot property into a 77,000-square-foot, two-story office building.
BLT Enterprises acquired the property at 5454 Ruffin Road in May 2017 and saw an opportunity in the market to convert this '80s-era office property back to a sleek, modern and efficient R&D/flex space that could appeal to multiple tenants of many types.
The Do-Over
Based in part on high land costs and a trend of repurposing buildings for other uses, Southern California industrial buildings have been in increasingly short supply over the past several years, and lack of availability continues to be a challenge. For example, San Diego's Kearny Mesa submarket, where this asset is located, has one of the lowest industrial vacancy rates in the city — a mere 2.8 percent at the start of 2018.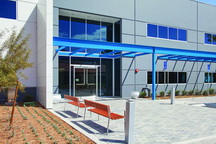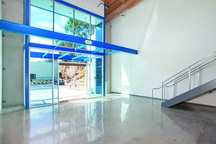 After acquiring the property, BLT Enterprises decided that the second floor didn't fit into its design and use plans. Step 1 was clear: remove it. By returning the property to its original 54,000-square-foot size, the total number of occupants was reduced and the problem of scarce parking was solved. The asset now boasts a comfortable parking ratio of 4/1,000 in its own dedicated lot.
Step 2 was to renovate the property in a way that could deliver efficiency and functionality — the two most important attributes sought by R&D/industrial tenants — while also delivering an aesthetically modern and environmentally sound space. Architect Ware Malcomb was hired to design the renovation project and worked with Bycor General Contracting to complete it.
Functional upgrades include exterior improvements, a new HVAC system and a new roof membrane. A new two-story lobby, high ceilings (up to 24 feet tall in the flex area and 13 feet tall in the office area) and the addition of skylights helped create an open, fresh feel throughout the property. Additionally, two ceiling-high industrial doors were added in the rear to provide future tenants with easy access.
Energy and water efficiency was achieved through new dual-pane glazing, as well as LED lighting fixtures and drought-tolerant landscaping. Beyond these improvements, the "cool factor" was addressed with the addition of comfortable outdoor employee lunch patios, modern entryway pavers and fresh, bright accent colors.
By completing the project as a remodel, BLT Enterprises avoided the long, protracted permitting issues that the city of San Diego requires for greenfield/ground-up construction. That saved time and costs for future tenants.
Investment Pays Off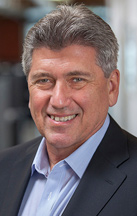 The $2 million renovation project, which was completed in April 2018, immediately attracted interest from tenants seeking high-end flex/R&D space in the region. The leasing team — Brad Black and Chris Pascal of CBRE — received many inquiries, and they began discussions and tours with several major tenants, both local and out of state.
The primary takeaway from this project is that more space is simply not always better. By reducing the building's size and taking the time to make thoughtful upgrades, an outdated office asset was repositioned as an R&D/flex space. That filled a major void in the market and attracted diverse tenants in search of a building that suits their needs.
Bernard Huberman is founder and president of BLT Enterprises.