Labor shortages, higher prices for materials loom larger.
A TIGHT LABOR market might sound like "old news" to most developers and property owners, but they should prepare for further jolts regarding both labor and materials, especially if they are planning new construction or renovation projects.
Indeed, JOLTS is the acronym for the monthly Job Openings and Labor Turnover Survey from the Bureau of Labor Statistics (BLS). As an indication of the growing difficulty in finding workers, the seasonally adjusted JOLTS count of openings at the end of each month topped 7 million in July for the first time in the 18-year history of the survey. Total openings have remained above that level ever since. (Seasonal adjustment is a statistical method BLS uses to remove the influence of normal holiday- or weather-related variations.)
Where Are the Workers?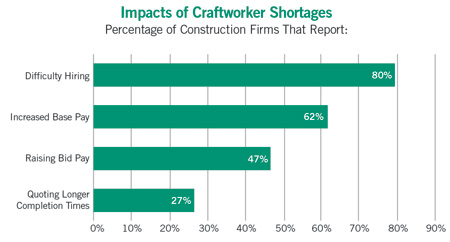 Job openings have become particularly acute in construction — they've more than tripled in the past six years. A major reason is that the number of unemployed workers with recent construction experience is at its lowest level since the JOLTS series began in 2000. By October, the unemployment rate for construction-related jobs was down to 3.6 percent (not seasonally adjusted). Consistent with the JOLTS data, a survey released by the Associated General Contractors of America (AGC) on August 29, 2018, found that 80 percent of the 2,552 responding construction firms reported difficulty in filling one or more hourly craft positions, while 56 percent said the same about salaried positions. The difficulty is pervasive by location and occupation. The results were very similar for all four regions of the country. For 19 out of 20 specific crafts, a majority of respondents whose firms employ that craft reported that positions were harder to fill in 2018 than in 2017.
Unfortunately, no relief appears to be in sight. While three-fourths of the firms said they intend to hire more hourly craft personnel in the next 12 months, 81 percent said they expect it will be as hard or harder to do so than it is now.
Labor Shortages Raise Costs
These difficulties have consequences for property owners and managers. To attract and retain craftworkers, 62 percent of the respondents said their firms increased base pay rates. Companies are also paying more in overtime to make up for the shortfall in experienced workers, and they are spending more on training. As a result, 47 percent of respondents reported putting higher prices into their bids or contracts. Meanwhile, the labor shortage is causing 27 percent of responding firms to put longer completion times into their bids or contracts.
With workforce shortages intensifying, contractors are raising pay faster than other industries in an attempt to attract and retain workers. Average hourly pay for all construction industry employees in October 2018 was $30.21. That's nearly 11 percent higher than the nonfarm private sector average, according to BLS data. The construction industry average increased 3.9 percent over the previous October, compared with a 3.1 percent rise for the overall private sector.
These wage increases do not tell the full labor cost story, however. Contractors also report that they're paying more bonuses for referral, hiring and retention; introducing or increasing benefits and travel allowances; and spending more on recruitment, training and overtime.
Prices Rise for Materials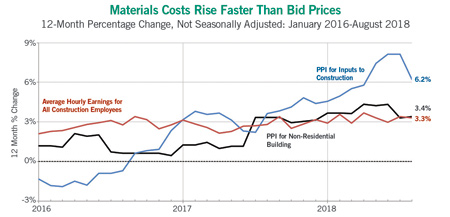 In addition to labor-related expenses, costs for materials continue to be a concern for contractors. From September 2017 to September 2018, the producer price index for goods and services used in all types of nonresidential construction jumped 6.2 percent, BLS reported. This was roughly double the rate of increase for this index in most of 2017. Thus, contractors that were increasing bid prices by 3 percent a year ago were more or less keeping up with the rise in costs for both direct labor and purchased inputs.
Now, however, those bids, as measured by the producer price index for new nonresidential building construction — essentially, the amount contractors say they would charge to construct several categories of new buildings — rose only 3.5 percent in the 12 months through September 2018. That barely kept pace with the increase in their direct labor costs, as measured by average hourly earnings in construction, and amounted to little over half the rise in the cost of purchased goods and services.
The implications of this cost squeeze on contractors for property owners and developers are twofold. First, contractors may become more aggressive about passing along their higher costs through explicit bid-price increases or by asking owners to share the risk of unanticipated price spikes. Second, contractors that are unable to pass through higher costs or to offset them through productivity improvements may not be able to complete promised projects.
Tariff Troubles
One source of both actual cost increases and uncertainty over future price movements is the turmoil over tariffs. As a major user of steel, the construction industry was hit early in the year by multiple steep increases in steel prices. Aluminum — important for architectural elements and signage — also jumped in price when tariffs were threatened or imposed. From September 2017 to September 2018, the producer price index for steel mill products leaped 18 percent and for aluminum mill shapes, 11 percent.
More recently, thousands of products from China have been subjected to tariffs that began at a 10 percent rate on September 24 but were projected to rise to 25 percent on January 1, 2019, if there is no breakthrough in trade negotiations before then. It will take time to see if any of these products cause construction costs to rise significantly or lead to a breakdown in the supply chain for materials.
To minimize the impact of these cost increases, property owners and developers should be prepared to work with their design professionals and contractors to seek alternative materials or supply sources. They should also remain open to ways of reducing construction labor input, perhaps through more standardization of components or architectural elements, offsite prefabrication, and providing contractors with complete and accurate plans and specifications to avoid wasteful onsite redesign and rework.
Ken Simonson is the chief economist for the Associated General Contractors of America.