NAIOP gathered national research directors in October for an in-depth discussion of industrial and office trends, city rankings, adaptive reuse and other important topics.
THE NAIOP RESEARCH Foundation's annual meeting of national research directors, which took place during CRE.Converge in Washington, D.C., in October 2018, brought together research directors from real estate brokerage, data and investment firms, along with NAIOP Distinguished Fellows from academia, to discuss challenges, opportunities and best practices relating to metrics, policies, transactions and products affecting the commercial real estate industry.
Industrial Outlook
To kick things off, attendees were asked to share their thoughts about what lies ahead for the industrial real estate sector. Margarita Foster, NAIOP's former vice president for knowledge and research, who facilitated the session, asked if the trend of converting empty big-box locations into smaller fulfillment centers has generated pushback at the municipal level.
Dave Egan, the global head of industrial and logistics research with CBRE in Chicago, said it's a definite issue in the industry, though he noted that specifics might be hard to nail down.
"I talk to developers and they say that's an issue that they have encountered broadly," he said. "I think maybe there's more of a perceived objection rather than an actual objection," he said. "The municipalities are really concerned about what the tax revenue changes will be if they reconvert to industrial development."
Aaron Ahlburn, the managing director for industrial research with JLL in El Segundo, California, said he has heard that some developers are having difficulty getting approvals.
"I think in terms of rezoning, in a lot of municipalities, it's hard to get that pushed through," he said. "It's labor-intensive to make that happen."
Ahlburn added that many communities are concerned about safety issues and noise from truck traffic that could be routed through neighborhoods after a retail location is rezoned to industrial.

At the municipal level, a lack of knowledge about these conversions might be a major reason why they are not happening at a faster pace.
"I've been in front of a bunch of economic development groups, and frankly, a lot of them have been surprised at the suggestion that you might want to take a dying retail center and turn it into industrial," Egan said. "It's a new idea to them. I think it'll get there eventually, but it's a lot further away when you actually talk to the folks who are involved in making these things happen."
Foster then asked attendees if the seemingly unstoppable rise in e-commerce means that industrial facilities are becoming the new retail in most communities across the U.S.
Dean Violagis, the vice president of research with CoStar in Washington, D.C., said e-commerce remains very attractive to investors.
"Amazon has been getting into all kinds of things lately," he said. "Obviously, Whole Foods is a pretty important thing for them. Their appetite will continue to grow, but I also think their competition, the Walmarts of the world, if they want to stay competitive, they need to be able to deliver goods to consumers just as fast. I think there's still some legs left in this."
However, Mark Stapp of Arizona State University does not think industrial will fully replace bricks and mortar.
"I do think that we see the relationships changing," he said. "You're not going to see retail going away simply because we have increased e-commerce."
Stapp said successful retailers will use a "bricks and clicks" strategy, referring to the integration of physical and digital presences.
Despite all the attention paid to e-commerce in recent years, it's important to remember that Americans still do most of their shopping in physical stores, said Josh Harris of New York University.

"A large bulk, if not a majority of the population, are still Walmart or Dollar General shoppers," he said. "Overall, true market penetration for online shopping is still in the early, early stages."
Harris said many shoppers choose stores like Walmart because those retailers tend to sell bulk goods that may not be cost-efficient to ship. That could create an opportunity for those retailers to build "bricks and clicks" distribution centers where customers use drive-through lanes to pick up large orders that were initially placed online.
"That's a huge area that hasn't really even been touched that I think is going to generate its own set of industrial demand," Harris said.
U.S. City Tier Definitions
Next, the research directors discussed labeling cities with designations such as Tier 1, Tier 2, Gateway, 24-Hour, etc. Foster said institutional investors often use these categories to identify markets that are aligned with their investment goals. She noted that there are no "official" definitions for these categories. Metro area rankings can be based on criteria as varied as population, the number of jobs or the base building inventory.
Foster noted that most professionals don't realize that city categories change all the time. For example, Nashville is becoming a Tier 1 city thanks to increasing population, rising investment, a growing talent base and strong universities.
Maria Sicola, managing partner with CityStream Solutions LLC in San Diego, said city rankings are not always about population or demographics.
"It's almost like we have this incessant need to label things," she said. "And what you do in the model is you're quantifying this — 'What's the most important thing to you?' And then you rank it. It's what's important to you in the decisionmaking process."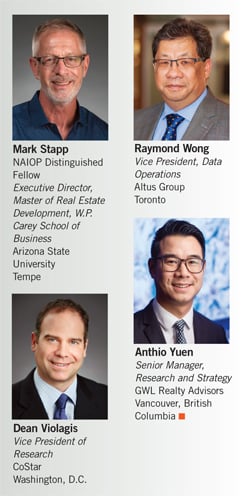 John Chang, senior vice president with Marcus & Millichap, said Real Capital Analytics uses transaction activity as a dependable measure, because rankings based on population or total households might not give the best insights into a market.
"It's weird because you have a city like Detroit that has a massive population but it's generally considered a secondary market," he noted. "The measurement criteria changes all the time depending on who you're talking to, right? So it's almost arbitrary. We chose an industry standard that was credible and reliable and stuck with it."
Jodi Airhart, director of research and publications with Situs RERC in West Des Moines, Iowa, said her company has moved to putting metros in groups and sorting them by property type.
"We still rank the metros within the property types," she said. "So, while they still move around, the property type grouping adds stability to the rankings."
When it comes to ranking cities, looking outside the commercial real estate industry for ideas can be worthwhile. For example, Harris said he recently took part in a consulting project that used Nielsen rankings of TV markets to sort cities into tiers. According to Harris, it generated actionable data that had the added benefit of being independent of investor sentiment.
"Because it's based on the size of the markets, we found that using the Nielsen rankings was surprisingly appropriate," he said. "And that was very defensible because they had to have SEC compliance and things like that. This was really useful because we could point to the Nielsen rankings as a publicly sourced document."
Stapp wondered if prioritizing Tier 1 cities for investment might be creating a false sense of security among investors and possibly generating non-systemic risk in the market.
"We could be creating a flow of capital to areas that are hypercompetitive, and we're not flowing money to areas that are easier to develop," he said. "Decisionmaking bias could be affecting institutional investors."
Robert Hartley, director of research with Colliers International in Washington, D.C., suggested that the commercial real estate industry needs to figure out a way to generate a Fortune 500-style ranking of cities for investors.
Revathi Greenwood, Americas Head of Research with Cushman & Wakefield, noted that liquidity would have to be factored into that kind of ranking.
"Large cities tend to be stable," she said. "That's one of the reasons why investors gravitate toward them."
Several attendees noted the importance of a diversified economy for city rankings. Vivek Sah of the University of Nevada, Las Vegas said he is currently working on an economic diversification index for the entire U.S.
"So one of the things that's really critical is how diversified the city is in terms of an economic base, and I'm working on a paper right now that basically maps each and every county in the country with a diversification index," he said. "If you have an index of diversification, then you can use that as one of the metrics to rank the cities."
Anthio Yuen, senior manager, research and strategy with GWL Realty Advisors in Vancouver, British Columbia, said one useful metric his company uses is measuring a city's relative share of jobs in each industry versus the relative share of those jobs in the entire country. The distribution of employment across sectors can shed light on which cities tend to be more diversified.
"Generally speaking, markets that are more diversified tend to perform well from a downside-risk perspective," he said.
Raymond Wong, vice president, data operations with Altus Group in Toronto, said an index that ranks global markets would be useful, too.
"We're dealing with one pension fund that said, 'Look, we just need a 5 percent return,' " he said. "They're investing in Europe. They know it might be up or down. They're investing in Asia and North America as long as the numbers are there. So they're building their portfolio and their strategy based on anticipated returns. So it's diversification of the local economy and of the country, but on a global basis as well."
Harris suggested creating market betas that would measure the risk profile of an area over time compared to an index that measures the nation as a whole.
Development Approvals Index
NAIOP is in early discussions about possibly launching a development approvals index that would rank markets on the efficiency of their approval process.
According to C. Kat Grimsley from George Mason University in Fairfax, Virginia, the approval process for commercial real estate development can be inefficient, protracted and risky from the developer's standpoint. For example, public hearings often leave developers struggling to appease a vocal minority. A development approvals index could rank jurisdictions across several performance metrics that can be quickly and easily compared. This would allow developers to make more fully informed decisions about expanding into new markets. It could also convey to jurisdictions how long they take to approve zoning changes or issue permits relative to other areas across the country.
While some index components would be standard measures, such as average number of days to receive basic approvals, the addition of a technology component would be unique. Grimsley noted that jurisdictions often don't use technology effectively in the approval process. Two relevant examples of technology metrics include "e-review" systems and the use of mobile applications (apps) to supplement public hearings in order to more thoroughly capture a community's sentiment.
Grimsley said the development approvals index could be comparable to the World Bank's "Ease of Doing Business" Index.
"Wouldn't it be interesting to have increased clarity about where and how development is being incentivized as a result of the influence of public sector processes?" she asked. "This could allow us as an industry to help bring parity to the approval process. For example, say you can't e-submit forms in a municipality. Something like that could influence rankings."
Yuen said NAIOP Vancouver already does something similar — a cost-of-business survey conducted in partnership with a local magazine. Municipalities with the lowest fees and quickest approvals are recognized through an awards program. Yuen said municipalities in the Greater Vancouver area that have won the award frequently cite it in their business-development literature.
Some attendees pointed out that the awards could incentivize municipalities to pad their answers. To counter that, Yuen said the Vancouver NAIOP chapter uses specific protocols and research methods to verify information and address inaccuracies.
Office Space
Densification and open floor plans remain popular in office spaces, said Jennifer LeFurgy, NAIOP's then-director of research. However, Harris said he is hearing anecdotally that there is some pushback against this now-longstanding trend.
"But despite that, I've yet to see an example of someone reverse themselves," he said.
Andrea Cross, Americas head of office research with CBRE in San Francisco, also said she hasn't seen examples of work spaces switching back from open plans. But she pointed out that there is a lot of interest in creating diverse work environments.
"It allows employs to have a choice on where to work," she said. "Our office actually just moved to an open plan, and I love it. I think for the brokers it can be a little bit challenging because you're talking about deals in an open environment, so it's important to have enough of those private spaces where they can do their work. And then for research, it's also good to have quiet space where we can go and nerd out over data and write reports."
Despite the rise in work-from-home options, Harris said statistics show that demand for office space continues to grow.
"Office-using employment has grown at times at almost double the rate of the general employment growth rate factor," said Harris. "And yet office absorption just undershoots what it should. I think companies are still very hesitant to expand and spend more money for space, but they're hiring people. I would say historically something has to give. You can't expect people to work in a Starbucks-like environment for so long. There's got to be a pain point."
The downside to the equation is that a recession could leave co-working companies like WeWork "pretty exposed," said Harris.
"WeWork is basically a services-based hotel model," he said. "WeWork is about flexibility. When you're locked into a 10-year lease in a traditional office space, it's hard for a business to plan. The flexibility you get with WeWork is extremely valuable."
Harris said it is important for companies to have slack space in order to hire more people.
In response, Foster noted that the NAIOP Research Foundation recently published a paper, "Activating Office Building Common Spaces for Competitive Advantage," that looked at co-working in office buildings. It showed that owners of offices like having a co-working center in their building because it serves as the flex space, so as tenants expand and contract, they can do so in that building.
Stapp wondered if what's happening with WeWork is challenging how the commercial real estate industry deals with built space.
He noted that use of space has typically been tied to a specific place, for a specific period of time, with the space commitment sealed by a lease. He suggested that if a landlord owns 20,000 apartment units, his objective is to keep cash flow in his portfolio. The user, on the other hand, wants extreme mobility. Rather than having a lease for a defined space over a defined period of time, why not operate a portfolio that's available to everybody? Through the use of technology, if a tenant wants to move, he or she can pick a new unit that's available somewhere in the portfolio.
"It's a total rethinking about how we generate revenue, how we keep people in space, how we use space, and the extreme mobility that it provides," Stapp said.
Harris said WeWork is providing "space as a service" to businesses, a concept seconded by Stapp.
"If [a landlord] goes to a subscription mentality versus a lease mentality, and it is done within a big enough platform, [the landlord can accommodate an] incredibly mobile force that moves around," Stapp said. He noted that real estate does not do a good job of brand building, and offering amenities and services can go a long way toward doing that.
Stapp noted that Microsoft is one of the largest users of WeWork space because it gives its sales representatives extreme flexibility anywhere around the United States and the world.
"I think that's why we're seeing it is a disrupter to the traditional model, but it's not going to completely replace that need for a fixed address," he said.
Adaptive Reuse
Foster noted that adaptive reuse and renovations have really taken off in the past few years.
"I don't think I've seen as many infill projects and renovations in any other cycle," she said. "I think going forward we're going to see more of that. There's more resistance to greenfield development, and people want walkability."
Foster said the rise of adaptive reuse is partially linked to the increasing popularity of "surbs," which refers to densely populated suburban locations that look and feel like more urbanized areas.
Foster asked attendees if any of them were tracking renovations or adaptive reuse projects as a separate category from net new buildings under construction.
Hartley said Colliers tracks common-area upgrades that are generally done with tenants in place, full-blown redos in which buildings are stripped to the skeleton and completely refurbished, and adaptive reuse projects.
"I define it as a change in use of an existing asset," he said. "It's about repurposing a built space."
Hartley said tracking potential projects suitable for adaptive reuse can be difficult, but figuring out a way to do that could provide a huge benefit to the commercial real estate industry.
Stapp said a crucial aspect of adaptive reuse is to create spaces that attract talent, specifically historic buildings that have a lot of character and uniqueness. As an example, he cited Sterling Bay Capital's 2012 purchase of a multistory meat storage unit in Chicago that the company converted into office space and restaurants.
"It was full of ice," Stapp said. "They literally had to defrost the building, then see if the structure was usable."
He added that while it can be extraordinarily expensive to take an old structure and make it comply with modern building standards, the payoff can be huge.
Tariffs and Outlook
Wrapping up, Foster asked the group what in general they see on the horizon that might affect the commercial real estate industry. Tariffs, fears of inflation and rising interest rates were among the top concerns, as well as labor shortages, which several attendees said could impact the affordability of both commercial and residential properties over the long term.
On the positive side, most attendees agreed that the tax cuts signed into law at the end of 2017 appear to be stimulating the economy, and despite concerns expressed by some in the group of the possibility of a recession in 2020, there was agreement that the industry's strong fundamentals could protect it from a sharp downturn.
Trey Barrineau is the managing editor of Development magazine.