Older, experienced professionals can add tremendous value to a CRE company.
EXECUTIVE RECRUITERS, especially those who specialize in commercial real estate, often have successful, experienced leaders from the 55-plus age group come to them seeking a role that offers a concluding chapter or crowning achievement to their career. This is the "capstone candidate." The capstone candidate has 25 or 35 years of experience in the CRE business, often including two or three down-cycles, and is ready for one more challenge. But there's an imbalance in this arena.
A capstone candidate's former colleagues may be chanting, "Encore!" or, "Oh, won't you stay just a little bit longer," as in the popular song. But it's rare that recruiters hear from an employer, "I want to hire a senior person with five or 10 years of runway and 30 years' experience."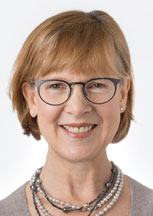 Real estate companies that recruit senior talent tend to think from the bottom up, equating less experience with a lower-cost compensation package. The assumption – possibly not even explicit – may be that the less experienced hire will stay with the company for as many as 20 years or more. A more realistic assumption, however, is that any new hire, whether in the C-suite or elsewhere, likely will be with the company for about five years. The right fit for the C-suite, thus, could very well be someone with deeper experience and the desire to work for another five to 10 years or more.
Candidates with multicycle experience may be just the right people to take the reins from leaders who contemplate scaling back as they plan for retirement, or those who need a bridge between themselves and the younger executives still rising through the ranks but not yet ready for a senior leadership role.
The following examples illustrate when a capstone candidate can be a great solution.
Growth Company. A young operating company on its second or third investment fund seeks to build the "institutional" team that its limited partners require. With more and larger investments, this firm now needs someone who can focus solely on one discipline, such as asset management, whereas before, everyone doing a bit of everything worked just fine. The capstone candidate brings knowledge about processes and institutional investor expectations, as well as expertise, and can enable the firm to build capability in the desired discipline quickly and efficiently.
Big Company, Untapped Resources. A major real estate services or global investment firm is sitting on a treasure trove of data. Until now, the data have been more or less "afterburner" material, a result of established services or investment, but not the focus of the firm's efforts. With the benefit of 30 years' experience, a capstone candidate may recognize the value of the investment insight in the data and could use it to identify a new business strategy or to create a new service for clients. That person could become a brokerage firm's or construction company's first "chief data officer."
Gravitas. An investment firm transitioning from a capital base of high net worth investors to one that includes institutions seeks a candidate with strong credibility in the institutional world. Having satisfied their youthful ambitions, capstone candidates can be happy and fulfilled sharing their knowledge and adding their names to a company's letterhead without threatening existing leadership. As one such recruit said recently, "I'm not trying to take over the firm." Clearly, he was less focused on his personal "crown" and more focused on how he could help his new team grow and succeed.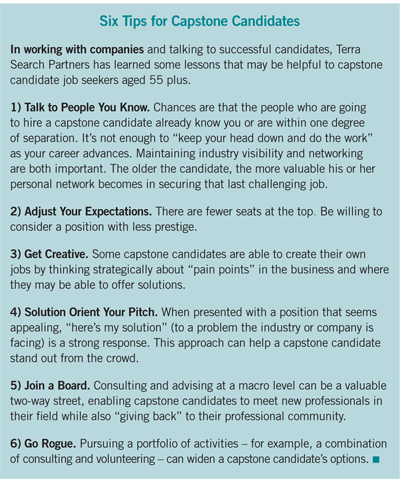 Plug-and-Play. While some see this as a pejorative term, a narrowly focused expert who can join a firm and immediately begin adding value can be an elegant solution for a company that needs someone to fill a specific role. These types of capstone candidates require virtually no ramp-up time. The capstone recruit knows his or her role and the marketplace's expectations. This person also has standing in his or her sphere. As one successful capstone candidate said, "I knew the players and gave my new firm instant credibility."
Team Player/No Big Ego. Having already proven themselves and secure in their abilities, capstone candidates can often fit into a new firm's culture more easily than younger workers.
Compensation Challenges. Some companies seek a prospective employee with lots of experience, but are not willing or able to pay the "big bucks" or offer the long-term compensation package that a rising 45- to 55-year-old – especially one who is currently employed – might require. These employers can often fill that position with a candidate in the 55-plus age group. This capstone candidate may be more driven by the challenge than the money, either because they have already earned and saved enough to be well positioned for retirement, or because they simply can't command the big bucks. The capstone candidate also is aware that this new employer's compensation scheme is established and non-negotiable; they may be willing to trust that once their value is proven, additional rewards will follow.
The message to employers is simple: think broadly. Capstone candidates may provide benefits that you might not have imagined, and their past experiences could add tremendous value for your company. Don't overlook them. If they choose to "stay [in the workforce] just a little bit longer," the benefits could be mutual.
Mary McCarthy (mary@terrasearchpartners.com) is managing director, Terra Search Partners.