New NAIOP-sponsored educational programs enable gifted and talented minority teens to explore careers in commercial real estate.
IT'S 2 A.M. IN a dorm hallway at Georgia State University (GSU), where teams of energetic young teenagers have gathered to put the finishing touches on their "CEO presentations" to the team at Porsche the next morning. These students were part of the inaugural "CRE Experience" at a two-week summer camp also known as "Building the Future – Exploring Careers in Commercial Real Estate." NAIOP, in partnership with the Real Estate Executive Council (REEC) and Nexus Summer Programs, a firm that specializes in summer programs for gifted and talented minority youth, sponsored the program in July 2017.
The program curriculum was developed by GSU with support from Nexus, NAIOP Georgia and REEC. Students were divided into teams, and each team was assigned to prepare a development plan for a different portion of an unknown site, which was to include office space, a museum, a public entertainment complex and a top-shelf dining facility.
After studying the site and preparing their plans and presentations, the students boarded buses that took them to the presentation location, where it was revealed that the case study was based on Porsche's Atlanta Headquarters and Driving Experience Track. The students then delivered their competitive presentations to NAIOP, REEC and Porsche employee volunteers, who selected a winning team. Members of the winning team received Porsche hats provided by NAIOP Georgia. The presentations were followed by an exhilarating tour of the Porsche facility and museum.
Twenty-seven teens from six states participated in the program, which included an SAT prep course, advanced software skills development, self-discovery exercises and presentations by a variety of guest speakers. Students also toured SunTrust Park, the new Atlanta Braves ballpark, and Three Ring Studios, a full-service film and music production studio facility.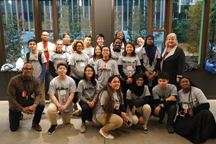 Volunteers from commercial real estate companies, including both seasoned veterans and young professionals, arranged the tours, led group discussions and helped students prepare their presentations. The CRE Experience proved to be a great way for the leaders of today to help pave the way for the future workforce. The program was so successful that Georgia State plans to host a second summer experience July 8-19, 2018.
Mike Wells, director of leasing, Highwoods Properties, and a member of the NAIOP Georgia Board of Directors who participated at the camp, shares that "Seeing chapter volunteers get engaged with these young teens demonstrated that this is a role that NAIOP must play in creating the workforce of the future."
Debbie Koenig, executive director, NAIOP Georgia, adds that "We are honored to have been part of this charter program, which is one of several paths to reach out and encourage students to consider the CRE industry."
In November 2017, NAIOP Washington State sponsored a similar but more condensed program. Twenty teens participated in a weekend experience held in collaboration with the University of Washington. The program's hands-on experience provided a brief introduction to careers in the built environment, with a focus on negotiations between brokers and sellers, architecture and mixed-use development. NAIOP volunteers supported the teams as they worked on an exercise based on Amazon's search for a second headquarters location. Charged with making a recommendation as to where HQ2 should be located in just two short days, students conducted a mini regional analysis, considering regional economics, workforce needs and community impact.
Tyson Feaster, a principal with Lake Union Partners in Seattle and a member of the NAIOP Washington State Board of Directors, was a catalyst in bringing this two-day program to fruition. He urges NAIOP to help grow these types of programs and expand participation to include other organizations. "We need to create programs that generate a workforce that is representative of our community, enhances diversity of thought within the CRE industry and helps employers compete for talent entering the workforce."
The preliminary results of the two programs indicate that nearly 30 percent of those who've attended now plan to minor in real estate when they seek a business degree in college. In addition, over 60 percent of those eligible to return for a second year of CRE learning have signed up for Nexus CRE programs in 2018.
"Our industry is filled with entrepreneurs, risk-takers and trailblazers, and the future of commercial real estate is in our high school classrooms today," says NAIOP President and CEO Tom Bisacquino. "NAIOP is proud to support these programs across the country. Creating the next pipeline of CRE professionals is extremely important to NAIOP, and our partnership with NEXUS and REEC is just one of many initiatives with which we are currently involved."
Courtney Bulger was vice president for membership and chapter relations, NAIOP.
For more information on these programs, or to learn how to sponsor one in your community, contact Diana Tucker at dtucker@naiop.org.