A speculative building in southwest New Jersey incorporates specialized systems to control spills and fire protection requirements for storage of liquid petroleum products.
WHEN KENCO LOGISTIC Services began circulating a request for proposals (RFP) in early 2017 for a major distribution center in the Philadelphia-Wilmington region, it needed far more than four walls, a bunch of dock doors and some office space.
Because Kenco's client, a Fortune 100 company, planned to contract with the Chattanooga-based provider of third-party logistics services to distribute motor oils and lubricants from the facility, Kenco was looking for a building that met the tenant's specialized environmental and safety requirements.
The requirements included specialized systems, both inside and outside the building, to prevent spills from getting into the sanitary sewer system. Fire code requirements for storage of liquid petroleum products, meanwhile, required sprinkler heads that deliver a strong blast of water from 75-pounds per square inch (psi) heads installed near product storage areas.
Dermody Properties of Reno, Nevada, had just begun work on a building at 395 Pedricktown Road in Logan Township, New Jersey, just southeast of Philadelphia, when Kenco circulated its RFP, and the timing proved fortunate. Dermody had completed site work and had poured the building's foundation and floor – progress that enabled Kenco to move quickly – but time still was available to incorporate the specialized tenant improvements required by Kenco and its client.
Even so, the midstream change of plans – taking a spec project and constructing it instead as specialized build-to-suit – proved relatively easy to accomplish within a reasonable time frame.
"We added fencing and a guardhouse, split the utilities and adapted the design to meet Kenco's requirements," says James Mascaro, senior vice president of development for Dermody Properties. "None of these were especially challenging." They added approximately $2.0 million to the cost of the building.
Dermody Properties completed the building in January 2018, only a month after Kenco had signed a lease for 401,000 square feet in the 481,000-square-foot distribution center at Dermody's LogistiCenter at Logan, a 1,100-acre master-planned business park.
Specialized TIs
David Caines, chief operating officer of Kenco, stresses that the tenant needed a facility with specialized systems to contain spills as well as ESFR fire protection operating at 75 psi. These systems added approximately $400,000 to the cost of the building.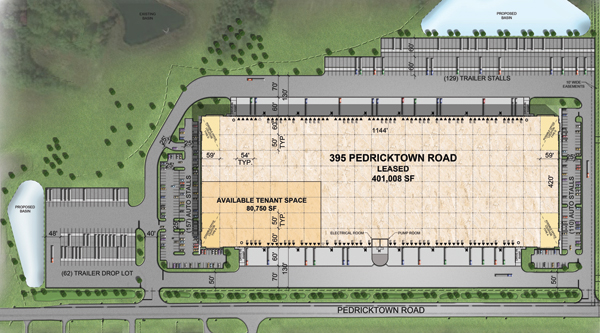 Mascaro says the storage of petroleum products in the building triggered state and local environmental controls that are more robust than those for other similar-sized facilities.
For instance, a raised floor protects drains so that an accidental spill cannot enter the sanitary sewer system. Outside, systems similar to those that capture grease from the wastewater in restaurants – but much larger and far more sophisticated – prevent petroleum spills from reaching storm drains.
To meet fire-protection requirements, sprinkler systems were engineered to direct their flow from 75-psi heads located near the stored petroleum products. That required installation of a suspended acoustical ceiling grid 6 feet below the roof deck of the building itself. Fire-suppression systems then were attached to that false ceiling.
Kenco and its client also required additional security around the building. That need presented a challenge, because Kenco is leasing only about 80 percent of the building. Kenco's security operations couldn't interfere with the trucking operations and employee access for the tenant that ultimately will lease the remaining 80,750 square feet.
Galvanized cyclone fence supported by video surveillance provides the first line of security around the building, while access is controlled through two active gates manned by security guards and two padlocked, unmanned gates. The building's design, with its long face along nearby Pedricktown Road and curb cuts at either end of the property, provided flexibility in the location of the active gates, Mascaro says, so that the tenant in the remaining portion of the building will have full access without interference from the Kenco-related security measures.
The location was the single most important consideration in Kenco's decision to lease the building, says Caines. It's close to a manufacturing facility operated by Kenco's client, and a dedicated shuttle will run product from the manufacturing plant to the distribution facility. Caines says Kenco also likes the site's proximity to major transportation arteries that link the location to customers in major population centers along the East Coast.
"This facility flows very well, both for inbound as well as outbound traffic," says Caines. Traffic can move from either Interstate 295 or the New Jersey Turnpike along one of two roads leading to the site. The site itself provides ample space for tractor-trailer stacking as truckers await clearance through Kenco's guardhouse.
Along with storage and distribution of motor oils and lubricants, Kenco's 50 employees at the site will provide some value-added services such as final assembly of kits – point-of-sale displays, sample packs and the like – for the client. The New Jersey location is one of 90 distribution locations operated nationwide by Kenco, a provider of integrated logistics solutions that range from distribution and fulfillment to transportation management and information technology.
The space leased by Kenco provides 94 dock doors (57 of them equipped with dock levelers, seals and bump-ers) as well as three drive-in, grade-level doors. The project provides 129 stalls of trailer parking for the Kenco operation. Slightly more than 20,000 square feet of the leased space will be devoted to offices.
The building incorporates LED lighting, as well as extensive use of daylighting techniques, to reduce energy consumption.
The Bigger Picture
The building is part of the 1,100-acre LogistiCenter at Logan, a master-planned business park that, when completed in late 2018, will include more than 5.5 million square feet of warehouse, distribution and manufacturing space. The park is strategically located within a one-day drive of 40 percent of the U.S. population, halfway between New York City and Washington, D.C., with excellent access to the Northeast transportation corridor.
Proximity to large populations is particularly important to the e-commerce companies whose fulfillment operations are driving much of the current boom in industrial development, says Gene Preston, Dermody Properties' East Region partner. That proximity is becoming increasingly important as e-commerce companies become ever-more aggressive with their delivery windows, moving from promises of two-day delivery to same-day delivery.
Also strengthening the location's appeal is the availability of a sizable labor force within a 20-minute commute from nearby Philadelphia and Camden. As labor supplies tighten nationally, the number of job seekers in the region remains relatively high. The jobless rate in Philadelphia, for instance, runs more than a percentage point higher than the national rate, and Preston notes the region provides a workforce that brings diversified skills, education and racial and ethnic makeup.
Dermody Properties bought the land in 2005 and worked closely with the New Jersey Department of Environmental Protection to execute a waterfront master plan for the property, which includes extensive wetlands that surround the upland building sites. The developer then took advantage of the construction slowdown during the Great Recession to complete storm basins and other infrastructure required by the waterfront plan.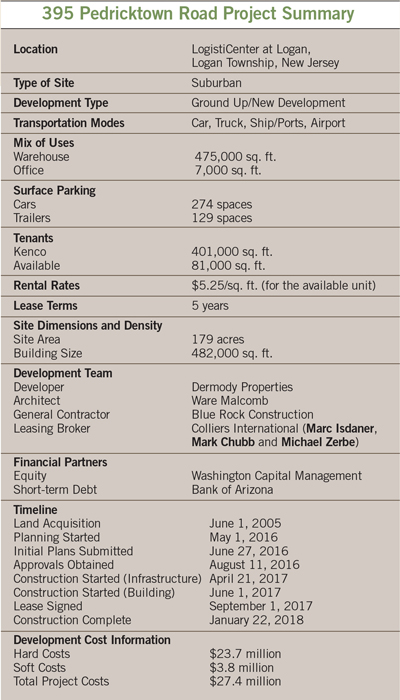 "We got it done at a time when contractors were looking for work," says Mascaro.
Dermody worked closely with Logan Township officials on the project, but the development was completed without incentives from local governments. Logan Township officials, Mascaro explains, were so confident that the project made sufficient economic sense on its own that they didn't see the need to provide financial assistance to Dermody.
As it nears buildout, LogistiCenter at Logan now includes 14 buildings totaling 4.3 million square feet. Only two sites – one for a 193,400-square-foot building and the other for a 369,000-square-foot building – remain available for sale or lease. Preston says Dermody expects to complete both buildings in 2018.
The Project
Construction began in April 2017 on the concrete tilt-wall building that would be leased by Kenco. The schedule enabled the structure to be buttoned up before the arrival of winter weather and cleared the way for the building's completion in January 2018. Equally important for Kenco, the building was one of very few available in the southern New Jersey market. Like many markets across the nation, it has tightened substantially in the past 18 months.
The general contractor on the project was Blue Rock Construction, which has worked on 13 projects for Dermody Properties, seven at the LogistiCenter at Logan.
"We have a great relationship with them," says Preston. "Our conversations with them rely on a lot of shorthand because we've worked together for 13 years."
John Seelmeyer is a business writer and editor based in Reno, Nevada.