The largest Passive House project in Massachusetts offers lessons for developers seeking to reduce energy use and operating costs.
WITH ITS FOCUS on exceptional energy reduction, the Passive House building standard is the world's most energy-efficient design approach. Applicable to all building types and uses, it dramatically reduces utility bills, operating costs and carbon footprints. The natural byproduct is buildings that are far more durable, comfortable and healthy to be in and that offer the highest level of resiliency to both natural and man-made disasters and disruptions. Just as important, this increase in quality and performance does not require a comparable increase in cost. What it does require is an integrated design, engineering and construction process committed to a holistic approach toward the building envelope and systems.
The standard is based on several measurable criteria that establish a low energy budget by setting a maximum limit on 1) space heating and cooling demand, 2) airtightness and 3) primary energy. Heating and cooling loads are effectively the "miles per gallon" of a building; they typically comprise roughly one-half of a building's total energy use. Airtightness is critical to energy conservation but is also fundamental to building durability and moisture control. Primary energy represents a structure's true carbon footprint by taking into account not only all energy used on-site, but also the source of that energy and what is lost in transmission.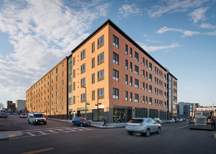 Together, these three criteria ensure that buildings endure and perform optimally. A Passive House-certified building typically performs four to five times better than its code-compliant counterparts and two to three times better than comparable projects built to LEED Platinum standards.
The project described in this article, for example, has an energy use intensity (EUI) of 22.5 kilo-British thermal units (kBtu) per square foot per year, compared with Highland Terrace, a LEED for Homes Platinum-certified affordable housing project with an EUI of 60.5 kBtu per square foot per year. Similarly, even though Highland Terrace was focused on compartmentalization (the minimization of air transfer between units), blower door testing there measured 2.36 ACH50 (the most commonly used measurement of building envelope tightness) relative to a maximum 0.6 ACH for a Passive House project.
One Passive House Project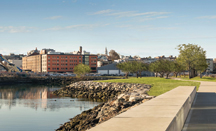 The Distillery North is the largest Passive House project in Massachusetts. The 60,000-square-foot building connects with The Distillery, a 110,000-square-foot 19th-century former rum distillery that was redeveloped in 2017 as studios and studio apartments for approximately 140 artists and other businesses. These two buildings, along with a third building planned for a future phase, eventually will enclose a large green space that will include a garden and venues for theater and installation art.
The project adjoins Boston's Seaport district, which has become home to many biotechnology and other technology-based businesses and is just 5 miles from a swimmable beach on the South Boston Waterfront. The Distillery North includes 28 rental apartments as well as parking, a small restaurant and a roof deck with a city view. The next phase will add 37 more rental apartments, a three-story greenhouse, a rooftop garden and greenhouse space, and four ground-floor shops.
After searching for a compelling energy-efficiency strategy, developer Second Street Associates decided to target the Passive House standard because of its measurable focus on energy use. The developer was dissatisfied with LEED and other certification systems, which offer good holistic sustainability guides but are generally underwhelming when it comes to energy efficiency.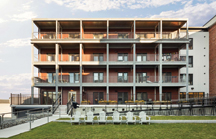 Using traditional building methods and readily available products, The Distillery North combines an airtight building envelope with intelligent ventilation and careful attention to solar gain. Four stories of panelized wood construction, with wood stud walls and prefabricated open web trusses, sit above two concrete-and-steel levels of garage and commercial space.
The building envelope's walls, roof and floor are designed with enhanced insulation, both within the building spaces and continuously at the building's exterior to minimize thermal bridging. Where the lower-level parking and commercial space meet the residences above, 6 inches of continuous extruded polystyrene (EPS) foam insulation provides an R-value of 30. The 2- by 8-inch stud walls filled with cellulose insulation are augmented with 3 inches of stone wool insulation on the exterior for a total R-value of 37.
The terracotta and fiber cement cladding are attached using thermally broken Z-clips. At the roof, a minimum of 2 inches of continuous EPS sits on top, and the open-web roof truss cavity is filled with insulation for an overall R-value of over 70. Thermally broken, triple-glazed windows and doors ensure the Passive House envelope, while a south-facing balcony with operable shades delivers solar heat gain when it is wanted and prevents it when it is not. (A thermally broken system has a barrier between the inside and outside clips or window frames that prevents thermal energy loss.)
A continuous airtight barrier carefully wraps the entire envelope. Each unit is provided with an individual energy-recovery ventilator (ERV) to supply continuously filtered air, to exhaust stale air, and to retain 95 percent of the heat (and coolness) being vented. It should be possible to raise the filtration of the ERV units from their installed minimum efficiency rating value (MERV) 13 to filtration levels of MERV 15 to 18. Levels of 15 and above eliminate microparticle pollution, an urban health hazard. Heating and cooling are accomplished through individual heat pumps in each unit, while hot water is provided through a centralized system from a high-efficiency gas boiler.
Passive House Certification
To obtain certification from Passive House Institute US (PHIUS), architects or developers must submit energy-relevant planning documents and technical data about construction products early in the planning process. They must then follow up by updating any changes that took place during the construction process and submit to a final inspection by Home Energy Rating System (HERS) raters. The inspection includes an evaluation of air leakage through blower door testing. An energy modeling software tool, WUFI Passive, is used to determine space heating and cooling as well as primary energy. For more information, see the website at PHIUS.org.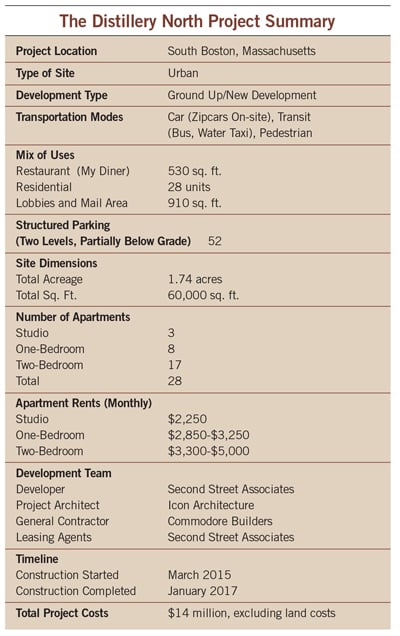 The biggest challenge to obtaining Passive House certification involves meeting the standard for airtightness. Icon Architecture strongly recommends testing early and often. If you wait too long, it's much harder to identify where infiltration is occurring – and it's costlier to address the problem later.
Although the owner had no interest in obtaining LEED certification for this project, Boston Zoning Code Article 37, Green Buildings, requires it to be certifiable. It was therefore built to the required LEED Silver standard, but ultimately met the Platinum standard, achieving 98 points.
Benefits
While the enhanced thermal envelope and detailing can be costly, this expense is offset by much reduced costs for heating and cooling equipment and associated ductwork. Taking into account a substantial lifetime reduction in operating costs, one can see that any initial cost premium should require a payback of only a few years. Should renewable energy be an option, a Passive House building could easily become net-zero or net-positive.
Residents are already enjoying The Distillery North's comfortable units and low energy costs. The annual cost to heat and cool a two-bedroom, 1,487-square-foot apartment in 2017 was only $419.28 (at an electricity cost of $0. 21 per kilowatt/hour). A lifetime of savings in energy use and associated operating costs, as well as a substantially higher level of comfort and indoor air quality, make the Passive House standard ideally suited for multi-family housing and virtually all other building types.
Michelle Apigian, AIA, LEED AP, AICP, CPHC, is an associate and sustainability leader at Icon Architecture.