Coworking centers designed by and for women are flourishing as entrepreneurial incubators.
FORGET BEER KEGS and foosball tables. What women really want in shared coworking spaces are supportive mentors, access to "angel" investors and an appealing yet professional office environment that helps nurture and motivate them as independent business go-getters.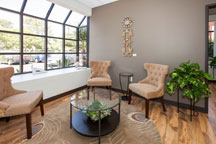 A Pioneer
Felena Hanson, a tech marketer in San Diego whose 20-year career trajectory was eclipsed by layoffs at three companies, vowed to fill this overlooked market niche in 2011 by launching Hera Hub, a network of six female-focused coworking spaces in the U.S. and Sweden that also serve as business accelerators for women who value collaboration over competition, want expert advice and education to help grow their companies, and prefer networking among a community of like-minded professionals instead of going it alone. The platform is named after Hera, the Greek Goddess of women.
"Hera Hub is community first and space second," Hanson says. "From the moment someone joins to the day they outgrow us, we want them to feel connected and supported. We're here to make sure they have the right resources to launch and grow their business."
Hanson designs each coworking space with a spa-like aesthetic of soft music, natural lighting and soothing fountains along with the latest office technologies, meeting amenities and resources to accelerate entrepreneurial productivity.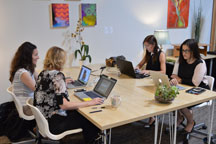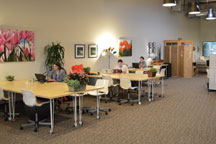 Hera Hub is not exclusively for women; it also accepts male members. "Our coworking spaces are about 95 percent women. Men typically choose Hera Hub because of the chill vibe and convenience of our locations," Hanson adds.
The idea for Hera Hub grew out of Hanson's search for purpose after a near-fatal car accident in 1996 and her need for flexible workspace after her third layoff from a San Diego technology company in 2003. Undeterred, she ran a strategic marketing consultancy for the next eight years out of her home. That proved convenient and cost-effective, but also distracting and isolating at times.
"I was turned on to the concept of coworking in 2010 when hosting a networking event at San Diego's first coworking space, the Hive Haus," says Hanson. "Initially, I thought about how I might use the space for my own business but quickly realized a 30-something woman was not their target demographic." Outfitted with a ping-pong table and a beer keg, the space attracted young men at tech start-ups – an experience that sparked Hanson's "aha" moment for Hera Hub.
"It took about a year from the time I decided to launch Hera Hub to when I completed my business plan, obtained financing and solidified my first location," she recalls. "I pulled my money out of the stock market and secured a loan from my father to finance the first Hera Hub space in San Diego for $60,000," Hanson says. "But the commercial real estate process proved much more complex and challenging than I ever imagined.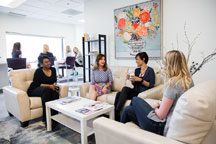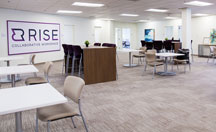 "In searching for leasable space, I had two strikes against me – a new business and a new concept. With commercial real estate markets still reeling from the 2008 crash, no one wanted to take a risk. After six months of negotiations, two deals fell through at the 11th hour," she says. The third time around, Hanson secured about 5,000 square feet in a well-situated area of San Diego, double the size of the other spaces she had considered and twice the financial risk. "But I felt confident the gamble would pay off," she says.
Since Hera Hub's unveiling, Hanson has attracted private equity capital and expanded to two other locations in San Diego as well as to Washington, D.C.; Phoenix; and Stockholm. Each Hera Hub averages 3,500 to 4,000 square feet. Locations in Chicago, Atlanta and Orange County, California are also in the pipeline. "I'm on a mission to support over 20,000 women in launching and growing their businesses by 2020," Hanson says. So far, Hera Hub has reached some 4,000 members.
Hanson is also expanding by licensing Hera Hub's brand and resources nationally and internationally to other women who are as passionate as she is about building and leading communities for female business owners in their respective cities, particularly where a strong support network already exists. All members can tap into intensive, online business accelerator classes through a Hera Labs nonprofit arm as well as training on the nuts-and-bolts of venture capital investing through another 501(c)(3), Hera's Angels. A separate Hera Fund and an annual Hera Venture Summit connect female investors with women entrepreneurs searching for financing.
A Licensee
Hanson chose the nation's capital to launch her first franchise on the basis of a Nerd Wallet study ranking D.C. first among the top 10 cities in America for female business owners. A news story about Hanson's entrepreneurial journey and coworking concept appealed immediately to Julia Westfall, who had toyed with the idea of running her own business after more than 20 years in human resources, finance, sales and marketing.
"I just wasn't ready to retire and thought, 'Wow, this could be what I want to do,'" Westfall recalls. "I had always enjoyed working with people, helping small companies, being part of a broader community. I was so inspired by what Felena was doing to support women in San Diego. So I gave her a call, flew out to California, and she came to Washington. By 2015 we had a licensing agreement, signed a lease for roughly 4,400 square feet in Friendship Heights and opened Hera Hub DC."
Today Hera Hub DC has more than 80 members, offers five membership levels ranging from $89 to $429 per month, and provides networking, workshops and voluntary peer-to-peer mentoring by select subject matter "gurus."
Sarah Gonzales, who transitioned from a federal government career to start a tutoring business called Tungsten Prep, joined Hera Hub DC in 2017 after comparing WeWork and other more male-oriented coworking spaces in Washington.
"WeWork's space is architecturally grand and more expensive than Hera Hub's but not nearly as supportive," says Gonzales. "Women entrepreneurs in mid-career like me want everything to be extremely focused on building a business. We prefer events during the workday because we want to go home to our families [in the evening]. And we want events to be purposeful, not nebulous networking over a beer that often doesn't produce results."
A Growing Trend
Dedicated spaces catering to women entrepreneurs are mushrooming, including Bloom in Las Vegas; Paper Dolls in Los Angeles; The Hivery in Mill Valley, California; and The Wing in New York and Washington, D.C.
WeWork, one of the richest startups in the world with a valuation of over $20 billion, wants in on this trend. In late December, the New York-based office space provider led a $32 million Series B round of funding in The Wing.
According to a 2017 global coworking survey by Deskmag, nearly 1.2 million people around the world will have tried coworking by the end of 2018, and approximately 14,000 coworking spaces will be in operation globally. The survey reveals that women occupy 40 percent of those coworking spaces, up from 38 percent in 2016.
One of the newest entrants in this booming market is St. Louis-based RISE Collaborative Workspace, whose unique business model also allows teen girls to work after school in the female-centric coworking space and be mentored by successful women members.
Founder and CEO Stacy Taubman, a former high school math teacher and counselor, recalls two events that set her on an entrepreneurial path: comforting her students after the tragic death of a classmate just before graduation and meeting a young multimillionaire who started his company at age 26.
"Helping these high school girls through their emotional journey was a tipping point for me," she says. "So was meeting a 31-year-old who had made millions in a few short years. I realized I was just as smart as he was and told myself, 'If he can do it, I can do it.'"
With several master's degrees but only one business course under her belt, Taubman pursued her passions helping teens and women entrepreneurs succeed by launching two companies: Girls Dreaming Big, in 2013, which offers academic tutoring for high school girls, and RISE Collaborative in 2017 to provide women entrepreneurs with a nurturing coworking space as well as an opportunity to give back.
Financed in part through a $20,000 crowdfunding campaign on Indiegogo, RISE Collaborative now boasts more than 160 members in a "carefully curated" coworking community of women from a variety of professions. Memberships range from $40 to $350 per month. The space includes 11 private offices as well as conference rooms, 6,000 square feet of flexible workstations, free parking and a large kitchen stocked with snacks and unlimited coffee and tea.
"No successful woman rose to the top by herself," says Taubman. "Women helping women should be modeled and encouraged. My goal is to create a continuum of support for women now and the next generation."
By Audra Capas, president, 5StarPR LLC