Education, health care and retail sectors offer lessons for office building developers, designers and owners as well as employers.
AN EXCITING SHIFT is currently occurring in office buildings across North America. Owners, developers and designers are rejuvenating older buildings by rethinking the traditional concept of common spaces. Lobbies and public areas originally designed to function solely as entries and security checkpoints are becoming hospitality-infused destinations. Spaces previously active only at key moments during the day – arrival, lunch, departure – are now "places to be" all day long, with food service, retail offerings, group seating, art installations, concierge service and more.
Michigan Plaza in Chicago is one such example. In 2017, MB Real Estate rejuvenated the two-building office complex's lobby and public spaces to introduce a refreshed aesthetic in line with those available at the city's newest towers. These include the addition of lounge seating, a cafe and additional pop-up food service areas as well as a central chandelier. These new features aim to engage the approximately 20,000-plus people who pass through the area each day as well as to better serve the building's current and future tenants.
Today's office buildings are trying to offer something new to their tenants. Many are doing so by looking toward other industries and project types for inspiration. These other sectors, including health care, education and retail, are also dealing with similar shifts in the design of common building spaces. Several of their solutions can inform how corporate real estate addresses placemaking (the creation of high-quality spaces that contribute to people's health, happiness and well-being), fosters connectivity and creates immersive work environments.
Here's a look at some industries outside corporate real estate with lessons to share.
Creating Community on Campus
In some ways, the traditional community college experience echoes how individuals connect with their workplace. Students arrive for specific functions – classes, meetings, study sessions – and then leave campus. They typically do not live and socialize on campus in the same way students at a four-year college or university might. However, given that 60 to 70 percent of community college students balance full-time jobs and other important demands, these institutions are seeking to provide spaces that help students study on campus and take part in more casual socialization, which can enhance their academic experience.
Community colleges leading the charge to provide such spaces are introducing facilities that support student life activities, places equipped with cafeterias, health centers, lounge seating, fitness areas and child care centers. Others are finding ways to infuse these types of spaces into academic buildings, like Malcolm X College in Chicago, which purposely included areas for student collaboration and idea sharing on its new urban campus, completed in January 2016.
Four-year institutions are also focused on fostering collaboration and engagement by rethinking traditional campus norms. The University of Utah's Lassonde Studios – a first-of-its-kind entrepreneurial education center – offers a 20,000-square-foot innovation space on its main floor, where all students can connect, study, dine, build prototypes or even launch companies. Open only since August 2016, Lassonde Studios already has become "the place to be" on campus. It functions as an entrepreneurial cultural center and hosts frequent events that encourage interaction among students from a wide variety of programs.
Echoing similar design efforts in corporate real estate can enrich work-life balance for tenants and help encourage the type of cross-pollination of ideas many companies are trying to breed in their interior environments. Locating within a building of this type can provide companies with a competitive advantage in recruiting and retaining top talent.
Breaking Health Care Norms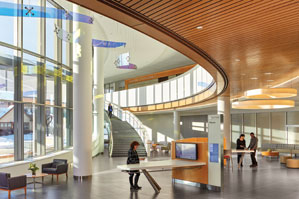 As corporate real estate leaders seek to redefine their buildings, they should also be open to some bold ideas from health care. In 2016, the University of Minnesota Health opened a new Clinics & Surgery Center that features no formal waiting rooms or assigned doctors' offices. Instead, the patient experience is akin to a customer's journey in an Apple store. Staff "concierges" equipped with mobile tablets greet patients, check them in, locate an open exam room, record health information and notify a doctor. This new approach allows M Health to accommodate twice as many patients with significantly less real estate than their previous facility while also enhancing the patient experience. Ten of the facility's clinics have exceeded the 90th percentile for "would you recommend" in patient satisfaction surveys.
Some office buildings and clients are already testing strategies that allow receptionists to serve similar concierge functions. These initial steps and the M Health experience should encourage designers and developers to consider how new technology and evolving expectations can improve the office environment.
The Retail Revolution
The world of retail has been upended in recent years, as e-commerce has made it simple to shop from home. In an effort to bring people back into brick-and-mortar stores, shopping center owners and retailers are reimagining the experiences created within the shopping environment, transforming stores and malls into destinations that celebrate brands and encourage social interaction.
Shopping malls throughout North America are rethinking their under-utilized open spaces and departing from tradition to create destinations that attract visitors for the experience as much as for the shopping.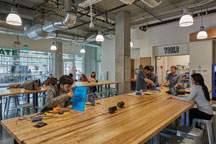 The redesigned Chesterfield Towne Center in the Richmond, Virginia, area has transformed a seldom-used central zone into a comfortable seating and gathering area inspired by a local state park. The central indoor fire pit at Chesterfield serves as a focal point for people as they meet and socialize.
The Yeti flagship store in Austin, Texas, is another prime example of this shift. While shoppers can buy Yeti coolers at many retail locations, the flagship store incorporates a bar into the retail experience, as well as porch concerts, film screenings and other monthly events. This type of cultural interaction strengthens the experience surrounding the brand and creates a location that people want to visit.
In Chicago, Restoration Hardware's new home furnishings retail destination is equal parts store, museum, art gallery, library, courtyard and culinary destination. Housed in the former Three Arts Club of Chicago, the store blends residential, retail and hospitality ideas to create a place where visitors can shop, dine, sightsee, meet with friends or relax. (For more on retail flagship trends, see "How Retail Flagships Lead the Fleet," Development, summer 2017.)
Office buildings are dealing with a similar challenge. As technology makes it easier for employees to work from any location, owners and employers are drawing people into their office buildings by adapting their spaces to foster interaction and reinforce collaboration and culture.
As the adage goes, if you want new results, you need to try new things. This rings true for corporate real estate leaders looking to rethink their lobbies and public spaces. The solutions for how best to attract and retain top tenants may not be in the traditional places in which one is
accustomed to finding them.
By David Pugh, AIA, LEED AP, NCARB, leader of CannonDesign's corporate/commercial interiors practice in Chicago, dpugh@cannondesign.com
Note: For more on this topic, see "Activating Office Building Common Spaces for Competitive Advantage," by Richard B. Peiser, Ph.D., and Raymond G. Torto, Ph.D., NAIOP, November 2017, which was prepared for and funded by the NAIOP Research Foundation.