By putting the employee experience at the center of its workplace design, Microsoft is reaching new heights.
IN FALL 2017, Microsoft's Puget Sound headquarters opened three outdoor meeting areas in the trees outside a cluster of its buildings. Microsoft employees desiring a unique and inspiring place to hold meetings or simply work on their own can now leave the confines of their buildings, stroll through bracing fresh air and ascend a cedar ramp some 12 feet into the Douglas firs.
If they've booked Outdoor Meeting Space One, they'll find themselves in a circular 900-square-foot conference room and deck, outfitted with a meeting table, electricity and Wi-Fi, just like an office. But this "office" is paneled with reclaimed Oregon timber, clad in siding from floating logs salvaged from Seattle's Lake Union, pierced by a single circular skylight and flanked by a broad cedar deck with benches for solo working. Together, the room and the deck comfortably accommodate up to 31 people.
Or perhaps they're heading to Outdoor Meeting Space Two, a 500-square-foot uncovered platform. Those looking to have a one-on-one meeting can ascend a staircase spiraling around the tree trunk to a lofty perch called the Crow's Nest. Pete Nelson, founder of Nelson Treehouse and Supply, which designed these outdoor rooms, chose this towering, 150-year-old fir as the anchor of the treehouse "campus" after spending a day on-site, "connecting with the trees." Nearby, he placed Outdoor Meeting Space Three, a 750-square-foot covered lounge and deck space seating up to 10 for informal drop-in work.
With their fresh, cedar-bright forest scents, these treehouses don't smell like conference rooms. Soft background noises – the sounds of songbirds, scrambling squirrels, pinecones thudding on wood – aren't like those heard in a typical workplace. The artful craftsmanship of the cedar joinery says "woodland cottage," not "corporate HQ." And, though two of the structures are covered, they are otherwise open to the elements and, by design, unheated. Employees willingly bundle up to work in them.
Inspiration
At a workshop last year, a workplace consultant asked Microsoft employees to list their sources of inspiration. Responses varied, but the majority included something connected to nature. Later, when the Microsoft Real Estate Development design team surveyed software engineers to ask what workplace characteristics were most important to them, their responses were clear.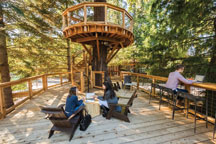 Overwhelmingly, they asked for nontraditional workplaces and more places to work outside in the fresh air and sunlight. Combining this employee feedback, the design team came up with the treehouse concept.
Workplace research reveals a solid connection between employees' exposure to the outdoors and the well-being that leads to productivity. Nature "stimulates the reward neurons in your brain," writes Harvard physician Eva M. Selhub, co-author of the 2013 book, "Your Brain on Nature." "It turns off the stress response, which means you have lower cortisol levels, lower heart rate and blood pressure, and improved immune response." Exposure to nature also dials up positivity, creativity and focus, restoring the brain from the mental fatigue of work. Forests bring particular benefits. "Trees and plants secrete aromatic chemicals that impact our cognition, mental state, and even our immunity," writes Selhub.
The treehouse conference rooms are part of a companywide initiative at Microsoft to incorporate nature into the workplace, an initiative that runs somewhat counter to the current trend of technology companies settling in urban areas. Microsoft Puget Sound is embracing the benefits of its 500 wooded acres on the site of a former sawmill, where deer and other wildlife freely roam.
Challenges
The treehouses, which took roughly half a year to build, presented several challenges. Not surprisingly, treehouses for commercial use had never been permitted in this jurisdiction before, so the permitting process was new terrain for everyone. The city of Redmond had to work within existing code to provide appropriate building permits and certificates of occupancy. The city also had to get creative around modifications to utility easements because of their proximity to the outdoor structures.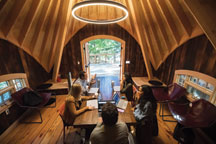 Security issues also had to be addressed. While these were resolved by requiring employees to swipe badges at gates and doors leading to the treehouses, Shanon Bernstine, the Microsoft business manager who oversees access to the meeting rooms, reports that learning how to keep the facility secure after-hours was a long process.
Then there was the fact that, from time to time in the Pacific Northwest, it rains. Waterproofing had to be solid. Fortunately, the two covered structures have proven dry and cozy in the rain; employees are comfortable bringing their laptops and lunches out to the treehouses on even the rainiest days. Indeed, the treehouses became so popular so quickly that Microsoft had to extend their hours of operation to seven days a week within a month of their opening.
Benefits
This positive reception suggests that simply altering your surroundings can help you see things differently. Bernstine reports that users have described the same experience again and again: The treehouses take them to a different world.
Though there's no hard data yet on how employees are using the treehouses, or whether they're increasing productivity, it's clear the spaces are igniting something new in those who use them. Solo workers seem to get in touch with deeper insights, sitting cross-legged on a bench or in the grass below, eyes closed, heads tilted skyward, then grabbing their laptops and typing furiously. Meeting goers more easily converse and engage with each other when they aren't staring at a screen.
The creative process just seems to be easier in a treehouse than it is in a traditional conference room. When no one's presenting with a projector and whiteboard, all meeting participants are suddenly in an active role. Bern-stine notes that treehouse meeting goers appear to be able to have more grassroots conversations about what needs to get done, and naturally come up with different ideas.
Like all Nelson treehouses, these were built to accommodate the trees' growth, with treehouse attachment bolts (TABs) and other structural fasteners that will flex and expand as necessary to last a projected 20 years. (The TABs, made of hardened steel, act as artificial tree limbs that support the treehouses without harming the trees.) Microsoft is betting that these unusual structures will likewise encourage flexibility of mindset and growth of great ideas among its employees.
By Bret Boulter, senior development manager, Microsoft