The average clear height of warehouse ceilings has increased steadily over the past 20 years.
OVER THE PAST 20 years, the average rentable building area (RBA) for newly delivered warehouses has increased by 60 percent nationally, from an average of 165,000 square feet in 1997 to an average of 268,000 square feet in 2017. The desire to optimize "cubage" has also resulted in buildings growing taller. Twenty years ago, the average ceiling height for a new warehouse was 25 feet clear. Today, in newly constructed structures larger than 300,000 square feet, 32 feet clear is typical. In megasized distribution buildings, 36 feet is common, with clear heights rising past 40 feet in some cases.
Many traditional industrial tenants do not require higher ceilings for pallet positioning, but the clear design trend is to raise the roof to 32 feet or higher to garner the interest of a larger pool of potential occupiers. Since 1997, the largest concentration of taller building construction has occurred in distribution-intense markets like California's Inland Empire, the Pennsylvania Interstate-81/I-78 Distribution Corridor, Chicago, Atlanta, New Jersey, Dallas-Fort Worth, Cincinnati, Columbus, Baltimore and Kansas City, among others.
For developers, there is a tradeoff between the need for optimal clear height inside and the desire to minimize a building's overall height-associated costs. Three of the primary cost drivers are slab, structure and fire protection. As clear height exceeds 32 feet, the flatness of the slab surface itself may require tighter specifications to ensure the stability of the rack. Column spacing often must be increased to accommodate the larger forklifts needed to reach the taller pallet positions. Load-bearing exterior walls will likely get thicker. Fire protection systems may need to be upgraded. And if storage height exceeds 40 feet, in-rack sprinklers might be required, which can increase costs during tenant rollover if they must be removed for the next occupant.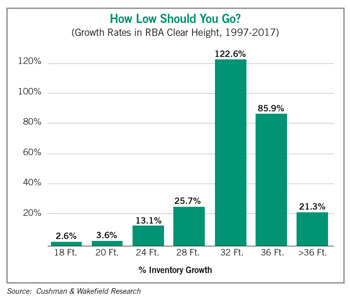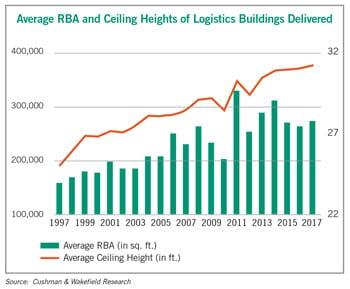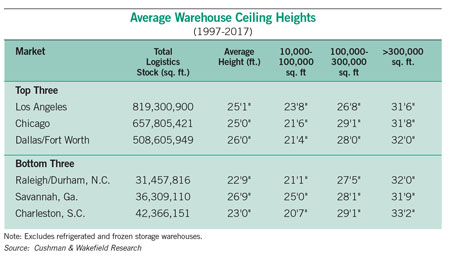 62%
Growth in
average RBA
of warehouses
since 1997
123%
Growth of 36-foot
clear height
warehouses
since 1997
86%
Growth of 32-foot
clear height
warehouses
since 1997
2.5%
Growth of
warehouses with ceiling clear heights
lower than 20 feet
since 1997
By Jason Tolliver (jason.tolliver@cushwake.com), head of logistics and industrial research, Americas; Carolyn Salzer (carolyn.salzer@cushwake.com), logistics and industrial research analyst, Americas; Jared Jacobs, research manager, Philadelphia; and Jolanta Campion, director of research, San Diego region, Cushman & Wakefield
Note: This column is adapted from "The Evolution of Warehouse and Distribution Center Design," Cushman & Wakefield Research, November 2017.