Supply chain advances and new technologies are affecting how, where and what types of industrial facilities are being built.
MUCH OF THE media coverage of industrial real estate today is overwhelmed by e-commerce oriented topics. Retailers continue to build out their delivery, fulfillment and return capabilities, in ways that are having significant impacts on the industrial supply chain and, consequently, on the location and design of buildings. E-commerce is undoubtedly driving significant change within the industrial property sector, but real estate developers and investors should also consider a variety of other disruptions and structural shifts.
These include key changes being made along the supply chain and how those changes are affecting where and how new industrial facilities are being developed today, as well as where and how they will be developed in the future.
Supply Chain Advances
Key changes unfolding in the supply chain include the following.
Multimodal Options. Wholesalers and retailers alike recognize that they need to create more nimble supply chains to accommodate evolving first- and last-mile activity. "First-mile" multimodal transportation options are becoming increasingly important. End-to-end supply chains are becoming ever more complex, and industrial real estate site selection will continue to be tied closely to cost efficiencies in transportation.
Supply chains must become more nimble. Bringing multimodal transport options, including trains, electric vehicles and trucks, to the first mile helps streamline the process of distribution from the source to the end user, while also speeding up delivery.
A Fusion of Technologies. The Fourth Industrial Revolution and the digitization of the supply chain are both well underway. According to Klaus Schwab, founder and executive chairman of the World Economic Forum, "The First Industrial Revolution used water and steam power to mechanize production. The Second used electric power to create mass production. Now a Fourth Industrial Revolution is building on the Third, the digital revolution that has been occurring since the middle of the last century. It is characterized by a fusion of technologies that is blurring the lines between the physical, digital and biological spheres."
Tomorrow's warehouses will be increasingly driven by technology. They will be much more connected to logistics operations, powered by information systems and even more embedded in processes related to the broader supply chain.
Automation. According to a recent "MHI Annual Industry Report – Next-Generation Supply Chains: Digital, On-Demand and Always-On," supply chain professionals view sensors and automatic identification, as well as inventory and network optimization tools, as the innovations with the greatest potential to create competitive advantages.
Emergence of the "Cold Chain." While the online grocery segment is only in the beginning stages of its development, it is leading to need for new grocery-oriented logistics and state-of-the-art cold storage facilities that help companies get "closer to the customer."
Yard Management. Improvements in yard management systems (software designed to oversee the movement of trucks and trailers at industrial facilities), dock scheduling software and warehouse management systems will create more integrated information flows to facilitate supply chain management, building more continuity, safety and accuracy into the process.
Location Considerations
Changes affecting the industrial sector are having the following impacts on where industrial facilities are being located.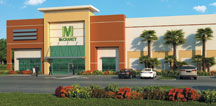 Mitigating Risks. As more companies look to employ predictive analytics and artificial intelligence to power their logistics operations, these processes could also affect their site selection decisions. Understanding how to mitigate supply chain risks is becoming ever more critical. Focusing on more accurate demand planning, management around natural disasters and optimal location and functionality of facilities is becoming paramount.
First-mile Efficiencies. While many of the innovations that could transform industrial real estate are technology related, some are more traditional. For example, multimodal logistics efficiencies can be realized from the "first mile" of transloading containers from a seaport to the "last mile" of delivery to the customer. Simply relocating or expanding near different transportation hubs can help reduce delivery time and costs while improving the level of service. Additionally, importers have to become more efficient in the first mile to offset growing congestion on highways near seaports and worsening truck driver shortages.
Throughout the current economic expansion, modernization and growth of the cold chain have continued to garner investor and developer interest. From seaport operations to airport hubs to inland intermodal destinations, innovative new real estate development around transportation hubs is occurring, both from an import and an export perspective. Here are two examples:
Port Logistics Refrigerated Services (PLRS) now operates a 130,000-square-foot intermodal cold storage and freezer facility at Berth 219 at Port Tampa Bay, which serves central Florida as well as the Southeast and Midwest U.S. with direct transfer via truck or CSX rail. The state-of-the-art building facilitates the import and export of food and other cold storage items throughout the region. It can handle break bulk palletized products as well as 40-foot temperature-controlled containers. The facility consists of four cold storage areas and two freezer storage areas as well as a truck staging area, a fumigation building and an office building with a U.S. Department of Agriculture (USDA) laboratory.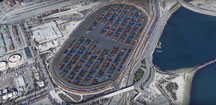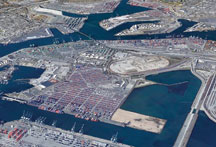 The Harbor Performance Enhancement Center (HPEC), a public-private partnership between the Port of Los Angeles (POLA) and a private consortium, plans to operate a 110-acre "peel-off yard" or staging facility intended to reduce congestion at the Port of Los Angeles. It is designed to accommodate approximately 3,150 containers from adjacent container terminals at any one time and to significantly increase efficiencies and throughput at the port.
The site, inside the jurisdiction of the Port of Los Angeles, has been idle since 2006. Meanwhile, container volumes flowing through the Port of Los Angeles, as well as the Port of Long Beach on the other side of the harbor, have recently regained and now significantly exceed their pre-Great Recession peak levels. Growth in container volumes, the advent of ships carrying two to three times as many containers as did ships prior to the recession, and new trucking regulations have combined to create serious congestion in Southern California. This has made the retrieval process for containers lengthier and, at times, unpredictable.
HPEC will lease the 110-acre facility and provide a valet-and-park service for importers. It will retrieve containers from the terminals and park them on chassis in the HPEC yard, so that importers can retrieve them at their convenience on a 24/7 basis. The resulting increase in the predictability of the dray from POLA to the importers' facilities and the likely shorter time it will take to do this will reduce truck drivers' idle time at distribution and transload centers.
Manufacturing. Finally, manufacturing is poised for more disruption and transformation in design than any other industrial sector. Employing more adaptive manufacturing methods like 3-D printing could create leaner supply chains and lead to the proliferation of smaller manufacturing facilities closer to major population centers.
Innovative new light production or light manufacturing incubators like the nonprofit The Hatchery Chicago or the L.A. Prep kitchen, both of which provide production space for food and beverage providers, are just two examples of how industrial spaces are accommodating a wider variety of uses. These types of facilities often incorporate coworking kitchen space, dry and cold warehousing, and loading docks, as well as meeting and/or office spaces.
Impacts on Buildings And Sites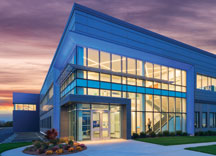 Industrial users are becoming ever more sophisticated, insisting on buildings that are highly functional. According to Jimmy Love, managing partner of Distribution Realty Group, building attributes that were previously considered premium improvements found mostly in build-to-suit structures are becoming more common for new speculative construction. These include 36- to 40-foot clear height ceilings, dedicated on-site trailer storage, 60-foot speed bays, LED lighting and oversized employee parking lots.
New Amenities. Demand for new amenities in industrial parks is growing. In recent years, as e-commerce and associated sectors like delivery and third-party logistics have expanded aggressively, the number of workers picking and packing orders in megasized fulfillment centers has increased. So have the number of workers at traditional warehouse and distribution operations. Attracting and retaining skilled labor has become even more challenging. To keep employees motivated and increase productivity, companies are bringing in more amenities such as expanded eating, lounge and fitness facilities to warehouses and industrial neighborhoods.
Human-centric Design. Some of the newest industrial facilities in Asia contain even more amenities, with people-oriented features such as cafeterias, day care centers, locker rooms, gyms and yes, even rock climbing walls. Developers like ESR-REIT (formerly Cambridge Industrial Trust REIT), which develops and operates industrial facilities throughout Asia, have included these above-standard amenities in some of their new logistics developments, as well as relaxation lounges, retail shops and more sustainable design.
This trend also extends into innovations in personnel safety, especially around loading dock areas and equipment. Using more cameras and red or green lighting systems on dock walls and floors at dock levelers to signal safe loading and unloading execution helps prevent accidents.
Robotics. Goods-to-person picking and collaborative robotics are redefining movement within the distribution center. The goods-to-person concept involves incoming goods being automatically retrieved from storage and brought to a human "picker" rather than the traditional person-to-goods picking model, in which a picker travels around a fulfillment center gathering goods
to fill orders.
Collaborative robots are programmed to work safely alongside humans; many can be easily programmed to perform a variety of tasks as needed. Automated guided vehicles (AGVs) are portable robots that follow wires or tape in or on the warehouse floor or use vision, magnets or lasers to navigate through a warehouse. They offer many cost-saving benefits such as improved safety and accuracy as well as reduced damages.
In addition, drone technology is becoming a reality in some warehouses. A new system developed by researchers from MIT uses drones to track inventory in warehouses by scanning existing radio-frequency identification (RFID) tags.
Wearables. Worker productivity and accuracy can be improved through the use of wearable technology with features like augmented reality, which superimposes a computer-generated image on a worker's view of the real world, or voice picking. Headsets, wristbands and other wearables can route workers throughout a warehouse more effectively.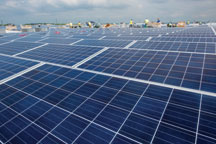 Sustainability. Many companies have incorporated sustainability and energy efficiency initiatives into their supply chains. While initially this could primarily impact transportation via the use of more energy efficient vehicles, the real estate implications are also significant. Incorporating LED or natural lighting, cool roofing materials and even sustainable packaging can affect building efficiencies. Smart building innovations are allowing large, sophisticated developers to create efficiencies and operational savings for their customers, according to Jeannie Renne-Malone, vice president of sustainability at Prologis. Harvesting data from these facilities will enable the design and development of even more sustainable industrial facilities in the future.
Incorporating solar power into warehousing space offers various upsides. The overall corporate and social impact is not being lost on many major companies. Larger developers like Prologis have the scale to meet growing customer requirements with a rooftop solar program. Developers are also incorporating water-saving technology, irrigation and landscaping into new warehouse design to meet customer demands.
Accommodating Autonomous and Electric Trucks. With electric and semiautonomous trucks becoming a reality in the near future, site and yard designs will need to adapt. Building owners may need to install dedicated electric charging stations for trucks on-site, embed sensor technology into loading areas and yard spaces, and/or create new safety protocols for trucks within overall warehouse operations.
What Will the Future Bring?
The disruptions and structural shifts described above are already having a significant impact on where and how industrial facilities are being developed, and will continue to do so for the foreseeable future. It's impossible to predict what types of changes the next set of significant advances will bring, but real estate professionals who keep an eye on the future will be well positioned to recognize and make the most of them.
Aaron Ahlburn (aaron.ahlburn@am.jll.com) is managing director, industrial & logistics research, at JLL.