For the third year, NAIOP has awarded scholarships to graduate and undergraduate commercial real estate students from backgrounds traditionally underrepresented in the industry.
NAIOP IS PLEASED to announce the recipients of the 2018 NAIOP Diversity Scholarships. The scholarship program was established in 2016 to support graduate and undergraduate students pursuing degrees at NAIOP university member schools that will lead to careers in the commercial real estate industry. Preference is given to students from backgrounds that have traditionally been underrepresented in the industry. In addition to a $5,000 scholarship for graduate students and a $2,500 scholarship for undergraduate students, beneficiaries also received complimentary registration to NAIOP's CRE.Converge 2018 conference in Washington, D.C.
A panel of industry experts reviewed more than 60 applications and identified the top candidates. All of the winners are active in commercial real estate, whether through NAIOP, club membership or work experience.
Graduate Students

Andreanita Hughes is a licensed residential real estate broker and student in Roosevelt University's Master of Science in Real Estate program. After several years working in residential real estate, legal technology, and education, Hughes took on the challenge of graduate school. She is excited to develop industrial properties in Chicago and to help retail tenants negotiate fair leases. In addition to her studies and work as a real estate consultant with Tree of Life Realty Solutions, Hughes is the volunteer economic development commissioner of the city of Country Club Hills, Illinois.
Vishal Mehan is pursuing a Master of Professional Studies degree in Cornell University's Baker Program in Real Estate. Mehan emigrated from India, where he received a Bachelor of Architecture from KRVIA, School of Architecture and Environmental Studies, and worked as a designer and property developer. He has kept busy increasing his skills and portfolio through continuing-education classes in many CRE subjects, including smart cities and construction management. Additionally, with his sister, he founded a Mumbai-based charity called Saturday Art Class, which helps children express themselves through art and earn money selling their creations. Mehan would like to pursue a career in acquisitions and private equity placement for commercial and multifamily properties.
Taylor Stack is a student at the University of San Diego in the Master of Science in Real Estate program. Before enrolling in graduate school, she was a district manager with Aldi, where she supervised the construction of Aldi's Moreno Valley, California, location and oversaw up to six stores simultaneously. Upon her return to San Diego, where she received her undergraduate degree, Stack has climbed the ladder from intern to asset manager with the Port of San Diego. Eventually, she would like to serve the San Diego community as a CRE developer.
Jennifer Volbeda, a graduate student at Portland State University, is expecting to receive her Master in Real Estate Development in 2019. Volbeda started as a project assistant at R&H Construction in Portland, Oregon. After furthering her abilities through continuing education classes at Portland Community College, she earned the position of construction project engineer. In addition to working and learning, Volbeda is an active Commercial Real Estate Women (CREW) mentor to the next generation of Portland women in CRE. She is employed by Harsch Investment Properties as a tenant coordinator and project engineer.
Undergraduate Students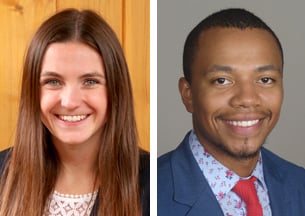 Heather Dorfler is majoring in CRE and Finance at Marquette University. She is most interested in financial analysis and intends to become a real estate analyst upon graduation. Dorfler has gained real-world experience in her chosen field through participation in NAIOP, CREW, Marquette Business Ambassadors and the Marquette Track & Field Club, which she served as treasurer. Her goal is to use her skills in finance to build long-lasting professional relationships with other CRE specialists and to contribute to the advancement of the CRE industry by making careful and thoughtful financial decisions.
Cristian Goodson is a student in The Corky McMilllin Center for Real Estate at San Diego State University (SDSU), where he is majoring in Real Estate. He has been an avid participant in leadership programs, including Rotary Youth Leadership, NAIOP Developing Youth Leaders, SDSU Real Estate Society and NAIOP's University Challenge. Goodson is focusing on a career in CRE investment, development and brokerage. He has honed his skills as an acquisitions and investment intern with Watters Investment and as an inside sales agent with Whissel Realty, both in San Diego.
NAIOP champions diversity through strategic initiatives aimed at incorporating professionals from traditionally underrepresented groups – including women, African-Americans, Asian-Americans and Hispanics – throughout the industry.
---
NAIOP and Prologis Present Inaugural Scholarship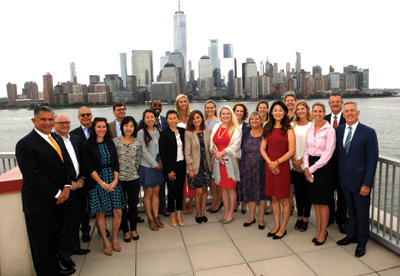 NAIOP and Prologis are partnering on a unique program to help prepare women and minorities to fill CRE positions in development and operations through the NAIOP and Prologis Inclusion in CRE Scholarship. Ten recipients were selected to participate in the inaugural full-year program that includes mentoring, conference participation and engagement in NAIOP's online courses to earn a NAIOP Certificate of Advanced Study in Commercial Real Estate Development or Finance.
In June, the recipients were honored at I.CON: The Industrial Conference in Jersey City, New Jersey, during a program that included remarks by Prologis executives Gary Anderson, CEO of Europe and Asia; Kim Snyder, president of the southwest region; and Gayle Starr, managing director for global capital markets.
---
By Hannah Buckles, member services associate, NAIOP, buckles@naiop.org