Buildings with direct fiber-optic internet connections will benefit from strong demand as information continues to be stored in the cloud and big data takes off.
DATA CENTERS ARE facilities that house customers' (tenants') critical telecommunications components, including computers (servers), storage devices and cables, while also providing connectivity options to the internet (carriers) as well as to other data centers and buildings. Since the dot-com bubble of the early 2000s, data centers have become a multi-billion-dollar industry offering a wide range of telecommunications services for small to large commercial clients.
With the rise of enterprise cloud computing, the ability to store and manage exponentially fast-growing volumes of data is becoming more critical to the success of every business. As a result, the data center market will likely continue to remain strong. Many cloud service providers estimate that the U.S. data center sector will need to triple its infrastructure by 2020. Across American cities like Chicago, Austin, San Antonio and Los Angeles, demand for data center services is soaring.
Successful data centers must manage a complex array of requirements, from power and climate control to physical space and cybersecurity, to ensure that customers' equipment can function through challenging events such as power outages. Without the appropriate safeguards, natural disasters and cyberattacks can wreak havoc for businesses, especially when data centers are forced into periods of prolonged power outages. Hurricane Sandy clearly demonstrated this when severe flooding forced many New York data centers offline for several days, resulting in significant recovery costs.
Underground downtown data centers feature several significant advantages relative to their above-ground suburban competitors. First, they permit year-round construction and expansion, irrespective of weather conditions. This improves the speed with which developers can bring a data center to market or expand its capacity. Secondly, subterranean data centers can be "disaster proofed" and protected from the elements at a lower cost. For example, above-ground data center developers can find themselves spending an extra $100 per square foot to fortify their facilities against tornadoes and hurricanes.
Underground data centers do face operational challenges, from both heat rejection and flooding perspectives. Although subterranean space is naturally cool, the excess heat generated by servers and other telecommunications equipment must be vented, often through holes drilled to the exterior. A developer that invests wisely in a cooling system – for example, an HVAC plant with N+1 redundancy (at least one independent backup component) – can balance out any additional costs in this area with savings in others.
Geographic location is another important element for developers and other prospective investors to consider. On one hand, suburban data centers often can be constructed and purchased at lower costs than those in congested downtown areas. The further the facility is from an urban area, however, the higher the potential cost is to bring in power and network connections. For underground data centers that are quite remote, such as those in old bunkers and mines, the cost of installing fiber-optic and high-speed network connections could be high.
Downtown underground data centers do not face these challenges. After all, this class of facility is often situated near the existing information technology environments of customers and can easily run fiber connections to other network transit points in the city. This is also beneficial for disaster recovery scenarios, when travel to a data center further away can become virtually impossible.
In many major coastal U.S. cities like Miami, New York and Los Angeles, the downtown area is also home to the interface points, known as points of presence (PoPs), of many international carriers and internet providers. These PoPs are where high-speed network connections to international markets across the Atlantic and Pacific oceans are made.
The bottom line for data center developers is this: Whatever its location, a data center must also have the right balance of space, power and connectivity to attract and retain its customers.
Data centers with office space, like the one described below, can attract additional business beyond data storage. For small startups, colocation facilities are especially attractive, since they feature reliable backup power, cooling, security and disaster-proofing systems. As a startup continues to grow, it may eventually decide to keep its data at the facility while finding a new, bigger office elsewhere. By offering flexible, customizable office space, data center developers are future-proofing their own operations by attracting customers that are likely to grow within their property.
Large companies that prioritize business continuity are also likely to lease office space within data centers. Many facilities offer conference rooms and amenities like break rooms, cafeterias and showers that allow a tenant's staff to work in the building every day or during a disaster. From all aspects of business operations, data centers are an attractive investment opportunity for developers and tenants alike.
One Example: West 7 Center
In summer 2016, Rising Realty Partners bought The Garland Center, a 733,000-square-foot building in downtown Los Angeles that includes both data center and office space, for $210 million. Built in 1983 as an office and data center for First Interstate Bank, The Garland Center presented an opportunity for Rising to make additional investments in the building's critical systems and to promote the project as a premier alternative to the other data centers in Los Angeles. As big believers in the greater downtown Los Angeles market (see "PacMutual Campus: From Aging LA Landmark to Lifestyle Office," Development, Winter 2014) and in the nationwide resurgence of demand for data centers thanks to modern-day cloud computing, the firm's principals recognized that investing in a data center property made sense.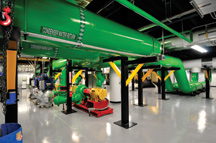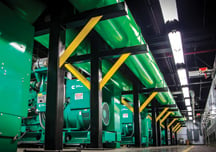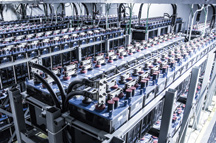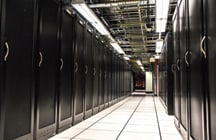 After buying the property, Rising Realty rebranded it as West 7 Center, a nod to the building's location at 1200 West Seventh Street in downtown Los Angeles. West 7 Center's long-term lease opportunities, 16 domestic and global telecommunications carriers, and data center service providers like Evocative, which offer facility space in several cities, all have made this building more attractive to both carriers and tenants. Essentially, Rising's vision for this building was to jump-start a thriving downtown data center area and begin to shape the future of cloud computing in the city and Southern California.
Specifically, Rising believes that West 7 Center serves as a gateway to the Asian telecom space, enabling Asia-Pacific carriers and service providers to establish a U.S. presence quickly. In addition to being the largest purpose-built data center in downtown Los Angeles, it is also just a few blocks from One Wilshire, which has been the primary transit center for internet traffic from the U.S. to Asia since the 1990s. By offering mission-critical infrastructure for the flow of data to and from the U.S., West 7 Center offers the redundancy and disaster-recovery systems necessary to support organizations focused on the Asia Pacific region.
For Rising Realty, West 7 Center's unique attributes spoke for themselves when the company was considering whether to invest in Los Angeles data center space. The city is already very connected from an internet standpoint. However, Los Angeles also needs to improve its infrastructure redundancy to enable safer, more reliable data management.
West 7 Center is the first Los Angeles building that was purpose-built as a Tier III data center. (The Uptime Institute classifies data centers as Tier I, II, III or IV based on their infrastructure capacity, system availability, redundancy and concurrent maintainability.) The Tier III classification denotes a highly reliable facility with redundant critical power and cooling components. No shutdowns are required for equipment replacement or maintenance, meaning the facility is designed to operate 24/7 without interruption.
As a secure, reliable facility with multiple options for connectivity, West 7 Center offers an ideal location for telecommunications companies, cloud providers, health care firms and other organizations that require reliable infrastructure to run their operations. With three levels (348,000 square feet) of underground data center space and nine floors (377,000 square feet) of above-ground office space, the facility meets the space requirements of organizations such as internet service providers, content providers, telecommunication providers and other enterprises to run their core data center, server farm and telecommunication operations.
West 7 Center also serves as a backup location to some of its customers' primary offices. Office tenants include a government agency that occupies 222,000 square feet on six floors, a health care company that occupies 103,000 square feet on three floors and a nutrition company that occupies 45,000 square feet on a single floor.
From a safety standpoint, underground data centers like West 7 Center offer a secure location for data storage, since there is less chance of physical breaches due to crime or weather incidents relative to their above-ground counterparts. They are automatically protected against the strong winds of hurricanes and tornadoes. While earthquakes can still pose a concern, proper structural reinforcements can make an underground data center the optimal choice, especially in a downtown environment where nearby older structures could collapse during a major earthquake. West 7 Center's structural design exceeds Southern California's seismic performance standards.
Supported by two central power plants with redundant backup power and cooling capacity, West 7 Center has enough fuel on hand at all times for its backup generators to support 120 hours of uninterrupted power at full load, in case of outages. The property also possesses one of just three commercial helicopter landing pads in the city, a definite bonus when it comes to emergency preparedness and disaster recovery for its data tenants. The helipad can provide emergency access in the event that the building is not accessible by other means.
Finally, West 7 Center features 24/7 on-site building engineering and security, along with more than 1,400 covered parking spots, ATM machines, a recently renovated 112-seat auditorium and a patio seating area.
Data Center Real Estate Into the Future
The continued expansion of tenants and carriers at West 7 Center is just one example of the possibilities that exist within the booming data center property market. For commercial real estate professionals who are up to speed on the unique needs of the information technology industry, the return on investment can be promising.
Recent statistics reinforce this viewpoint. In 2016, for example, the FTSE NAREIT Data Center Index provided returns of 33.17 percent over the first seven months. This figure was almost exactly that of the industrial real estate sector, which yielded returns of 33.18 percent. In 2017, data center REITs were once again among the top-performing sectors during the first half of the year, growing by 22 percent. Because so many industries – social media, banking, health care, government – generate and use vast amounts of information that resides on servers, demand for data center space remains high.
Anyone looking to purchase or invest in building and/or upgrading a data center property should consider several factors. As the West 7 Center model shows, modern enterprises seek reliable service from data centers in prime locations that offer strong security safeguards and can meet their connectivity needs now and into the future. A data center that has international reach and fast connection speeds will attract tenants looking to grow over time. The cost of potential network downtime, which Gartner estimates at $5,600 per minute, is also an important factor. Investing smartly in superior risk mitigation against natural disasters and cyberattacks is key to attracting and retaining data center tenants.
Rising selected the West 7 Center because of its potential, size and class-leading engineering, especially regarding the significant improvements that have been made to its cooling capabilities and energy efficiency. Tenant demand for the services and solutions offered by data centers will continue to accelerate across the U.S. and throughout the world. As a result, serious consideration of the benefits and costs of investing in data center properties is recommended.
Marc Gittleman is senior executive advisor, real estate technology, at Rising Realty Partners.