The largest speculative distribution center in southern Nevada is turning North Las Vegas into an e-commerce mecca.
IF SOMEONE HAD proclaimed just five years ago that North Las Vegas would become a clear contender for logistics and distribution center development, one might have thought they were confused because the recession had left the city on the verge of bankruptcy. Yet North Las Vegas has emerged as an e-commerce hotspot as a result of bold leadership from a pro-business mayor and city council as well as newly developed state-of-the-art e-commerce buildings, large blocks of distribution space and strong labor statistics. With a central location at the northern tip of the Las Vegas Valley, between Southern California, Arizona and Utah, North Las Vegas has quickly become an ideal and highly strategic location for fulfillment centers.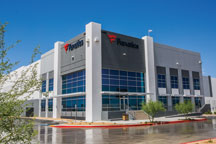 Developer VanTrust Real Estate LLC has been at the forefront of big-box development in North Las Vegas. In late 2014, after recognizing unusually high demand and historically low vacancies, the company started developing plans for Northgate Distribution Center on land it had previously purchased on the west side of Interstate 15 at the Lamb Boulevard exit. Just two years later the project would become the largest speculative industrial park in southern Nevada.
The company initially planned to build a 2.2 million-square-foot, seven-building park on 108 acres over five years. As tenant demand accelerated, exceeding projections, VanTrust purchased an additional 60 acres to accommodate an additional 1.3 million square feet of space. Building 3 was expanded to accommodate tenant requests; therefore the structures originally planned and numbered as Buildings 6 and 7 were eliminated. The 170-acre industrial park, featuring more than 3.4 million square feet of space, will be completed in less than three years.
The city of North Las Vegas supported VanTrust and Northgate from the start. According to North Las Vegas Mayor John Lee, "the city implemented efficient business, permitting and licensing processes, cut red tape, and created initiatives like the Self-certification Program to get projects like Northgate up and running quickly, which enables companies to save in carrying costs." (This program accelerates the traditional plan review process for eligible development projects.) In a December 2016 letter to VanTrust, Lee thanked the company for its leadership in making a speculative investment in the community.
"Northgate is creating new opportunities for some of North Las Vegas' brightest to put their experience to use, learn new skills and advance their careers," said Lee. "VanTrust is helping North Las Vegas diversify the Southern Nevada economy [by creating space for e-commerce tenants]. For too long, our region has been overly dependent on tourism, gaming and hospitality."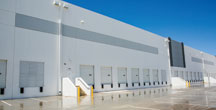 In August 2016, just four months after construction commenced on the first building, the park signed a 400,000-square-foot lease with its first nationally recognized e-commerce tenant, Fanatics, a global seller of official licensed sports merchandise. When the lease was announced, Lonnie Phillips, senior vice president of operations for Fanatics, said that as the company continued to grow, its strategic distribution system also needed to evolve. "We conducted a comprehensive search for the ideal location and we believed North Las Vegas was exactly the area we needed to be in to better serve our customers with faster delivery to the West Coast and Northwest."
According to Kevin J. Higgins, executive vice president of CBRE, the listing broker for Northgate, the increasing costs of labor and transportation in areas like California's Inland Empire, which leads the country in demand for distribution space, will continue to drive businesses to serve their regional bases from elsewhere, including places like Southern Nevada.
Shortly after the Fanatics lease was inked, two additional high-profile companies signed leases at Northgate. The Honest Company, a national consumer goods merchandiser, signed a lease for 575,000 square feet in September 2016. Shortly thereafter, Seattle-based e-commerce giant Amazon chose to occupy an 813,000-square-foot building as well as a second, 248,000-square-foot building at Northgate in November 2016. These lease sizes, particularly for speculative buildings, were unheard of in southern Nevada. "VanTrust is one of the earliest developers to build more than 400,000 square feet speculatively in town, and they certainly absorbed a large portion of the new wave of demand," says Higgins.
According to Keith Earnest, executive vice president of VanTrust, the company "anticipated large e-commerce users, but never envisioned the velocity of acceptance of this market by the best brands and companies in e-commerce."
Teamwork Matters
The JPMorgan Chase-financed project remains ahead of schedule. Construction of the final building at Northgate will begin in early 2018, two short years after construction commenced on the first building. According to Guy Martin, president of Martin-Harris Construction, Northgate's general contractor, critical factors in the development's rapid delivery include VanTrust's early engagement, a collaborative design and brokerage team, and the contractor's ability to pour its own concrete for the large tilt-panel buildings. "VanTrust exemplifies a hands-on owner that is all about building their projects as a team," said Martin. "We appreciate their attention to detail that manifests itself in one of the highest quality industrial projects we have ever built."
The rapid pace of construction and collaboration among the various team members enabled tenants to occupy and begin working within their spaces as early as September 2016, while building construction continued around them. The entire park is expected to support more than 4,500 new employees.
Overcoming Challenges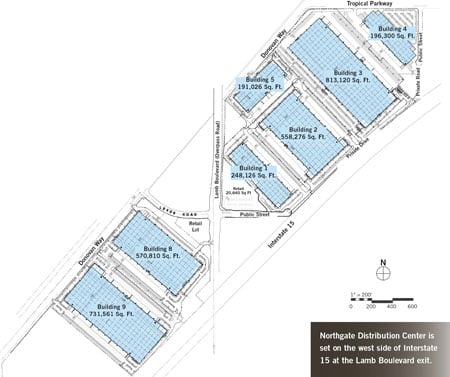 While the submarket's low vacancy rates, the demand for immediate space and the city's willingness to help created optimal development conditions, committing to and then achieving Northgate's leasing and delivery velocity required focused strategies. The land initially lacked necessary utilities and proper infrastructure, and those conditions, in part, "explain why this land was previously undeveloped," says Steve Backman, vice president of development at VanTrust. "Without the full cooperation of utility companies, we didn't have a chance. They were quick to realize their key role in bringing these large employers to town."
The site was not served by water, sewer, electricity or gas. The situation was further complicated by physical boundaries created by the existence of I-15 to the south and Union Pacific Railroad to the north. VanTrust invested enormous amounts of time and capital early on to ensure that when construction commenced in the fourth quarter of 2015, off-site improvements were the first to be completed.
"We had to be very creative in our ability to ensure delivery of all public improvements on a timeline that would meet tenant expectations," says Backman. "The challenges that our team had to overcome in the delivery of the utilities for this project, along with the permitting and negotiating with various agencies, is where the real magic occurred."
VanTrust worked closely with various reviewing agencies from the start to ensure that the infrastructure would be delivered according to tenants' extremely optimistic occupancy schedules. VanTrust expedited deliveries by having weekly meetings with each agency, creating milestone timelines to track progress and expending capital when needed to keep progress moving. When utility providers were not able to meet deadlines, for example, VanTrust and Martin-Harris Construction worked hand-in-hand with them
to assist with additional crews so portions of the work could occur more quickly.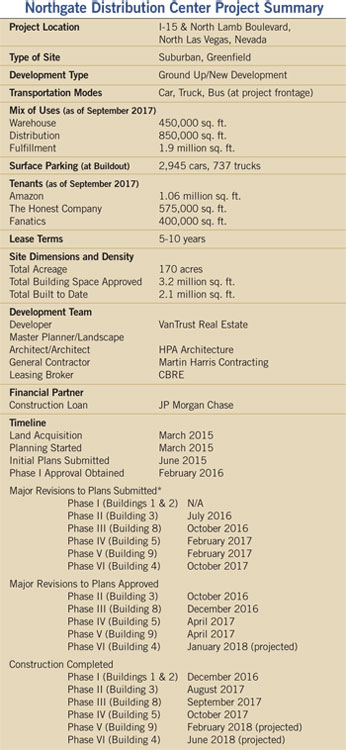 State-of-the-art building features include 36-foot clear height ceilings, accommodation of increased electrical loads, large parking and trailer storage areas, and plenty of building volume to optimize rack space. "All of these features are key to accommodating the needs of e-commerce users in today's evolving industrial market," says Earnest.
Flexible building designs enable the structures to meet changing tenant needs. Exterior dock locations, for example, are flexible enough to accommodate any tenant's product. Large parking areas will accommodate e-commerce tenants' large numbers of employees, but can easily be converted to truck storage, dock areas or even office space for current or future users.
According to Earnest, the majority of the buildings are typical cross-dock industrial products, but VanTrust included knock-out panels in the tilt-panel designs for additional docks in the future, added at-grade docks to allow for drive-in delivery and located the offices at corners to allow for the maximum number of docks on each building.
Fanatics moved into Building 2 in June 2017, while The Honest Company occupied Building 8 in July and Amazon moved into Buildings 1 and 3 in August.
Looking Ahead
Northgate Distribution Center will be completely built out in early 2018. As of late September 2017, the park was 95 percent leased; VanTrust is actively working to fully lease the remainder of the project. With strong interest from e-commerce and other industrial users
in North Las Vegas, VanTrust will pursue additional industrial development in the area, but Northgate will always be viewed as a trailblazer for speculative industrial development in southern Nevada.
Taylor Cole is a commercial real estate writer with Small Giants LLC