Why do some mixed-use developments get the mixture so right, while others struggle?
ACHIEVING HARMONY within a mixed-use project designed for distinctively different and often conflicting user groups is never a simple proposition. One reason for this challenge is that large-scale mixed-use development (MXD) is relatively new. Unlike classic Main Street and downtown mixed-use environments that grew over time, today's MXDs typically require everything to come together at once. Tenants, buyers, customers and the host community each expect a level of compatibility that will ensure an instantly successful mixed-use experience.
While every MXD presents unique challenges, designers have learned that an early and concentrated focus in four important areas can set the foundation for long-term success.
Define Demographics
A valuable first step is to understand the demographic characteristics of your prospective residential and commercial users early on. A clear customer and tenant profile provides the foundation for resolving a series of potential conflicts before they arise. Knowing who a project is being designed for and why is critical to determining what will be designed.
For Boylston Properties' and The Wilder Companies' new Arsenal Yards in Watertown, Massachusetts, for example, facilitated focus groups and a dedicated website were used from the beginning of the planning process to answer a wide range of questions. Who would like to live there: empty nesters, millennials, families? What types of shops would they like to find in this neighborhood? What kinds of public spaces and amenities would they love to have?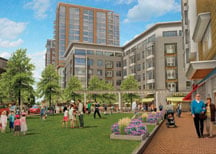 Findings showed a demographic weighted toward young working professionals traveling to the site by car. The most attractive mix of uses for this group was determined to be a true "live, work, play" environment that retained the site's original focus on retail and restaurants while adding a movie theater, office space and pedestrian environments as well as a significant number of housing units needed by the community.
For DJ Properties' Washington Village, a new MXD in South Boston, the developer needed to appeal to a broader demographic, in order to ensure that current neighborhood residents – who initially were concerned about the impact of this large-scale project – felt welcomed. The development team solicited feedback on the proposed program through a survey and numerous meetings with neighborhood residents and those whose homes and businesses directly abutted the site, so that the development would reflect, enhance and contribute to the existing community.
Housing was determined to be the driving force for this urban neighborhood. Located adjacent to a rapidly developing "luxury focused" neighborhood with few options for middle-income residents and first-time homebuyers, Washington Village will become a six-block neighborhood with 656 new rental and condo units as well as 98,600 square feet of supporting retail space, including an on-site grocery.
Have a Clear Brand Strategy
Without a clear and engaging brand, MXDs struggle to stand out from the competition. Delaying the branding and identity process means a missed opportunity to engage the community, customers, tenants and even permitting agencies. The goal is to provide a clear identity early, so that people can easily understand and connect with the developer's vision.
Depending on the target buyer, tenant or customer, it may be beneficial to consider a distinct brand for the housing component, for example, and a separate brand for the office or retail component. Suburban developments may be better served by an overall brand for the entire site, while urban brands are often better seen as a collection of buildings that improve or reaffirm the existing community. Design can support the brand strategy with distinctive buildings, open spaces and amenities that help create community while easing or mitigating conflicts between uses.
Washington Village found its branding by looking to the rich history of the area. Reinstituting a name from the neighborhood's past, when General George Washington and his troops drove British Redcoats out of Boston, established the new development as an affirmation of past glory and an extension of an existing and vibrant community. This identity appeals to both current and prospective residents, acknowledging and honoring the past and all who have contributed to the development of this community.
Formerly known as the Arsenal Mall, Arsenal Yards is being revitalized with an overall branding related to the juxtaposition of Watertown's industrial past with the modern world. Within the 1.3 million-square-foot MXD, each residential building, retailer and the hotel will have its own "voice." The challenge is to prioritize brand visibility to satisfy the sensibilities and needs of disparate tenants, from retailers who require high visibility at ground level to residents who need to feel that they are being welcomed to a home, not a retail storefront.
Craft a Balanced Mix
Think of the mix in a strategic way. The right mix, tailored to a specific site and neighborhood, will create vibrant spaces and places that will appeal to the users, customers, and tenants you want to attract.
Arsenal Yards' mix of primarily residential and retail uses, with some office space and a hotel, is appropriate for its defined demographic. A new pedestrian "River Green" will make connections to the park and the Charles River. A courtyard with seating and gathering spaces will host food vendors, outdoor markets and other events, which in turn will help knit this new community together. Washington Village will be predominantly residential, which is entirely appropriate for a neighborhood lacking mid-range housing options and basic amenities such as a grocery, pharmacy or dry cleaning. Site work is currently underway, permits have been issued and construction documents prepared for several buildings, and construction is expected to begin in spring 2018.
Create a Sense of Place
Your initial "wish list" must be tested within the constraints of the site dem-ographics and context. The collaborative master-planning process will be iterative, not linear, with adjustments made in density, height and overall mix, accommodating both vehicular and pedestrian access as well as permitting requirements. The goal must be to go beyond a simple pro forma, building rapport with the community and crafting a mix of uses, spaces and sensations that will engender a strong and lasting sense of place.
In the Long Run
Upfront thoughtful design and planning are critical, and always pay off in the long run. Washington Village's master plan is the product of more than five years of collaboration, listening and discussion with the neighborhood. This collaboration allowed all constituents to take ownership in the new development, making them part of the process. The strong community relationships that resulted from the developer's outreach, active listening and trust-building led to an extraordinarily quick 18-month approvals process with unanimous support from neighbors, local elected officials and the building trades. In a neighborhood of three-story buildings, the team gained unanimous approval for three buildings over 16 stories because they engaged the community and incorporated its wish list. Site work is underway; construction is expected to begin in October 2017 and completion of Phase 1 is scheduled for mid-2020.
According to management consultant Peter Drucker, "Efficiency is doing things right. Effectiveness is doing the right things." In mixed-use planning and design, succeeding with the people who will live, work, dine, shop and visit springs from knowing who they are, generating a thoughtful brand approach and then creating the right mix of "things" – the "great places" – that will convince them to come back again and again.