At their annual gathering, research directors considered retail, office, technology, data and investment trends.
THE NAIOP RESEARCH Foundation hosted its annual meeting of research directors from national real estate brokerage, data and investment firms on Sept. 14, 2017, to discuss industry trends and share insights for the coming year.
"The Death of Retail": Myths and Facts
Guest speaker Mark Mathews, vice president for research development and industry analysis at the National Retail Federation, began the discussion by exploring the myths surrounding the media's widespread declaration that "retail is dead." He emphasized that the retail industry is evolving rather than declining. One of the most prevalent misconceptions, according to Mathews, is that if brick-and-mortar stores are closing, then retail jobs must be disappearing at an alarming rate. "Retail employment is higher now than it was before the recession," he reiterated, adding that the confusion results, in part, from the way employment data are collected. The North American Industry Classification System (NAICS) classifies employees based on the physical location in which they work, not by the company that employs them.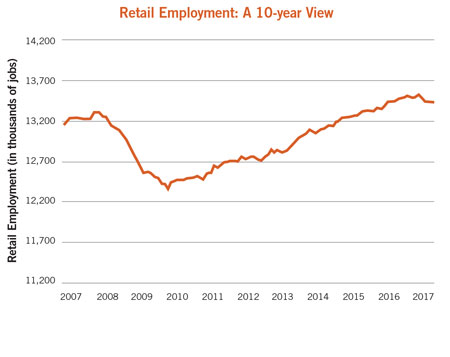 E-commerce fulfillment centers, retail company headquarters, call centers and factories are not considered places that house retail jobs. Yet these are, in fact, the locations that have the highest-growing number of retail-related jobs. Jim Costello, senior vice president at Real Capital Analytics, surmised, "This shift [in retail workplaces] may not be a sign of an Armageddon for retailers, but may be an Armageddon for retail space." To this point, Dean Violagis, vice president of research at CoStar Group, Inc., mentioned the emerging trend of repurposing declining shopping malls into other uses such as schools and call centers.
Mathews went on to say e-commerce is not "killing" traditional retail, but rather is forcing it to adapt. E-commerce companies have easier access to investment capital than brick-and-mortar retailers and therefore can innovate more freely. Mathews added, "It is incumbent on traditional retailers to connect their brand to the consumer," and to create memorable experiences. Many shoppers no longer browse in traditional retail stores but visit them to do what they cannot do online: interact with and touch specific products. Mathews and the group agreed that e-commerce has already penetrated most of the traditional retail market and predicted that the next frontiers will be groceries and automobiles.
Office Densification
Attendees were asked if densification of the office environment has reached a tipping point. After a lively discussion, the consensus among participants was that, on the whole, office densification is either approaching or has already reached a tipping point, as most larger office space users have already downsized and the smaller ones that have yet to do so are not expected to "move the market."
Sarah Dreyer, director of research, Washington, D.C. region, for Savills Studley, believes that office densification will vary by industry. Tech firms, for example, might continue to shrink their office footprints, but other industries will continue to experiment with the amount of space they need. Elizabeth Norton, managing research director for Transwestern's mid-Atlantic region, noted that many larger firms have already restructured, but when one considers that average lease sizes range between 8,000 and 10,000 square feet, she believes it may not be possible for smaller firms to contract further, given that they are starting from such a low basis.
Another participant noted, however, that there may still be some room for contraction among public sector tenants. "Current federal government offices are still relatively large, but new leases are smaller by 15 to 20 percent," said Revathi Greenwood, Americas Head of Research at Cushman & Wakefield. "There is still room for densification within the federal sector and with some Washington, D.C., law firms as they move their libraries online."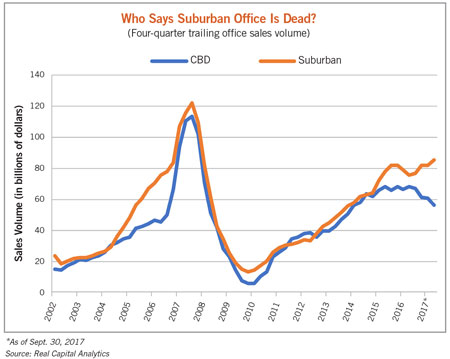 Costello and John Chang, first vice president of research at Marcus & Millichap, believe that going forward, continued contraction among office space users is unlikely. They noted that for some employers building out new space, individual workstations are smaller but collaborative spaces are larger, resulting in no overall loss or gain of square footage as new leases are executed.
Participants also noted that densification can lead to decreased productivity and stretch the limits of building systems, including HVAC and restrooms. Numerous landlords are now facing these challenges. "I think there's still some room in the marketplace to densify, but at what cost?" asked Ray Wong, vice president at Altus Group in Toronto. "Productivity and densification need to balance. Densification for [the sake of] densification doesn't make sense."
The densification of the workplace has, in some cases, led companies to engage with coworking companies such as WeWork. Employers sometimes use coworking space to house temporary employees such as summer interns or as satellite offices to attract employees who are unable to work at the company headquarters. Chang commented on not only the rapid growth of companies like WeWork, but also the dramatic changes in shared working space that have taken place in the recent past. Coworking space is now, "designed for socialization and collaboration; … gone are the days of it being simply a place to plug in your laptop." Previous arrangements provided one desk per worker, but the new model encourages more users in a flexible environment and is, therefore, more cost effective.
Several attendees observed a burgeoning relationship between commercial brokers and WeWork. Although many brokers were initially wary of WeWork, the growth of coworking has encouraged some to try out WeWork locations to get a feel for how those spaces may fit clients' needs. Brokers are beginning to see the advantage of the WeWork model for emerging companies and startups. According to Robert Hartley, director of research for the Washington, D.C., metro area at Colliers International, "Coworking space has provided a tremendous opportunity for tenants to establish their brand and their model for sustainable success before making the move to more traditional office space." Brokers can continue to help these companies find new space as they grow.
Another consequence of the changing nature of office space is the emerging trend of repurposing building common space as an amenity. Margarita Foster, NAIOP's vice president for knowledge and research, presented a preview of the Foundation's recent report, "Activating Office Building Common Spaces for Competitive Advantage" (naiop.org/common-spaces), which describes how landlords have taken inspiration from the sharing economy by converting underutilized parts of office buildings into shared spaces that foster health, community and collaboration. Making outdoor spaces more usable with high-speed Wi-Fi, offering exercise classes, hosting food trucks and providing comfortable lounge areas are just a few examples of how landlords have been investing in more lively common spaces. Landlords surveyed for the report indicated that they must do this to remain competitive, and that these amenities improve leasing velocity and, in some cases, rental rates.
Big Data
The research directors were asked how they are managing, sharing and integrating data within their firms. The consensus was that they are currently integrating data at the local level but not enterprisewide, because of the complexity of this type of endeavor. Multiple siloed data sets and platforms will need to be merged in order to expand this effort. Integration is further complicated by privacy issues and the industry's reluctance to make widespread changes. When employees realize tangible benefits, however, they quickly embrace change. For example, when one firm mandated the use of asset management software (developed by High-tower and VTS, which merged in late 2016), the resulting efficiencies were immediate. Users clearly preferred the new technology.
Among the data integration challenges identified by the group were the time and expense of both training employees on new platforms and establishing a foundational system that can accommodate broad sets of data from different platforms. Participants, many of whom are just beginning the process, estimated that it will take three to four years to implement their data integration plans. They noted that when formulating these plans, firms must consider cost implications, what elements are better outsourced, warehousing, the quality of external data, the value of older data and security issues.
Autonomous Vehicles
Despite the enthusiasm for autonomous vehicles (AVs), some participants believe they will not have a large impact on the built environment in the immediate future. Although they recognize their potential for ride-sharing, reduced parking and deliveries, AVs might not directly affect real estate in the foreseeable future. Because of local, state and federal regulations, it will take decades for AVs to be fully implemented. Driverless trucks, for example, are more of a near-future possibility, although they also bring safety and regulatory concerns. (See "Six Innovative Concepts for Moving Freight" on page 48.)
2017 Market Overview
During his market overview presentation, Costello reported that the industrial sector is leading sales growth and suburban office investment is up. He added that the industrial sector is the only product type not posting declining investment sales volume in 2017. Industrial growth on the portfolio level, in Costello's opinion, is resulting from the expansion of the e-commerce and logistics sectors.
Conservative lending practices have hampered retail sector transactions, and sales volume is down in the office sector as well, mostly because REITs have been retaining or repurposing their properties rather than selling. Costello noted that suburban office space is, "tracking higher than CBD" because of higher yields. Overall, the decrease in investment sales seems to be a restriction on supply, as owners hold on to their properties, and not necessarily a sign of an impending economic correction.
Participants:
Aaron L. Ahlburn
Senior Vice President and
Managing Director, Industrial &
Logistics Research
JLL
El Segundo, California
John Chang
First Vice President, Research
Services
Marcus & Millichap
Phoenix, Arizona
Jim Costello
Senior Vice President
Real Capital Analytics
New York, New York
Sarah Dreyer
Director of Research, Washington, D.C., Region
Savills Studley
Washington, D.C.
Revathi Greenwood
Americas Head of Research
Cushman & Wakefield
Washington, D.C.
Robert Hartley
Director of Research, Washington, D.C., Metro Area
Colliers International
Vienna, Virginia
Mark Mathews
Vice President, Research
Development and Industry Analysis
National Retail Federation
Washington, D.C.
Frank Nitschke
Executive Director, Investment Research
PGIM Real Estate
Madison, New Jersey
Elizabeth Norton
Managing Research Director,
Mid-Atlantic Region
Transwestern
Washington, D.C.
Carlos Ortea
Assistant Vice President, Research
Bentall Kennedy
Boston, Massachusetts
Dean Violagis
Vice President of Research
CoStar Group
Washington, D.C.
Raymond Wong
Vice President, Data Solutions
Altus Group Limited
Toronto, Ontario, Canada