Labor and materials concerns loom large.
COMMERCIAL REAL estate developers and property owners who have enjoyed a long rest from worries about major price escalations for construction, repairs or maintenance may soon be awakened with a jolt. A tight market for skilled labor across a variety of trades, combined with strong demand for numerous materials, could soon send costs rising at the fastest clip in several years.
The annual rate of increase in the price for new nonresidential building construction jumped from a nearly flat 0.4 percent in 2016 to 3.5 percent in the 12 months ending in September 2017, according to the Bureau of Labor Statistics. BLS calculates this price through a two-step process. First, the agency gets information from a materials price-tracking service regarding the cost of the components needed for a specific type of building, including all of the materials and structural elements needed for the building itself, plus the cost of items used by contractors, such as diesel fuel. Next, a set of contractors is asked each month to estimate what they would charge to construct those particular buildings. By basing the price on a fixed set of actual buildings and a fixed group of contractors, BLS achieves a degree of consistency and rigor unmatched by most indexes.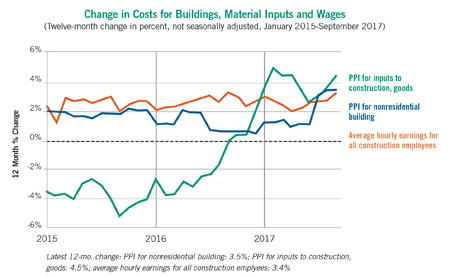 The indexes cover the price that contractors say they would charge to produce five building types, all of which have experienced significant price escalation from September 2016 to September 2017. Industrial buildings are up 4.5 percent, warehouse buildings 4.1 percent, school buildings 3.8 percent, office buildings 3.2 percent, and health care buildings 2.7 percent. In addition, BLS posts indexes for a mix of new, repair and maintenance work on nonresidential buildings by four types of subcontractors. These labor indexes also are generally rising faster now than in recent years. The index for concrete contractors rose 3.9 percent in the 12 months ending in September 2017, electrical contractors 3.4 percent, plumbing contractors 3.3 percent and roofing contractors 2.7 percent.
The price increases reflect, in part, a pass-through of higher materials costs. In the 12 months through September, the price index for gypsum products, such as wallboard, climbed 8.0 percent. The cost of steel mill products rose 7.8 percent, while lumber and plywood prices went up 6.8 percent. The biggest leaps of all were in the producer price index for diesel fuel and copper and brass mill shapes, both of which soared 28 percent.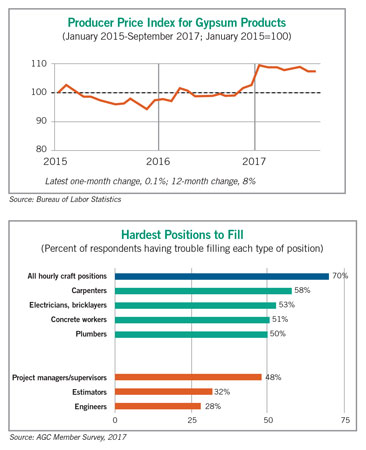 These increases, which were calculated from prices as of mid-September, may reflect the temporary supply disruption caused by port and refinery shutdowns around Houston during and just after Hurricane Harvey. Fortunately, none of the 2017 hurricanes caused lasting damage to any key production facilities for materials used in construction. While there will be a bump in demand for products used to protect, stabilize and repair the thousands of structures damaged in those storms, supply chains are more robust than they were following the hurricanes of 2004 and 2005. As a result, few projects outside of the hurricane-impacted areas are likely to experience delays or price spikes.
A bigger concern for anyone considering either new construction or repairs and maintenance is the scarcity of skilled workers. The Associated General Contractors of America's latest annual workforce survey, released on August 29, 2017, found that 70 percent of the 1,608 respondents reported difficulty in filling hourly craft worker positions. The shortages occurred among a wide variety of trades. The hardest slots to fill were for carpenters, with 58 percent of companies that employ them reporting difficulty. Next came electricians and bricklayers, both reported by 53 percent of firms that employ those trades; concrete workers 51 percent; and plumbers 50 percent. Among salaried workers, project managers and supervisors were the hardest to find, with 48 percent of respondents reporting difficulty filling those positions.
The scarcity of workers appears to be worsening. BLS reported in early October that construction industry job openings at the end of August were the highest August total since the series began in 2000, while the number of unemployed former construction workers was at the lowest ever for August. Consequently, firms will be paying more to attract and retain experienced workers, more for overtime when they can't fill a slot, and more for recruitment and training to find and develop new workers. These costs may not show up in direct compensation costs; BLS's measure of average hourly earnings for the construction industry has shown fairly steady increases of 3 percent per year or less. But developers and property owners will feel the effects.