Flagship stores enable retailers to create a physical embodiment of a brand through design and spectacle — and to experiment with new concepts and technologies.
AS VISITORS stroll down New York's Fifth Avenue or Chicago's Magnificent Mile, they are acutely aware of the big bright stores and lavish window displays that tempt them to enter. When a visitor does enter one of these retail flagships, she'll likely encounter a very different experience than the one she has when she shops at that same store in her mall back home. In fact, shopping in a flagship is a special occasion for most customers, and they often spend more money because of that specialness.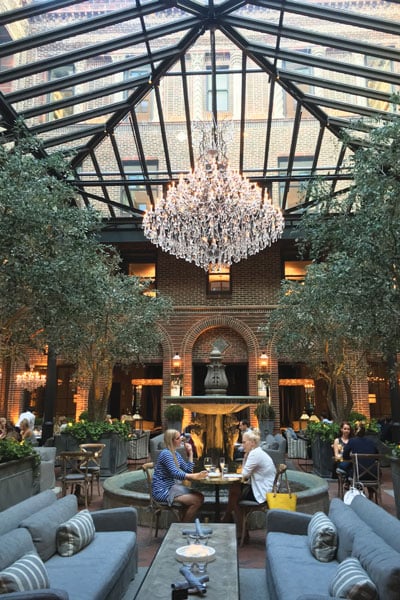 Flagship stores set an example for the other smaller stores in a chain. Flagships are typically located in prime urban retail corridors and are generally larger in size than the average fleet store. They serve as a showcase for new technology, original artwork, remarkable architecture and dramatic interior design. They often carry exclusive merchandise and offer specialty services. Above all, these stores are an occasion to create a physical embodiment of a brand's story through design and spectacle.
Are there differences in how various categories of retailers choose to make their flagships unique? To answer that question, JLL collected and analyzed features of 145 flagship stores across four U.S. markets: New York, Los Angeles, Chicago and San Francisco. Researchers found that flagships employ special features meant to entice and engage the target demographic of the retailer in question.
An Aura of Exclusivity
For luxury brands, this means that shoppers are drawn in with the aura of exclusivity. In fact, the flagship store itself is a tool most popularly used by luxury brands. Forty percent of the flagships in the four markets JLL studied were in the luxury and "luxury lite" categories. Luxury retailers want their flagships to be more than a store; they want them to be places where shoppers relax and play. They offer in-store restaurants, cafes or coffee bars and VIP rooms with personalized service.
Ralph Lauren, for example, debuted its restaurant concept at its flagship on Michigan Avenue in Chicago, where the brand comes to life through a four-star dining experience, surrounded by artwork from the designer's private collection. In New York, where one finds more than half of the luxury flagships in the JLL study, many designer stores cater to wealthy shoppers with invitation-only VIP suites, private fitting rooms, lounges and salons. When German luxury brand MCM opened its SoHo flagship in 2015 showcasing industrial designs and an art installation, designers topped it off with a VIP lounge for key clients.
Middle-priced retailers often lure shoppers to their flagships with a variety of interactive features and unique experiences, including new technology. Lower-priced retailers attract the masses with a variety of interactive features and unique experiences. They use their flagship spaces to engage customers with new technology and a wider selection of merchandise.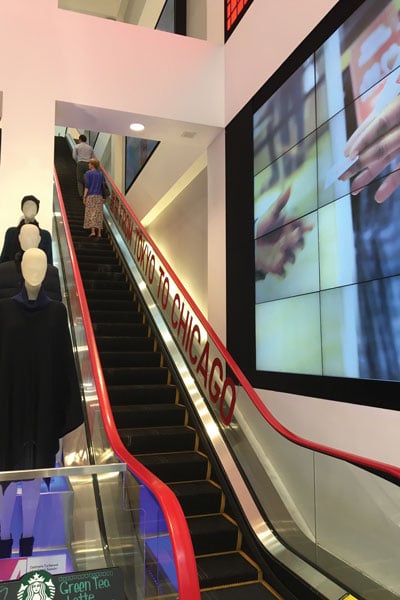 Flagships allow retailers to experiment with merchandise, store layouts and new technology that may someday be rolled out to their full fleet. The Sunglass Hut on Fifth Avenue, for example, features an interactive display called "Social Sun," which allows customers to take and share photos of themselves in the latest sunglasses. Technology can also be used for more practical purposes. At Zara's Los Angeles location, LED screens in each section display brand information.
Flagship Stores Defined
Shoppers might only know flagships as "big stores," but more than size distinguishes these shopping destinations. A flagship retail store is a leader in its fleet. Flagships can be larger, in a highly prominent location and/or carry exclusive merchandise. Typical features include the following:
Massive stores impress the shopper with their sheer size. They also provide the space needed to extend the merchandise mix beyond the range of an average store and allow room for those unique extras that make flagships special. Sizewise, most flagships just plain dominate.
Traces of a brand's history often can be found throughout a flagship location. Paying homage to the past invites guests into the retailer's culture. Whether through museumlike displays detailing elements of the brand's origins or the presence of an iconic piece of merchandise on which the brand prides itself, the flagship space is a canvas where a retailer can display its heritage.
One-of-a-kind artwork can serve as an added attraction for a store. It also lends an air of authenticity and extravagance. Artwork is most typically found in luxury apparel flagships.
New retail technology, especially tech that would be too expensive to put in every store, is often tested in flagships. Electronics are sometimes used to amuse and entertain, but they can also inform and educate.
Historic landmark locations, like Macy's in Herald Square, often distinguish flagships. Some newer retailers have located their flagships within historic buildings, while others have used dramatic architecture to turn their stores into must-see destinations.
VIP spaces like lounges and private fitting rooms are amenities that luxury brands use to woo their best shoppers. For other retailers, community and event spaces attract media and shopper attention.
James Cook, director of research, retail, JLL