Transportation infrastructure can have dramatic effects on the value of commercial real estate.
TRANSPORTATION infrastructure entails a vast number of systems and facilities that people interact with daily but rarely think about. This infrastructure takes people to work, school and play; it conveys freight across the country and around the world. Therefore, it's no surprise that the presence — or absence — of suitable infrastructure can have a dramatic effect on the value of the commercial real estate that surrounds it.
Transportation infrastructure projects run the gamut from reworked expressway interchanges and expanded commuter and light rail lines to new freight rail spurs and airport runways. While their primary goal may be to improve the movement of people and/or goods, these investments have one other thing in common: they are expected to lead to rent growth and increased occupancy in their respective markets.
The Current State of Affairs
U.S. infrastructure has long been underfunded and underdeveloped, as evidenced by a high-profile bridge collapse, transit system shutdowns and congested highways. The American Society of Civil Engineers estimates that the nation would need to spend $3.6 trillion by 2020 to bring the country's infrastructure back to a level described as adequate. (See "Innovative Financing for Roads and Highways.")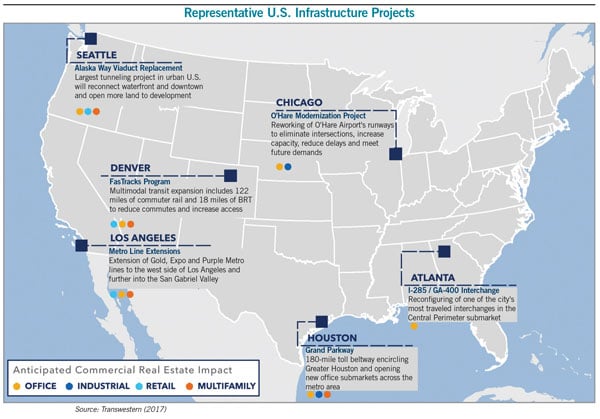 The deficient state of the nation's infrastructure has an economic cost, too. U.S. drivers spend 5.5 billion hours in traffic each year, which equates to a cost of $120 billion when measured in lost time and extra fuel consumption. This means the average American is shelling out $700 to $1,000 annually for excess fuel and wear and tear on vehicles. Shipping delays cost American businesses an extra $27 billion annually. Compounding the problem is the environmental cost of increased fuel use and air pollution.
On the bright side, the economic benefits of infrastructure investments are tremendous. The Economic Policy Institute estimates that if the U.S. would invest an additional $18 billion annually, this would result in a $29 billion increase in GDP and add $11 billion to the U.S. economy. It would also add more than 200,000 jobs, meaning infrastructure spending could be one of the nation's job engines over the next decade.
Cities face a receptive audience for infrastructure improvements. A recent poll found that 80 to 90 percent of those surveyed want the government to fund additional infrastructure projects. And low interest rates mean it has never been cheaper for cities to borrow money for this purpose.
Upcoming Improvements
A number of cities have already embarked on projects that will reshape large parts of their metropolises, as these half-dozen notable examples from around the country illustrate:
Atlanta's Interstate 285/Georgia State Route 400 Interchange in the Central Perimeter submarket is one of the city's most traveled — and most congested. A significant reconfiguration is expected to be complete by 2020 at a cost of $1.1 billion, paid for by the Federal Highway Administration. The area surrounding the interchange is dominated by Class A office buildings that house several Fortune 500 firms, as well as a large medical office and hospital district.
As part of the redesign of collector/distributor lanes, a number of Class B and C office buildings likely will be demolished. Highway access for the properties that remain will be improved or downgraded. Rental rates for remaining buildings are expected to rise as the market grows more constrained, although rates for buildings with decreased highway access may fall.
Chicago's O'Hare Airport Modernization Project is aimed at reworking the airport's runways to eliminate intersections, increase capacity, reduce delays and meet future demand. The project is being funded by the U.S. Department of Transportation, the Federal Aviation Administration and the city of Chicago. The impetus for this modernization was major delays caused by the existing cross-runway design. Completion is forecasted for 2021.
This modernization will help keep Chicago competitive in the global marketplace, since it will reduce wait times for business, industrial and leisure travel.
Denver's FasTracks Program is a multi-billion dollar, comprehensive transit expansion plan to build 122 miles of new commuter rail and light rail lines, 18 miles of bus rapid transit lanes and 21,000 new parking spaces at light rail and bus stations. It is expected to enhance bus service for easy, convenient bus/rail connections across the eight-county district.
The program will be implemented in phases through 2044. Since 2008, over 8 million square feet of office and multifamily projects have been developed within a five-minute walk of the light rail system, and an additional 6 million square feet is currently under construction, boosting office, retail and multifamily development activity in the region.
Houston's Grand Parkway, a 180-mile beltway encircling Greater Houston, was supported through toll revenue and the American Recovery & Reinvestment Act of 2009. The initial phase opened in 1994; additions were completed in 2008, 2013 and 2016, with full completion slated for 2021.
The expanded highway is helping suburban commuters get around the metro area and easing congestion on other roadways. It links two growing office destinations: the Energy Corridor submarket on the west side of Houston with The Woodlands in the north.
The Los Angeles County Metropolitan Transportation Authority, which operates the city's public transit system, is extending its Gold, Expo and Purple Metro lines to the west side of Los Angeles and farther into the San Gabriel Valley. These extensions will help shape real estate development patterns for years to come, and are already causing rents at multifamily properties near stations to rise faster than those at properties farther from stations.
Since 1990, Greater Los Angeles has laid nearly 100 miles of heavy and light rail lines across the region. The city's development pattern is shifting from one dense urban center to more urban nodes clustered near train stations with office, retail and multifamily space nearby. Commercial real estate within walking distance of transit will likely see rental rates and occupancy rise faster than projects farther away from transit.
Seattle's Alaska Way Viaduct Replacement Tunnel will replace an aging highway and reconnect the waterfront to Seattle's downtown by 2019. Since 1953, these areas have been divided by the unattractive double-deck Alaskan Way Viaduct, which was badly damaged in the 2001 Nisqually earthquake. This is the largest tunneling project in a U.S. urban area since the Big Dig in Boston, thanks to funding from the city of Seattle and the Washington State Department of Transportation.
Although most of the land being reclaimed will go toward public uses, improvements to the area will also result in a boon for the commercial market. Increased amenities and improved views will push rents higher in spaces overlooking the area where the viaduct is being removed, while demand can be expected to rise among prospective office, retail and multifamily users who want to be closer to the new park space and renovated waterfront.
A Bright Future Ahead
Amid an environment in which American infrastructure has been dramatically neglected or ignored, it is encouraging to see cities take steps to remain viable and competitive. These six projects and others like them will have dramatic effects on the commercial real estate in their respective markets. Each will help its city maintain a vibrant economy.
Brian Landes, GIS analyst, Transwestern