RIDC, a nonprofit developer in Pittsburgh, has converted a long-vacant factory building in a now-hip neighborhood into an industrial robotics facility.
SINCE 1955, Regional Industrial Development Corporation (RIDC) has been helping the city of Pittsburgh and surrounding southwestern Pennsylvania move its economy forward. In recent years, this has meant shifting from old heavy manufacturing to 21st century technology-based industries.
RIDC is a private nonprofit economic development organization whose mission is to support and stimulate manufacturing and technology jobs and improve the tax base of the region through its real estate holdings and activities, which include land development, build to suit services, and financial assistance. Because of its nonprofit status, RIDC can take on projects that might not be immediately profitable, but provide great benefit to the community.
RIDC is self-funding; its real estate portfolio generates the revenue it needs to support its development activities. The corporation currently owns and leases 7 million square feet of industrial and office space throughout 11 counties. Over time, the organization has developed office and industrial parks totaling 9,000 acres. In more recent years, much of its activity has involved urban brownfield redevelopment. RIDC's efforts have added $3 billion to the regional economy.
To successfully move into new economies, Don Smith, president of RIDC points out that "it is important to be embedded with companies to know where the technology is headed and to understand real risks as opposed to perceived risks." The risks for these unique startups may be different and longer-term than those experienced by more traditional businesses. For example, it can take years before the technology advances enough to even be marketable, let alone profitable.
From Heavy Manufacturing to High Tech
For about 100 years, Pittsburgh's identity was its steel mills. They lined its riverfronts, belching black smoke and producing much of the nation's steel. Today, having gone through several reinventions, Pittsburgh is better known for its "eds and meds" economy supported by the city's noted universities and medical centers. One important niche of this new economy is the robotics industry. Pittsburgh-based Carnegie Mellon University (CMU) is a leader in the field of robotics, bringing talent from around the world to the city and nurturing numerous startup companies.
The Lawrenceville neighborhood was a working class enclave that had fallen into decline with the demise of the steel industry. Lawrenceville's first sign of recovery came in the early 2000s, when its retail strip along Butler Street was reborn as an arts district with galleries, design shops and a lively dining and nightlife scene.
The next wave began in 2009, when Children's Hospital relocated to the 10-acre former St. Francis Hospital site and built a 1.5 million- square-foot medical complex. The hospital's medical and research staff settled into the neighborhood, spurring a revitalization of the housing stock. Today, Lawrenceville blends high-tech businesses with a trendy retail strip. It also contains a variety of urban housing types at a wide range of prices, and is considered "the city's hottest, hippest neighborhood," according to Smith.
Another pivotal event was CMU's establishment in 2009 of the National Robotics Engineering Center (NREC), now the world's largest robotics research and development organization. The center has drawn about a half-dozen robotics start-ups to the neighborhood, including Carnegie Robotics LLC. Founded in 2010, Carnegie Robotics develops components for industrial robots for mining, farming and military uses. The company now designs, manufactures and tests its products at its Lawrenceville facility.
The Heppenstall Building and Site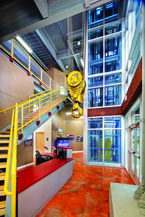 RIDC purchased the 12.5-acre Heppenstall site in 2002. The site was originally home to the Heppenstall Steel complex, which included a steel mill and other factory buildings. RIDC demolished most of the structures, but the building that had once housed the Heppenstall Forge and Knife factory was deemed usable and was preserved. RIDC completed the necessary environmental remediation and installed underground infrastructure, including new water and sewer lines, to bring the remaining site to pad-ready condition.
RIDC has been working for more than a decade to help stimulate the local robotics industry and recognized that most of the firms spinning off from the NREC wanted to locate nearby. One such firm was Carnegie Robotics, with which RIDC had already built a relationship. By the time the company was ready to lease its own space, RIDC understood its needs and saw the firm as a good match for the Heppenstall Building, which had been largely vacant for 30 years.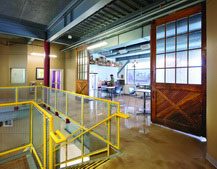 Robotics companies typically require "tinker space" that is not well defined in the traditional real estate market. Carnegie Robotics needed a mixture of high-bay maker space, high-quality office space and testing space in an integrated design. The Heppenstall Building offered great design potential, outdoor testing space and an ideal location for the growing company.
Carnegie Robotics CEO Steve DiAntonio notes, "The company has 60 employees, about 35 of whom are engineers. Over the next two to three years, the firm expects to grow to about 100 employees, with most of the growth on the production side." It is a young company; the average employee is in his or her early 30s and most are single. The building's aesthetics and location are very appealing to this demographic. About half of the employees live in the neighborhood, says DiAntonio.
Pittsburgh-based Desmone Architects has worked with RIDC on many industrial projects over the years and designed the renovation, working collaboratively with RIDC and Carnegie Robotics to get the desired look and feel for the building. Brad Frankhouser, the project architect, is proud of the transformation, "from old to new — a space that shows off the building's history."
Minimal changes were made to the exterior of the 29,600-square-foot high-bay building. The architects added more windows for offices and fiberglass roof panels to allow light to filter into the building. An exterior balcony was added off a break room. A single loading door at one end of the building was retained; it is large enough to allow a truck to drive into the building. A surface parking lot had already been constructed and was suitable for the new tenant.
A small multistory office structure had existed within the superstructure of the factory, but it was largely demolished. A new "building within a building" was then constructed, containing three 8,000-square-foot levels of enclosed space housing three clean room assembly labs, two R&D labs, office space, team building space and conference space. This structure has walls of corrugated steel and windows that look onto the factory floor. The original factory floor is used for R&D, manufacturing and testing of large robotic components. The space can be reconfigured as needed. As the company grows, more space can be finished.
Features that remain from the original building include concrete floors, exposed rivets and ceiling braces, and a shaftless elevator with exposed workings. The original wooden delivery doors were reused as sliding panels to close off the employee break area. A large industrial crane hangs in the new lobby. The result is a blend of old large-scale industrial space with highly functional tech space and a large degree of flexibility.
Sustainability
This brownfield redevelopment is inherently more environmentally sustainable than greenfield construction, in large part because of the reuse of the building and the public infrastructure and transportation systems that are already in place. The urban location allows employees to walk, bike or take public transit to work.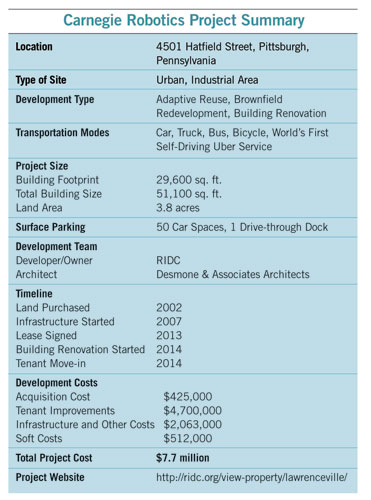 The original factory building was designed to let heat out, so energy efficiency was improved for the outer structure by adding insulated panels. Radiant floor heating is energy efficient and creates a very comfortable space; it also eliminates the need for ductwork in the ceilings. The building within a building is already highly energy efficient.
The Heppenstall Building and site are part of a larger brownfield site that went through Pennsylvania's Land Recycling Program, which is sometimes referred to as "Act 2." The program encourages voluntary cleanup and reuse of contaminated sites by issuing uniform standards, liability relief and financial assistance through grants and low-interest loans for assessment and remediation. RIDC invested nearly $8 million in remediation and infrastructure upgrades to make the overall site developable. In hindsight, RIDC's Smith says he would have preserved more of the buildings. "It is easier to reuse than build from the ground up. And it creates a more authentic experience."
The property was zoned "Urban-Industrial," so the redevelopment was permitted by right. There were no real challenges from the surrounding community. The renovation of this long-vacant industrial building was considered an improvement over what had been a neighborhood eyesore. Around the same time this building was rehabilitated, several new, upscale homes were constructed directly across the street, illustrating that industrial facilities can successfully coexist with residential development.
Leasing and Financing
When Carnegie Robotics had grown to the point that it needed its own space, leaders began working with RIDC to identify and secure an appropriate property, and in February 2013 it signed a lease for the Heppenstall Building. The company moved into the renovated facility in December 2014. The lease terms were for 15 years, modified net, with escalations and with an option to purchase. The lease also required that RIDC provide about an acre of outdoor space for testing robots.
Because Carnegie Robotics was a startup and was not considered a credit tenant, it would have been very difficult for the company to obtain financing from traditional lenders, who likely would not take on the level of risk involved. RIDC was able to provide equity and a small loan through its Manufacturing Loan Fund. The state provided an additional loan. "The Pennsylvania Department of Community and Economic Development has been a key financing partner, providing support via several programs, including the Commonwealth Financing Authority's Business in Our Sites program" indicates Smith.
If, for some reason, Carnegie Robotics does not continue in this space, RIDC believes there is enough industry growth in this location that it will have no trouble leasing the space to another robotics firm, justifying its expenditures in this build-to-suit project.
Building a Robotics Community
RIDC is one of the major players rebuilding the Lawrenceville neighborhood as a center for robotics. RIDC had already been working closely with the NREC, so was familiar with the spinoff company, its history and its leaders. This relationship gave both sides confidence in the partnership. The value added was knowing the technology business and the ability to accommodate its growth. Long-term public benefits in terms of potential jobs and the city's improved image are far more important to RIDC than financial gain. This transaction clearly strengthens the city's profile in the world of robotics.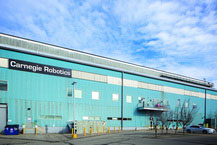 Carnegie Robotics is a member of a growing community of robotic companies in Lawrenceville. RedZone Robotics, located next door, provides robotic wastewater inspection services. The founders of Carnegie Robotics recently went on to start Uber's Advanced Technologies Center, the driverless car division that is now testing its self-driving cars with local Uber customers. Caterpillar Inc. has leased up to 11,000 square feet in a new 65,000-square-foot robotics research building that will be completed in late 2017 on a five acre portion of the original Heppenstall site.
The partnership between RIDC and Carnegie Robotics worked because RDIC understood the startup's business and vision, having worked for years with similar kinds of companies. RIDC was able to respond to its needs by putting significant funding into the project, assuming the development and operations risks. RIDC provided exactly the right kind of space at the right location and cost. CEO DiAntonio says his company is very pleased with the facility. "The building has given us the capacity to grow and to impress our clients. When we have visitors, we get instant credibility from the beautiful facility. They see that this company thinks big, that we give our employees a great workspace. For the same reasons, it helps us recruit the kind of talent we need." The project also earned RIDC the NAIOP Pittsburgh Best Industrial Renovation Award in 2015.
Adrienne Schmitz is a freelance writer and real estate researcher.
Additional photographs of this project can be viewed at http://desmone.com/portfolio/carnegie-robotics/.