Mass timber is becoming a mainstream material for high-rise buildings.
THE FIRST QUESTION that usually arises when designers and developers begin discussing mass timber as an option for a tall structure is, "Wood is beautiful, but doesn't it burn?" Yes, it does burn. Technically, wood is a combustible material.
The key fact here is that mass timber is just that &emdash; massive. Have you ever started a campfire with a log? It is a very difficult thing to do. Mass timber technology consists of dimensional lumber glued together in the same direction to form columns and beams (referred to as glulam), and glued together in the opposite direction to make large panels for floors and walls (called cross-laminated timber, or CLT). After a forest fire, a standing tree builds a layer of "char" that protects the wood from further damage and maintains its structural integrity. Mass timber is designed to do the same.
This technology is proven for buildings as tall as 18 stories, such as the nearly completed Brock Commons project at the University of British Columbia. The wood structure for this building was completed in 2016; the building is expected to open in September 2017. Research is currently underway that explores supertall wood structures with heights of up to 80 stories, such as the Oakwood Tower in London, a proposed 1,000-foot-tall skyscraper that would be the world's tallest wood structure.
Codes
In the U.S., building codes have been one of the biggest barriers to mass timber's entry into the marketplace, but this is changing. For the first time, the 2015 International Building Code (IBC) recognizes CLT as a building material. Under this code, buildings can be up to 85 feet tall with five or six stories of wood over a noncombustible podium, exactly the same parameters as for conventional wood frame construction.
In 2014, the U.S. Department of Agriculture held a competition to stimulate the use of mass timber for high-rise construction. A $3 million grant pays for testing labs to conduct the two-hour fire rating tests needed for U.S. code authorities; these tests have been ongoing since July 2016. Once the tests are completed, they will be made available to the public.
One of the winning projects in the competition is Framework in Portland, Oregon, designed by Lever Architecture and engineered by Arup. At 12 stories, this building is anticipated to be the tallest wood structure in the U.S. by the end of the decade. Although prescriptive codes do not yet allow for wood structures over 85 feet tall, designers believe the codes will catch up, once a few of these progressive projects are actually built under performance-based codes.
Sustainability
Because trees sequester carbon during their lifespan, that carbon is stored in timber for the life of the building. This means a timber structure is actually carbon negative, making it one of the most sustainable building materials available. One article describes it this way: "When CLT is used to build high-rise towers, the carbon savings can be enormous. The 186 tons of carbon locked into Stadthaus [a nine-story CLT apartment building in London] are enough to offset 20 years of its daily operations, meaning that for the first two decades of its life, the building isn't carbon neutral &emdash; it is actually carbon negative. Rather than producing greenhouse gases, Stadthaus is fighting them." ("The World's Most Advanced Building Material Is ... Wood," Clay Risen, Popular Science, Feb. 6, 2014.)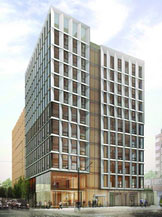 Mass timber is also a renewable resource. As long as forests are managed and maintained properly, the world will have an endless supply of trees. And mass timber, unlike heavy timber, does not take decades to grow and mature. The wood used in mass timber is fast-growth spruce, Douglas fir and pine, all renewable and abundantly available species. Although scoring in the current LEED v.4 program does not yet recognize the true value of mass timber as a sustainable material, "innovation and design" credits and the traditional "resources and materials" credits can be used toward LEED certification of mass timber structures.
The Marketplace
Transit-oriented, mid-rise neighborhoods just beyond the urban core are great locations for mass timber buildings. These areas often have rents that are high enough to justify building with concrete in order to maximize the number of floors achievable within height limits. Thus CLT starts to make financial sense.
Mass timber construction is more expensive than stick-built conventional framing, but should be less expensive than concrete or steel frame construction. Because there are currently only four mass timber suppliers in North America, pricing in some areas is losing out to traditional steel and concrete, but with increasing competition and familiarity with CLT construction by the general contracting community, pricing can be expected to adjust accordingly.
Exposed timber has a warm, creative and loft-like appeal that complements a revitalized urban environment. A case in point is the T3 project in Minneapolis, designed by Michael Green Architecture and developed by Hines. Completed in fall 2016, this seven-story, 220,000-square-foot office building in the North Loop office submarket, formerly a mid-rise warehouse district, was designed to attract creative tenants. T3 is currently the largest mass timber project in the U.S. Another example is Platte Fifteen, Denver's first CLT building. The five-story, 150,000-square-foot office project with street-level retail space was designed by OZ Architecture and is scheduled to deliver in 2018.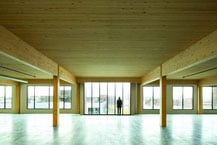 Schedules and Labor
Mass timber is fabricated almost entirely off-site, reducing on-site labor costs and time. In some instances, mass timber construction can be significantly faster and more efficient than concrete or steel construction. In one recent construction model, only three skilled carpenters and eight laborers would have been required to build a 100,000-square-foot CLT building. In addition, wood doesn't require reshoring, which allows trades to come in below the wood crew the very next day. CLT construction projects can therefore often shave typical schedules by one to three months.
An Aesthetic Differentiator
The quality of the interior environment of mass timber is truly exceptional. Exposed ceilings, beams and columns are all options because CLT is fireproofed through "charring." The exposed portions come with various grades of finish to suit the needs of the project. The Washington, D.C., development community is already demonstrating a lot of interest in finding creative ways to make mass timber economically feasible, in order to capitalize on its differentiating characteristics in a very competitive marketplace. Mass timber is a carbon-friendly renewable building material that offers the added benefit of creating wonderful spaces.